Students Showcase Their Research at Summer Symposium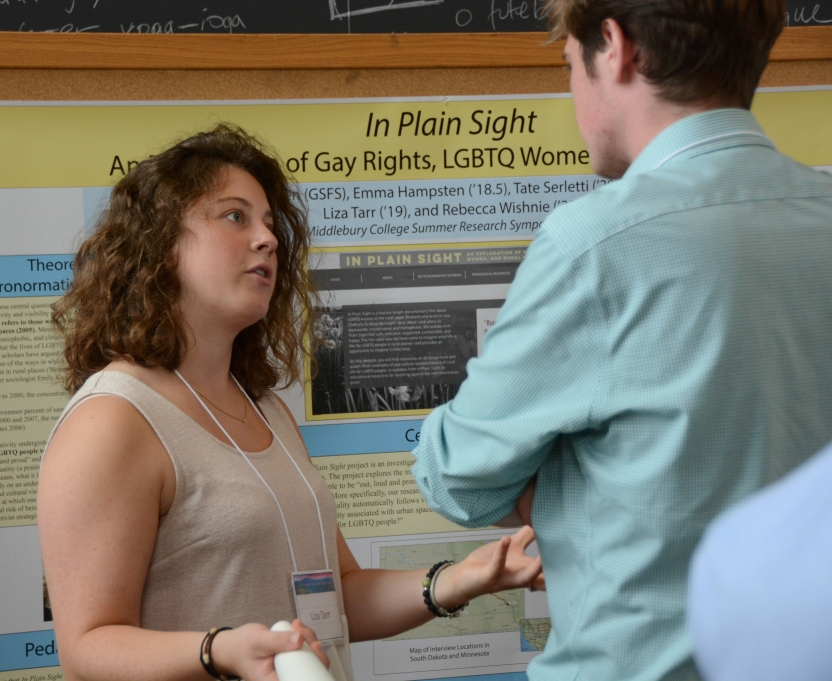 MIDDLEBURY, Vt. – One hundred thirty-six Middlebury undergraduates representing 19 different departments and programs exhibited the results of their faculty-mentored research at the 2018 Summer Research Symposium on July 26 at McCardell Bicentennial Hall.
Students presented research projects in the physical sciences, social sciences, and humanities, and the topics ranged from "Identifying SloR Binding Sites in the S. mutans UA159 Genome" to "The Effect of Employment Related Hardships on Economic and Political Opinions in Post-Communist Russia" to "Health and Labor Productivity Impacts of Mining: Evidence from South Africa."
"We had a wonderful selection of academic departments and programs represented this summer and a strong turnout from the students," said Lisa Gates, the symposium organizer and associate dean for fellowships and research. "Compared with five years ago, we have definitely increased the number of projects and participants exhibiting their posters at the Summer Symposium."
In addition to students exhibiting the fruits of their research with faculty in chemistry, physics, biology, neuroscience, and geology, there also were projects conducted with professors in Japanese studies, theatre, sociology, philosophy, Arabic, geography, and the digital liberal arts.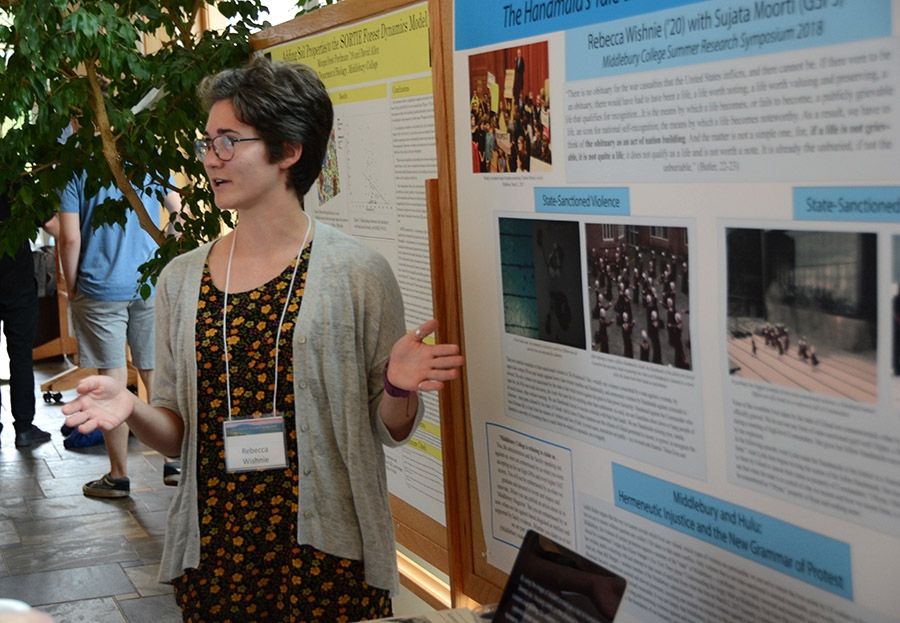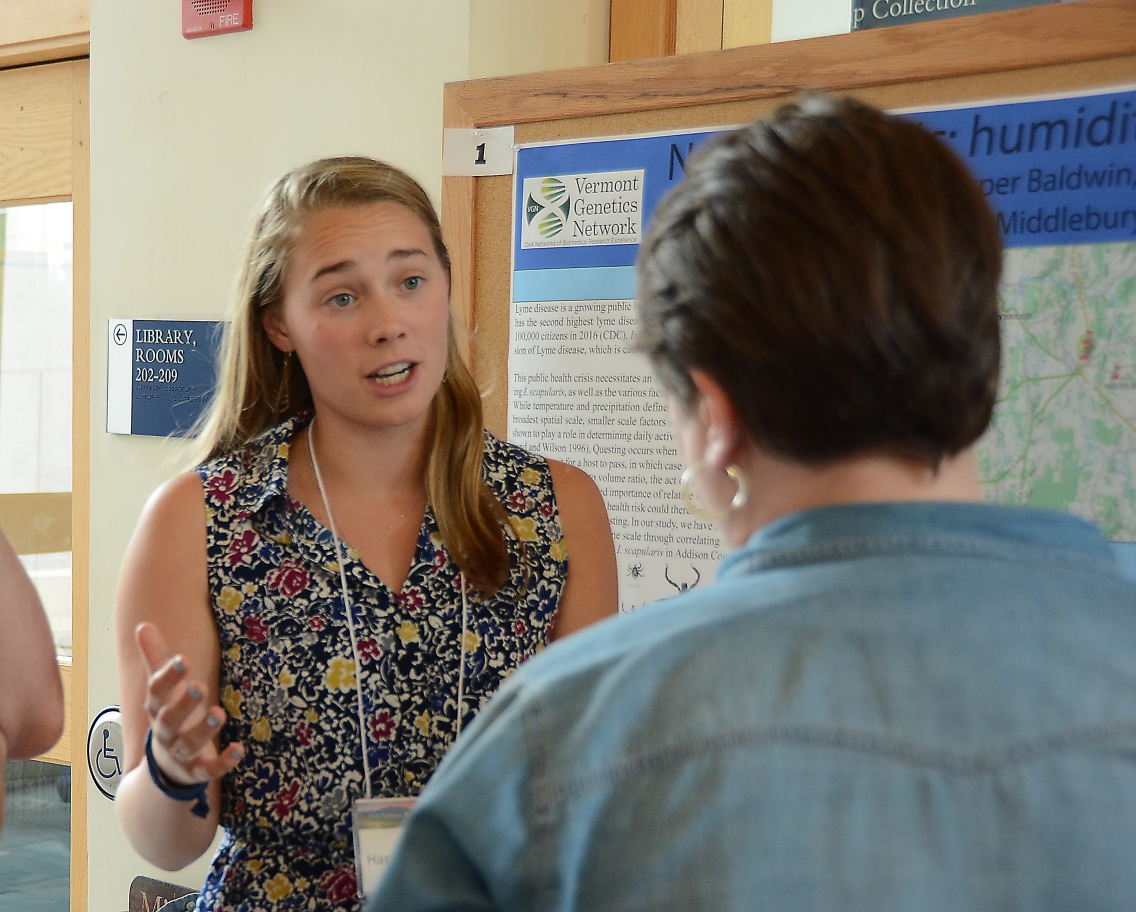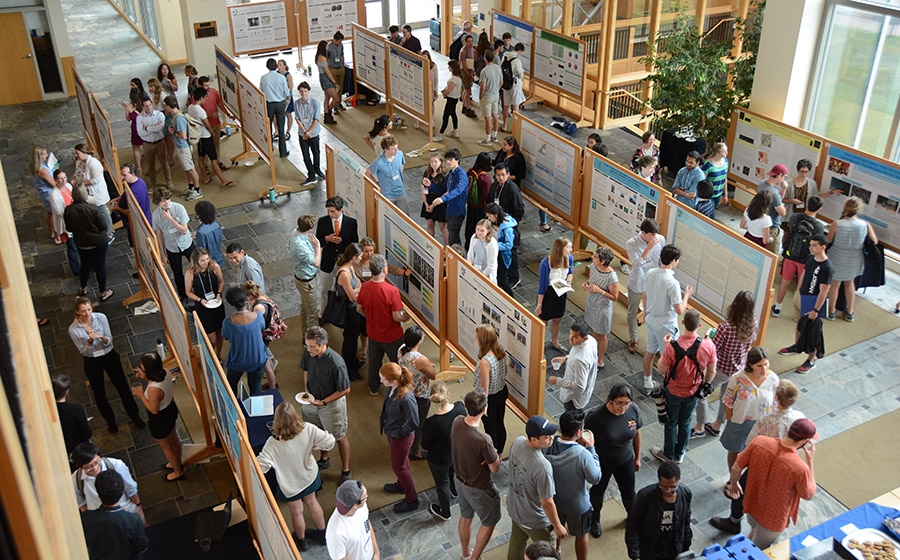 From top, Rebecca Wishnie '20 discussed her poster; Matthew Ottomano '20 explained the "Dial-A-Ride Problem"; Harper Baldwin '20 talked about the ecology of deer ticks; and conversations about undergraduate research filled the Great Hall. Click on the images to enlarge.
Middlebury junior Rebecca Wishnie presented her research on "State-Sanctioned Violence, State-Sanctioned Mourning: The Handmaid's Tale and Charles Murray's Visit to Middlebury." Working with Professor Sujata Moorti (Gender, Sexuality, and Feminist Studies), Wishnie delved into the similarity between the March 2, 2017, Charles Murray "shout down" at Middlebury and a scene in Season 2 of the television program on Hulu.
Wishnie perceived the scene from the popular dystopian drama as a form of state-sanctioned mourning, and she applied it to the Murray incident through the lens of Professor Allison Stanger's op-ed piece in the New York Times.
Matthew Ottomano and Searidang Pa, members of the Class of 2020, showed their project called "Dial-A-Ride Problem" developed this summer with Assistant Professor Ananya Christman (Computer Science). The researchers found a "2-chain" algorithm yielded better results than a "max-chain" algorithm in terms of serving all requests for rides while maximizing objectives such as revenue and efficiency. The research has implications for ride-sharing businesses such as Uber and Lyft.
Harper Baldwin '20 worked alongside Assistant Professor David Allen (Biology) and Maisie Anrod '20 this summer studying the ecology of the deer tick Ixodes scapularis. With a group of Symposium attendees gathered around her poster, titled "Not a Dry Topic: Humidity and Ixodes scapularis," Baldwin discussed how humidity affects the tick's "questing" or host-seeking behavior.
The researchers made eight tick enclosures and placed six I. scapularis nymphs in each one, the junior from Brattleboro, Vt., said. Next, they placed the enclosures in the field and recorded the relative humidity and temperature at each site. Over time, they opened each enclosure for three minutes and took note of whether the ticks were questing.
"We are trying to understand how heat and humidity affect the ticks' daily activity patterns. We hope that in the future our research will have public health implications, but there needs to be more study," Baldwin said. "At this point we know that there are more ticks out questing when the humidity and the temperature are relatively high."
On the other side of the Great Hall, Tate Serletti '20, Liza Tarr '19, and Emma Hampsten '18.5 discussed their project "In Plain Sight" conducted with Assistant Professor Carly Thomsen (Gender, Sexuality, and Feminist Studies). The students are creating a film and website about "metronormativity" – the assumption that LGBTQ people are more welcome, accepted, and happy in urban areas as opposed to rural settings.
"Our project is an extension of Professor Thompsen's ongoing research in a subfield called rural queer studies," said Serletti. Working with interviews conducted in 12 locations across South Dakota and Minnesota, "this scholarship works to dismantle assumptions we have about rurality and the prospects for queerness in those places," she said.
Middlebury's annual Summer Research Symposium is conducted by the Center for Teaching, Learning, and Research, and is designed to showcase undergraduate research while providing students with opportunities for personal and professional growth. Summer research assistants are supported by multiple funding sources including foundations, government agencies, gifts to the College, and institutional grants.
– With reporting and photography by Robert Keren