Innovation Fund Supports Outreach to Newly Arrived Immigrants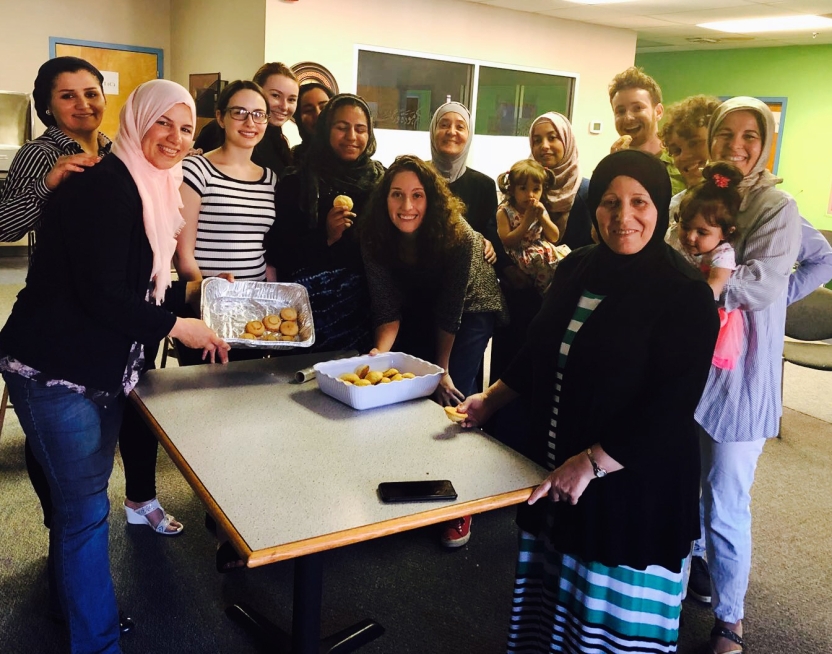 MIDDLEBURY, Vt. – Middlebury College provided the majority of the funding for a new outreach program designed to help Arabic-speaking immigrants develop the kind of interpersonal connections that everyone needs to thrive in a new community.
The five-week summer program, which was based in New Britain, Conn., paired five American college graduates proficient in Arabic language and culture together with six newly arrived families from Middle Eastern countries such as Syria, Morocco, and Yemen.
The program called Jiran: The Arabic Community Action Summer was the brainchild of two staff members of Middlebury's C.V. Starr School in Amman, Jordan, together with a Syrian-born multilingual educator from the New Britain (population 72,000) area. The trio of Kerstin Wilsch, Emily Goldman, and Maha Abdullah conceived of a project that would focus on meeting each family's individual needs while expanding the five participants' Arabic language skills and cultural competency.
Middlebury's Ron and Jessica Liebowitz Fund for Innovation provided $29,900 for the first summer of Jiran, while Stanley Black & Decker Inc. and the William Caspar Graustein Memorial Fund contributed $5,000 each.
"This project struck us as a particularly creative way to take advantage of what our students had been able to do abroad and, in effect, bring that study abroad back home," explained Jeff Cason, Middlebury professor of international studies and interim provost. "Students often wonder what to do with transformative experiences they have had abroad. Jiran was an interesting way to leverage that experience while contributing to a U.S. community in a meaningful way."
Working in close coordination with the Islamic Association of Central Connecticut (IACC), Jiran—which means "neighbors" in Arabic—conducted workshops, lectures, site visits, and field trips intended to expand the immigrant families' survival skills by making new connections in America. There were training sessions about how to apply for a job, how to write a résumé, how to fill out the Free Application for Federal Student Aid (or FAFSA), and how policy changes under the Trump administration can impact the legal standing of refugees, immigrants, and asylum seekers. There were visits to city hall, the public library, the nearby community college, the YWCA, and a community bike shop. And there were scavenger hunts, cooking demonstrations, henna classes, and lots of music and dancing.
Jiran's five Arabic-speaking American college students—all five attended either the School in Jordan or the Middlebury Arabic School—spent the first week of the program working with the families to identify their most pressing needs; e.g., English-language skills, child care, employment, education, transportation, etc. Next, they sought ways to meet those needs through the IACC, social service agencies, educational institutions, or other resources in the greater Hartford area.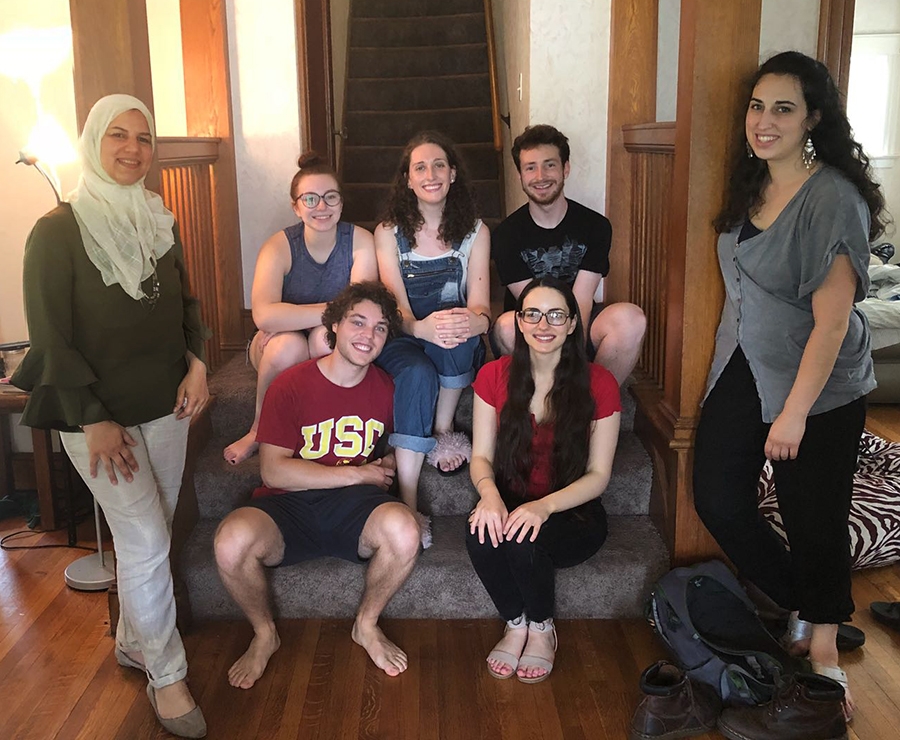 Participants seated on the steps of their program house are (clockwise from top left) Marivi Howell-Arza, Ella Nalepka, Ian James, Joy Al-Nemri, and Lorenzo Greenbaum '18. All five attended either the School in Jordan or the Middlebury Arabic School. Standing left is Maha Abdullah and right is Emily Goldman.
Lorenzo Greenbaum, a 2018 Middlebury graduate who majored in Arabic, was paired with a Moroccan family of seven whose eldest child is still trying to obtain a visa to come to the United States. "The family's biggest challenge is adapting to a culture that differs so significantly from their own," he explained. "For instance, how can the mother build her own life outside of the home? How can she communicate with other Arabic speakers given the nuances of the Moroccan Arabic dialect? How can the father find a job that suits his skills? How will the son navigate the college application process?"
Greenbaum's partner family faces numerous challenges, not the least of which is whether they will ever be reunited with their daughter still living in Morocco. The other four "participants," as the college-level Arabic speakers were called, were matched with families confronting similar pressing needs, and the participants were encouraged to find answers that were not short-term solutions.
"All five of our participants were very intentional about setting up systems that would be sustainable after they left New Britain," said Emily Goldman, the site coordinator for Jiran. Goldman, who grew up in central Connecticut, studied Arabic at Brown University, and worked for the School in Jordan, was sensitive to the needs of the immigrant community both through her upbringing and her close friendship with Maha Abdullah. Together with Kerstin Wilsch, who directs Middlebury's School in Jordan, the trio understood that making long-lasting interpersonal connections would be key to the success of Jiran. And one of the ways they did so was by recruiting four "interns"—three high school students and one local college student—who were Arabic-speaking émigrés well-acquainted with the New Britain area.
"The interns served as cultural and linguistic resources for the participants and for the families. They were the ones who had the most local knowledge. They had all gone through the public schools in New Britain, and had gone through the experience of coming to America from the Middle East as a child," Goldman said. "The interns turned out to be one of the most important facets of our program design."
Jiran was anything but a summer vacation for the five participants. (In addition to the Middlebury alumnus Greenbaum, the other four participants were recent graduates of Tufts, Duke, McGill, and Bard.) Middlebury's Language Pledge was in force, and five mornings a week the participants were in class studying Jiran's colloquial Arabic curriculum, which had been developed for the project by Wilsch, Abdullah, and the faculty at the School in Jordan. Each participant volunteered their time (and their appreciable Arabic-language skills) to a social service agency or research project. The rest of the time they were meeting with their partner families, making introductions, researching issues, formulating solutions, and planning events to promote intercultural dialogue in the community.
And while most of the formal events—like the workshop on Kurdish culture and the training session on running a small business—were held at the Islamic Association's downtown center, the participants' rented house located near the campus of Central Connecticut State University "became a quasi-program center and informal gathering place where the families and the interns felt welcome to drop by," Goldman said.
Plans for next summer's Jiran are not solidified yet, but the organizers see signs that their method is working.
"Despite some early skepticism, our program was a success well beyond what many people thought was possible," Goldman reflected. "It resonated not only with the resettled and recently arrived Arabic-speaking population in New Britain, but with the city, too. New Britain has experienced an influx of people displaced by Hurricane Maria and we got a call from city hall to see if our Jiran model could apply to the newly arrived Puerto Rican population as well.
"People realized that what we are trying to do in terms of intercultural learning is not expensive," continued Goldman. "We are not throwing money at the problems faced by newly arrived Arabic speakers; we are strengthening the social networks of people who arrive in this area without any social networks. Having cultural guides and making new friends can solve so many problems that thousands and thousands of dollars can't solve."
For More Information