Middlebury to Confer Graduate Degrees in Foreign Languages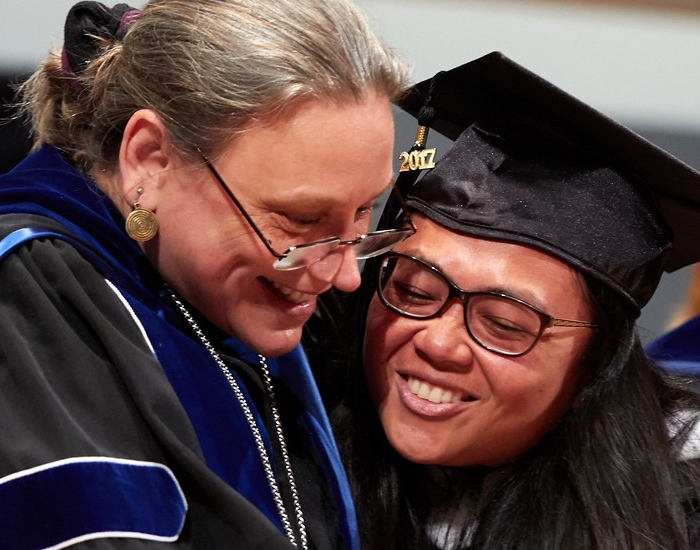 MIDDLEBURY, Vt. –The Middlebury Language Schools will conduct Commencement exercises on Friday, August 17, at 4 p.m. for 117 graduate-degree candidates in foreign languages. The ceremony will be held in Robison Hall at the Mahaney Center for the Arts on the Vermont campus.
Now in its 104th consecutive summer of operation, the Language Schools also has a West Coast campus at Mills College in Oakland, Calif., where Commencement exercises for students in the Arabic and Italian Schools was held on August 9.
At Oakland, Karen A. Stolley '77, a professor of Spanish at Emory University and trustee of Middlebury College, delivered the Commencement address. In addition, writer and translator Oonagh Stransky, who attended the Italian School in 1986, was a special guest speaker.
With Dean of the Language Schools Stephen B. Snyder presiding, Middlebury conferred three Doctor of Modern Languages degrees, 10 Master of Arts degrees in Italian, and eight Master of Arts degrees in Arabic at the ceremony conducted in Littlefield Concert Hall at Mills College.
In Vermont on August 17, President Laurie L. Patton and Dean Snyder will confer 114 Master of Arts degrees in Chinese, French, Hebrew, German, Russian, and Spanish, and three Doctor of Modern Languages degrees. The DML, which is unique to Middlebury, combines proficiency in two foreign languages with mastery of the literature, linguistics, and culture associated with both languages.
Among the MA degrees, 47 will be awarded to students in the Spanish School, 33 in the French School, 17 in the School of Hebrew, seven in the Russian School, six in the Chinese School, and four in German.
Journalist Rachel Antonia Donadio will deliver the Commencement address at the Vermont ceremony. Formerly a resident of Middlebury, Donadio joined the Atlantic in 2017 as its Paris-based writer and European correspondent after serving 13 years on the staff of the New York Times. Proficient in French and Italian, she served as the newspaper's European culture correspondent, Rome bureau chief, and writer and editor for the New York Times Book Review. Donadio graduated from Yale University with a degree in humanities.
The Language Schools will confer upon Donadio an honorary Doctor of Letters degree following her address to the graduates. The journalist last appeared at Middlebury College in April 2014 when she delivered the Robert W. van de Velde Memorial Lecture.
Also at Commencement in Vermont, Middlebury will present Awards for Distinguished Study to this summer's outstanding students in the Language Schools. The ceremony will be preceded by an outdoor carillon concert performed by George Matthew Jr., the College carillonneur, on Middlebury's 48-bell instrument atop Mead Chapel. During the ceremony, students and faculty in the Language Schools will perform a number of musical selections.
For More Information