College Welcomes Renee Wells as Director of Education for Equity and Inclusion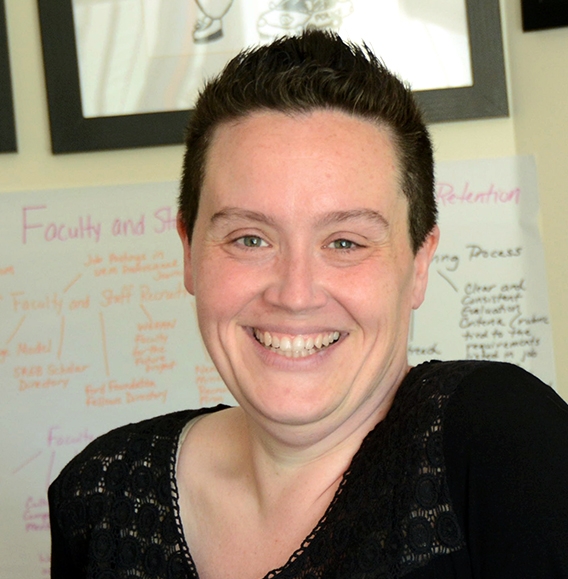 MIDDLEBURY, Vt. – The new director of education for equity and inclusion is Renee Wells, who joined the staff on August 1 to help the Middlebury community recognize barriers to inclusion, increase self-awareness, engage in difficult dialogue, and develop strategies for creating equitable spaces for all.
Prior to accepting her new post, Wells was the director of the GLBT Center at North Carolina State University for four years where she developed curricula and resource materials, led training sessions and workshops, collaborated on programming across the Raleigh campus, served on teams and committees, supervised a fulltime staff, and administered an annual budget in excess of $300,000.
Wells holds a BA in English and a BS in education from Auburn University, an MA in English from Miami (Ohio) University, and an MFA from Southern Illinois University. She began her career as an instructor of English at the University of Alabama before switching careers in 2011 to become the assistant director of the Center for Diversity and Inclusion at Michigan Technological University.
"I learned a great deal from a mentor at Michigan Tech about how institutions can unconsciously perpetuate barriers for students," Wells said. "The ability to recognize that and what to do about it—a lot of that came from her.
"I am drawn to this work because there is no line between who I am and what I do. I could be sitting in my office reading an article about implicit bias, or I could be home reading an article in the New York Times about something similar being manifest in a different context. Equity and inclusion, that's the lens through which I see the world and it shapes how I do my work."
She adds, "When you are invested in issues of diversity and inclusion, the need feels much greater and the sense of personal accountability to do the work is much higher. It is really easy to tune it out if you are privileged because you don't have to pay attention."
Wells plans to help the Middlebury community adjust to "paying attention" to the subject of equity and inclusion, and as of Labor Day she had already facilitated 11 workshops for Middlebury students and staff. Adept at getting up in front of an audience, where she sometimes wears a T-shirt bearing the message "Feeling uncomfortable is a necessary part of unlearning oppressive behaviors," Wells conducted dozens of workshops at NC State on recognizing microaggressions, supporting trans students, handling internalized oppression, identifying racial justice, supporting students with disabilities, and other topics.
And beyond her home campus, Wells has delivered numerous presentations to audiences, including "Leveraging Student Power," "Understanding Gender and Sexuality," "Power: An Exploration of Multidimensionality," "Engaging Students in Difficult Dialogues," and "LGBTQ-Inclusive Academic Advising."
Wells believes that her background in writing and teaching prepared her well for her work in diversity, equity, and inclusion.
"My work is all about understanding audiences. It's about knowing how to frame things in ways that make sense to them, knowing how to create buy-in with them, and knowing how to persuade them, particularly around advocacy and changing policies and practices. Being able to read people and connect with them is all about rhetoric," Wells explained. "That's where I came from and that's what makes me good at what I do."
Middlebury's chief diversity officer, Professor Miguel Fernandez '85, who led the search for the director of education for equity and inclusion, said, "Renee Wells brings a tremendous knowledge base and vast experience in trainings, workshops, and strategic work to Middlebury. I am excited by the prospect of how she will help our community break down some of the obstacles that have been in the way of making ours an inclusive and welcoming space.
"Renee also brings an intersectional and social justice lens to her work and she is sure to help increase critical awareness among our students, staff, and faculty. She has hit the ground running and we are thrilled to have her on our team."
That team—the Office of Institutional Diversity, Equity, and Inclusion—includes Fernandez, Wells, and Anderson Freeman Resource Center Director Roberto Lint Sagarena and Associate Director Jennifer Herrera Condry, MA Spanish '13.
Wells, who lives a two-minute walk from campus, is now deeply invested in life at Middlebury. "A big part of my job is community building. People need to know me and understand what I am here to do. I am here to support others, and a big part of what I need to do is connect with people and figure out what their perceptions are of the campus climate, and then determine the things that need to be addressed."
Story and photo by Robert Keren