Convocation Marks Ceremonial Beginning for the Class of 2022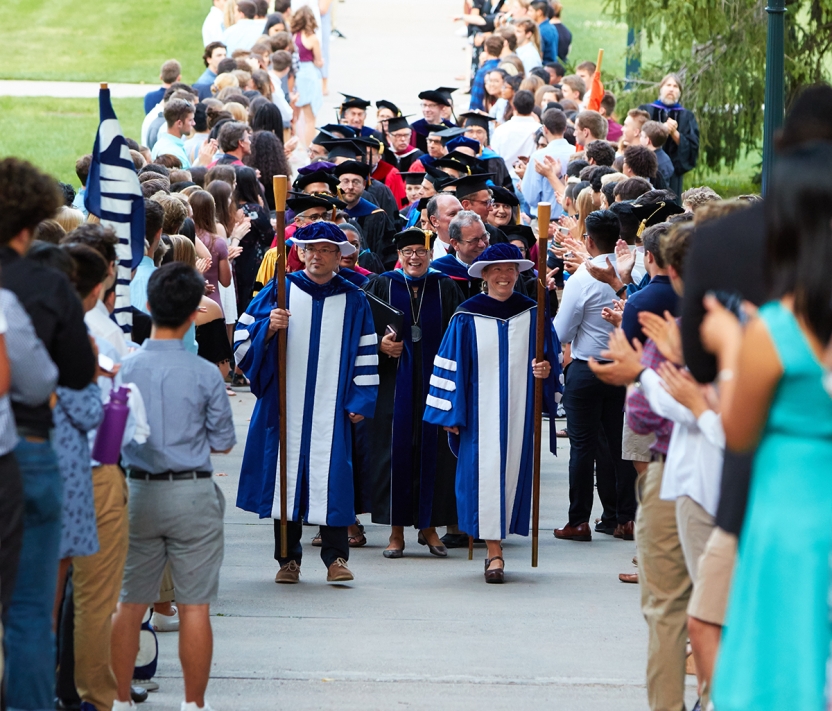 Slide Show
[view:embed_content==592530]
MIDDLEBURY, Vt. – The members of Middlebury College's newest class of first-year students gathered at Mead Chapel on Thursday evening, September 6, for the opening Convocation.
The new undergraduates lined Storrs Walk on the breezy, late-summer evening as members of the administration and faculty, led by President Laurie L. Patton, processed into the chapel as strains of carillon music filled the air. The new students occupied the pews and each one touched the College mace, Gamaliel Painter's cane, and passed it on to the next student until every member of the Class of 2022 had touched the walking stick carried by one of Middlebury's founders.
Conducted prior to the opening of the academic year and steeped in tradition, Convocation marks the day when the director of admissions "hands off" the first-years to the president; the vice president for academic affairs introduces the faculty to the new undergraduates; the student government president issues a warm welcome; and President Patton delivers an inspiring address.
The new students sat according to the five Commons—the College's living and learning residential system—and the faculty head of each body offered a brief history. The ceremony was interspersed with musical selections performed by students and faculty, and readings of "Words on Wisdom" excerpted from the Hebrew Bible, Bhagavad Gita, New Testament, Qur'an, Zen teaching of Master Linji, and author Toni Morrison.
The president's Convocation address, which has been the key component of Convocation since the 1970s, asked the new undergraduates, "How do you figure out who you are as college students?" The answer, she said, lies in "embodying Middlebury values and becoming wise" through integrity, rigor, connectedness, curiosity, and openness.
"Wisdom is knowing your own truth. That is integrity. Your job is to be like yourself. So I ask you now, and I will never tire of asking you, 'How long are you going to worry about who you are not when you should be getting on with the glorious business of who you are?' Your job at Middlebury," she continued, "is to become more like yourself, whoever that person is and wherever that person takes us in our community."
On rigor, Patton said, "Once you stop comparing yourself to everyone else, then you can go on to that second part: understanding how to push yourself in new ways. You may wonder sometimes if you have strength sufficient to the task, but you do have that strength. We chose you. We chose you because we sensed, and you did too, that there is something about you and this place that made a really wonderful match. You can do the work here, whatever that work turns out to be… . You can be rigorous in that work, rigorous in that play, and rigorous in that creativity."
Vice President for Academic Affairs Andrea Lloyd, the professor of biology who also serves as dean of faculty, advised the first-year students to "keep in mind as you get to know your faculty that we might seem like we have been here since the beginning of time, but most of us remember keenly what it was like to be settling here anew, getting the lay of the land, and figuring things out. I suspect that all of us [faculty members] would be happy to share with you whatever wisdom we may have gleaned from our process of finding our footing here."
The faculty's dual role as teachers and scholars "blur together in wonderful and exciting ways as ideas, insights, and moments of discovery follow back and forth," she said. "Seize the opportunity over the next four years to get to know us individually; to engage with us intellectually; and to join us in acts of discovery large and small."
Director of Admissions Nicole Curvin said the admissions process "is not a treasure hunt with one perfect prize at the end. We're not looking for fully formed 18-year-olds—we're not looking for perfection—nor should you get wrapped up in finding perfection, because the truth is you are not going to find perfection at Middlebury.
"But with a little bit of hard work, some resilience, and a willingness to take some risks, and yes, even fail, you can and will find your best versions of yourselves here eventually… . Remember what it was about Middlebury that made you want to apply and come here; relish that as you set about on your path and find your way."
Nia Robinson '19, the president of the Student Government Association, told the gathering that there were two things she wished she knew when she first arrived at Middlebury three years ago.
The first was "you are the typical Middlebury student, just by going to college here." Maybe you don't know how to ski or maybe you are from a big city or another country, she said, but "you get to define and customize your own Middlebury experience yourself."
Robinson's second point was "reach out for help, even if you don't think you need it. The transition from high school to college can be rough, and fortunately Midd is filled with people to help you figure out how to navigate it all."
The Class of 2022 learned the words to the alma mater, "Walls of Ivy, Paths of Beauty," and sang it together for the first time, accompanied by Associate Professor of Music Jeffrey Buettner on the organ. And as the new students streamed out of Mead Chapel into the summer night, they likely pondered what adventures lay ahead.
For More Information