Middlebury Welcomes New Faculty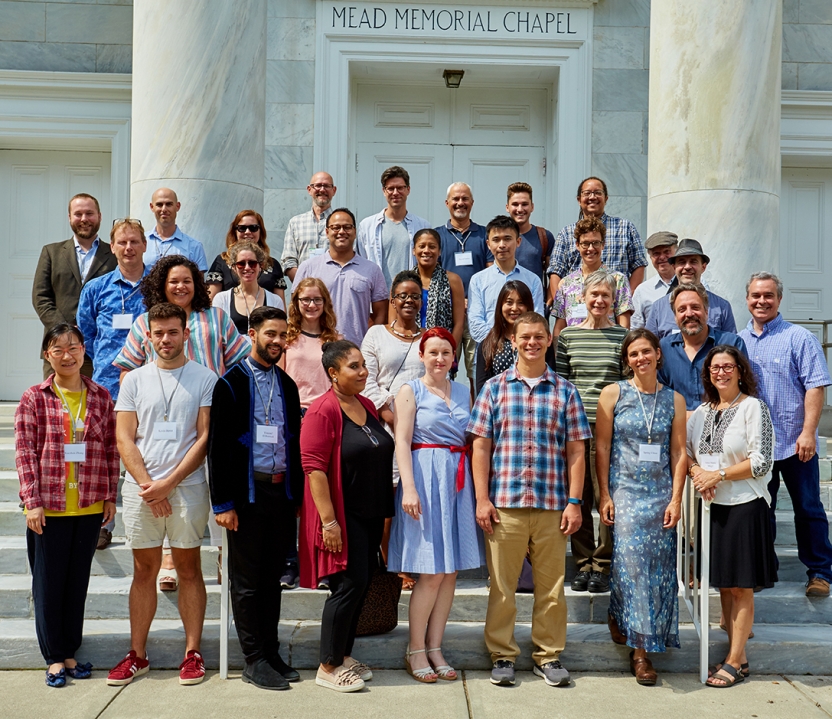 MIDDLEBURY, Vt. – Middlebury College has welcomed 47 new faculty members to its ranks this fall, including 15 tenure-track positions, 15 visiting faculty members, six professors of the practice, and 11 lecturers, instructors, and teaching assistants.
The new teachers arrived for a two-day orientation on August 27 at the Franklin Environmental Center. As a group, they represent 30 academic disciplines.
The following will join Middlebury this fall as tenure-track faculty members:
Biology
Kirsten Deane-Coe, assistant professor of biology, joins Middlebury from St. Mary's College of Maryland, where she was assistant professor of biology. Deane-Coe earned her BS from SUNY College of Environmental Science and Forestry and her PhD from Cornell University.
Chinese
Hangping Xu, assistant professor of Chinese, earned his BA from Zhejiang University; an MA in literary and cultural studies from Dartmouth College; an MA in comparative literature from the University of Oregon; and his PhD in Chinese literature from Stanford University with a PhD minor in feminist, gender, and sexuality studies. His research interests include modern Chinese literature and film, new media studies, comparative literature, and political theory.
Computer Science
Shelby Kimmel, assistant professor of computer science, earned her BA in astrophysics from Williams College and her PhD in physics from the Massachusetts Institute of Technology. Her research interests include designing and analyzing quantum algorithms, which take advantage of the laws governing small physical systems in order to solve computational problems. Since 2017, Kimmel has been a visiting assistant professor of computer science at Middlebury.
Andrea Vaccari, assistant professor of computer science, earned his MSc in physics from Università degli Studi di Milano and his PhD in electrical and computer engineering from the University of Virginia. His current research focuses on model-based analysis of images, stacks of images, videos, and spatiotemporal point cloud datasets.
Film and Media Culture
Natasha Ngaiza, assistant professor of film and media culture, earned her BA in literary and cultural studies at the College of William and Mary and her MFA in film and media arts from Temple University, where she taught film analysis, media arts, and media and culture.
French
Linsey Sainte-Claire, assistant professor of French, comes to Middlebury from Davidson College where she was visiting assistant professor of French and Francophone studies since 2016. Sainte-Claire's teaching and research interests include contemporary French and Francophone literature, Caribbean studies, transnational studies, theater, educational studies, film studies, gender and sexuality studies, postcolonial theory, and psychology.
Geography
Joseph Holler, assistant professor of geography, earned his BA at Ithaca College and his PhD from the State University of New York at Buffalo. Prior to his tenure-track appointment, Holler was visiting assistant professor of geography at Middlebury from 2015–2017.
Japanese Studies
Otilia Milutin, assistant professor of Japanese studies, earned her BA in Japanese and French from the University of Bucharest, Romania; her MA in Japanese literature from the University of Massachusetts, Amherst; and her PhD in Asian Studies from the University of British Columbia. Prior to her Middlebury appointment, she served as visiting assistant professor in Asian Studies at Knox College since 2016.
Music
Matthew Taylor, assistant professor of music, earned his BM in saxophone performance at Birmingham-Southern College and his MM and DMA at the University of Miami's Frost School of Music. Taylor has taught composition, aural skills, and music theory at the University of Miami since 2010.
Neuroscience
Clinton Cave, assistant professor of neuroscience, earned his BA in psychology, behavioral neuroscience track, from Yale University and his PhD from Johns Hopkins University. Most recently, Cave was a postdoctoral fellow at Johns Hopkins, designing and implementing experiments to uncover the molecular mechanisms of GDE2 dependent neurodegeneration utilizing RNAseq, conditional mouse genetics, and in-vitro modeling of neurodegeneration.
Political Science
Gary Winslett, assistant professor of political science, earned his BA in political science and economics from the University of Florida and his PhD in the Department of Political Science at Boston College, where he also taught Introduction to International Politics and the Political Economy of Climate Change.
Psychology
Martin Seehuus, assistant professor of psychology, earned his BS in economics and psychology from the University of Tennessee at Chattanooga; an MA in psychology from The New School for Social Research; an MBA from the University of Pittsburgh; an MA in existential-phenomenological psychology from Duquesne University; and his PhD in clinical psychology from the University of Vermont. Seehuus has been a visiting professor of psychology at Middlebury since the fall of 2015.
Religion
Justin Doran, assistant professor of religion, earned his BA from the University of Illinois Urbana-Champaign and his MA and PhD from the University of Texas at Austin. Since July 2017, Doran has been visiting assistant professor of religious studies at Claremont McKenna College.
Russian
Matthew Walker, assistant professor of Russian, earned his BA, MA, and PhD from the University of Wisconsin–Madison. Walker's current research interests include Putinism and contemporary Russian culture; Nabokov, American and Russian novels; Russian romanticism; Gogol; aesthetics and politics in Soviet culture; and critical theory, media studies.
Spanish and Portuguese
Raquel Albarrán, assistant professor of Spanish, earned her MA and PhD at the University of Pennsylvania. She earned her BA from Universidad de Puerto Rico. Albarrán comes to Middlebury from Florida State University, where she was a postdoctoral scholar of Spanish in the Department of Modern Languages and Linguistics.
Middlebury is also pleased to welcome the following visiting faculty, professors of the practice, instructors, lecturers, and teaching assistants:
Visiting Faculty
Benjamin Allred, MArch, University of Utah, visiting assistant professor of architecture
Berly Brown, MFA, SUNY Albany, visiting assistant professor of studio art
Stacie Cassarino, PhD, University of California, Los Angeles, visiting assistant professor in FYS program
Isabelle Elisha, PhD, CUNY Graduate Center, visiting assistant professor of psychology
Karl Haas, PhD, Boston University, visiting assistant professor of music
Katherine Halvorsen, DSc, Harvard School of Public Health, distinguished visiting professor of mathematics
Tim Lilburn, PhD, McMaster University, visiting professor, sophomore seminars
Craig Maravich, MFA, George Washington University, visiting assistant professor of theatre
Ashar Nelson, MArch, University of Oregon, visiting assistant professor of architecture
Lana Dee Povitz, PhD, New York University, visiting assistant professor of history
Amit Prakash, PhD, Columbia University, visiting assistant professor in FYS program
Glenna Ryer, MFA, NYU Tisch School of the Arts, visiting assistant professor of theatre
Spring Ulmer, MFA, University of Iowa, visiting assistant professor of English and Amercian literatures
Bill Vitek, PhD, CUNY Graduate Center, visiting professor of environmental studies
Adam Wager, PhD, Rutgers University, visiting assistant professor of philosophy
Professors of the Practice
Susan H. Greenberg, MS, Columbia University, professor of the practice
Michael Kramer, PhD, University of North Carolina, Chapel Hill, professor of the practice, acting director, Digital Liberal Arts program
Anne-Marie Magri, BS, Adelphi University, professor of the practice
Tim Nguyen, MBA, Northwestern University, professor of the practice
Frank van Gansbeke, MBA, Catholic University of Leuven (Belgium), professor of the practice
David Torres, BA, Middlebury College, professor of the practice
Lecturers and Instructors
Katie Aha, MA, Seton Hall University, visiting instructor in political science
Danté Brown, MFA, Ohio State University, artist in residence in dance
Alex Elias, MA, Long Island University, Brooklyn, men's soccer coach, assistant in PE
Zohar Gazit, PhD, Hebrew University of Jerusalem, Israel Institute teaching fellow
Rachel Kahan, BA, Duke University, women's tennis coach, assistant in PE
Xuezhan Zhang, MA, Hangzhou Normal University, lecturer in Chinese
Language Teaching Assistants
Kevin Bertet, Bordeaux Montaigre University, assistant in French
Youssef El Berrichi, MA, Dar El Hadith Al Hassani, assistant in Arabic
Mikuko Nagashima, BA, Kyoritsu Women's University, assistant in Japanese
Iurii Puchkov, Irkutsk State University, assistant in Russian
Katrin Schmitz, Johannes-Gutenberg University, assistant in German