Student Filmmaker/Blogger Finds His Inspiration in Fly Fishing
MIDDLEBURY, Vt. – A Middlebury sophomore from New Jersey who leads the College's fly-fishing club participated in a select three-week Brook Trout Odyssey sponsored by Trout Unlimited during the summer of 2018.
During the trip, Matteo Moretti '21, three other undergraduates, and a PhD student fished for brook trout across the state of Pennsylvania, interviewing scientists and conservationists to learn how the native trout were coping with climate change, pollution, overdevelopment, and other pressures. Moretti, who combines a love for fishing with his interest in film production and writing, produced a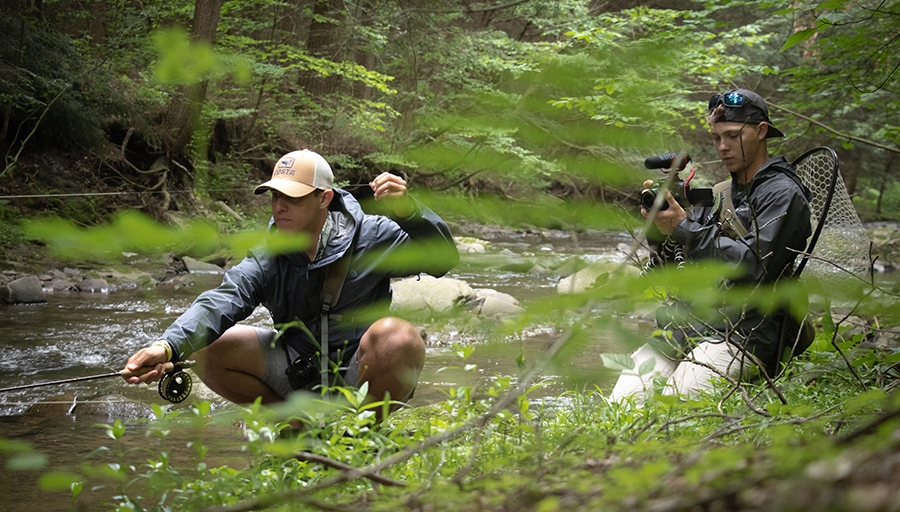 Matteo Moreti, left, uses the "bow and arrow" method of casting a fly in tight quarters during the Trout Unlimited excusion last summer. (Click on photo to enlarge.)
Moretti was elected president of the Middlebury College fly-fishing club, or MiddFly, as a first-year student in 2017, and the organization is now thriving with members who text each other on a moment's notice to say, "Hey, let's go out and fish." They also plan outings in Vermont, conduct fly-tying clinics on campus, and teach newcomers how to cast a fly rod on dry land. Last year they collaborated with a mountaineering shop to raise money for the local preservationist organization called the New Haven River Anglers Association.
As a sophomore, Moretti will be declaring a major soon. And after his summer of fishing for brook trout in the East and working as a fly-fishing guide in Colorado, he has decided to double major in environmental studies in combination with film and media culture.
"I am passionate about storytelling, fishing, and conservation, so this double major will be perfect for me. I love to be outdoors and to tell stories, and I have seen how fishing can be a way to bring about positive change to people. It can bring hope to people. It can teach you to breathe, to relax, and that everything is okay, and I really do believe that."