From Urban Planner to NBA Executive, Soc/Anthro Grads Return to Share Stories and Advice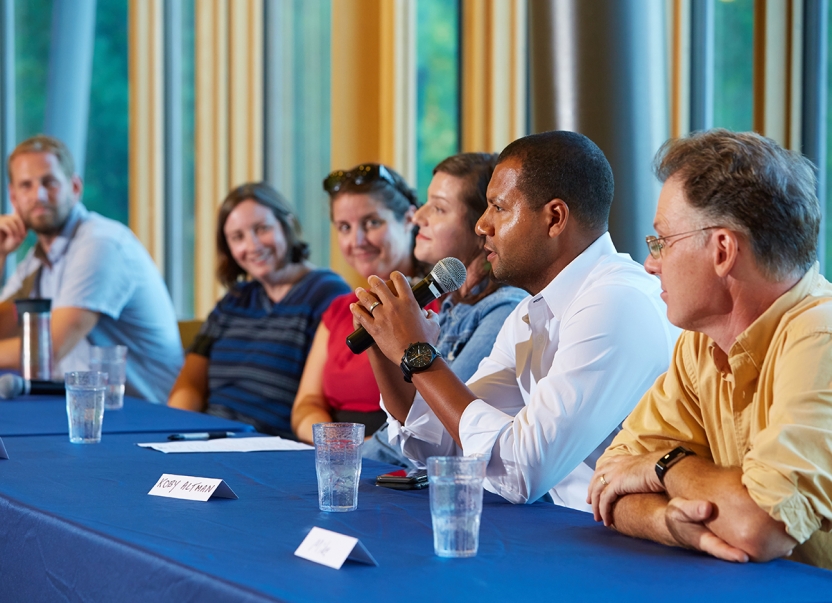 MIDDLEBURY, Vt. – Find a mentor. Volunteer in the community. Seek leadership positions. Back up your arguments with data. Send handwritten thank-you notes. Get to know international students.
That was just some of the sage advice offered to undergraduates at the sociology/anthropology "field guide" panel discussion sponsored by the Center for Careers and Internships on September 14 at Atwater Dining Hall. It was the first of several such discussions in a variety of majors that will take place this academic year.
Five Middlebury College alumni who majored in sociology/anthropology returned to campus for two days of career-related activities including the panel discussion, one-on-one meetings, classroom conversations, and informal talks over meals. Close to 50 undergraduates attended the panel discussion, asked questions, and emerged with valuable guidance.
"Your extracurricular activities are formative experiences and they can teach you leadership skills," panelist Julie Tschirhart '11, a city planner in Grand Rapids, Mich., told students. "I was a tri-chair of my Commons during my sophomore year and, while that was challenging and stressful, it also was the first time I ever facilitated a meeting, and that is a skill that I use in my current job."
Patience and determination have paid off for Katie Flanagan Mobley '97. "My first job was not a glamorous job," said Mobley, who is now executive director of the Winooski, St. Albans, and Middlebury academic centers of the Community College of Vermont. "But in the sense of becoming a team player, pitching in, doing what's needed, asking questions, and showing initiative—it's taken all of us [on the panel] a while to get to this place. Being willing to do whatever was expected of me in my first job made a really big difference, and that opened up more and more opportunities for me."
Michael Sheridan, associate professor of anthropology and chair of the Department of Sociology/Anthropology, moderated the alumni panel and asked the panelists to "tell us what you do" and "how your sociology and anthropology skill set advanced your career."
Koby Altman '04, general manager of the NBA's Cleveland Cavaliers and a former Posse Scholar, said he learned at Middlebury how to frame an argument and support it with data. For example, he said, the Cavaliers just extended the contract of star forward Kevin Love for four years and $120 million. "If I did not have the ability to make an argument and back it up with real analytics," he said, then the owner of the team might not have agreed to the terms of Love's contract. "This department teaches you how to be a thinker, be original, think outside the box, and then back it up with real data.
"When you are going in to interview for a job," Altman advised, "do as much research as you possibly can on the other person and their business. Find some coin or something about them that's going to light them up. Like when somebody I am interviewing mentions Middlebury College, you want to be able to find [those areas of mutual interest] with the other person, and even if you have no connection, you should figure out something interesting about the other person and bring it up in the interview or in the email."
A student research project at Middlebury set Elise Shanbacker '07 on her career path. "For my senior thesis, I did an ethnography of a mobile home park here in Middlebury that has 67 units, and I applied a social capital lens to that," said Shanbacker, who worked in state government and went to graduate school, then returned to the area in 2015 as executive director of Addison County Community Trust. "Researching the thesis connected me with the owner of the mobile home park, Addison County Community Trust, and that led to my first job out of Middlebury."
Chris Murton '03, a senior designer at Reed Hildebrand LLC, said. "What I do now is 100 percent applicable to what I studied at Middlebury because landscape architecture is ultimately about how people interact in their environment, whether it's a city or a more natural environment, and it's about how people experience the world around them… . Anybody you speak with who was an anthropology or sociology major will say the breadth to which you can apply the skills you learned here are limitless."
The Center for Careers and Internships conducts frequent field guide conversations with alumni throughout the academic year to help students think broadly about where their academic work might lead in a professional context. Future field guide events are scheduled for 2018–19 as follows: October 25 for economics, November 1 for political science, March 7 for education studies, March 14 (tentative) for English and American literatures, April 4 for film and media culture, April 19 for biology, and geology on a date to be announced.
"One of the greatest joys of being a professor at Middlebury is seeing people come back years later," said Sheridan. "A lot of teaching involves planting seeds, but you don't know what they are going to grow into. Seeing how our graduates on this panel have found their way professionally is just so satisfying."
By Robert Keren; Photo by Todd Balfour
For More Information