Faculty Research Comes to Life for Parents and Students at Annual Forum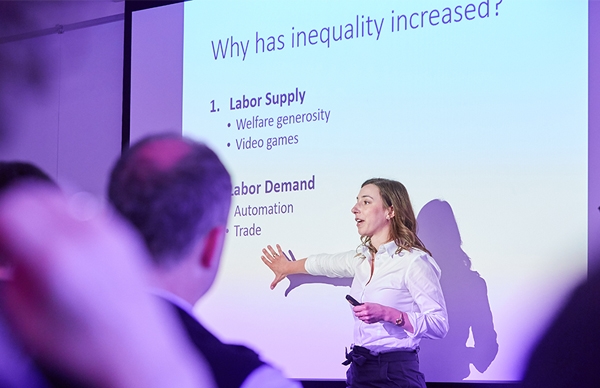 MIDDLEBURY, Vt. – The crowd filing into Axinn 232 on Friday couldn't help noticing the two students dressed in early-19th-century garb standing off to the side. Two more students—not costumed—were seated with a laptop at the front of the room. The quartet was ready to act out a five-minute scene from Tom Stoppard's play Arcadia, in which the two couples appear in the drawing room of an old country house, acting in two different timeframes set 200 years apart. Toss in a few references to fractal geometry and the second law of thermodynamics and you have a challenging scene made to delight curious minds.
The mini theater demonstration, representing a longstanding collaboration between theater professor Cheryl Faraone and mathematics professor Steve Abbott, was one of 41 presentations of research and creative work at the second annual Fall Faculty Forum.
Abbott told the audience of parents and students that Faraone had emailed the Math Department many years ago, looking for an expert who might be interested in working with her on a production of Arcadia. He had no background in theater, but was intrigued with how the two disciplines might interact, so he met with Faraone and the student actors, and was sold. Abbott and Faraone now team-teach a winter term course exploring the complementary ways in which "science and theater seek out their respective truths."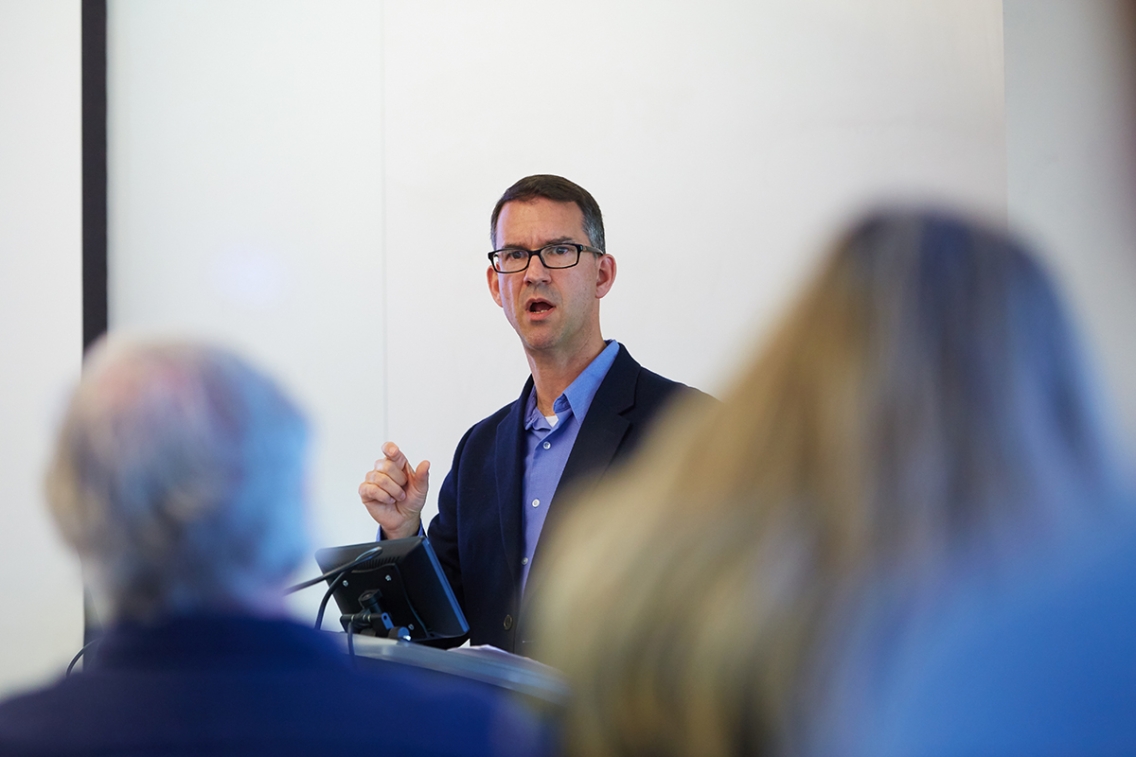 Erik Bleich, the Charles A. Dana Professor of Political Science, discussed his research on hate speech.

"This play engaged mathematics in a way that I had never seen before," said Abbott. "It took a subject that I had spent my life doing and cast it through the eyes of an artist and put it out the other side and showed me things about it that I had never thought about."
Last year, the faculty forum was born of a desire to celebrate and share the research and creative work of Middlebury College and Institute faculty. The organizers of the inaugural forum discovered a keen interest among students and parents to attend the faculty panels.
Down the hall from the theater group, another faculty panel, titled "Earth, Environment, and Ecology," demonstrated the great diversity of research interests, even within related fields. Assistant Professor of Geology Kristina Walowski, a volcanologist, gave the audience a primer on investigating the earth's interior with magma chemistry. Erin Eggleston, a colleague in biology, described her research on microbial metagenomics in wetland management decisions. Matthew Dickerson, a computer science professor, spoke about his work as a narrative nonfiction writer, studying the ecological impact of climate change and invasive species on river ecology and native trout. And Michael Sheridan, associate professor of anthropology, discussed his work in "ethnobotany and power across the African Atlantic."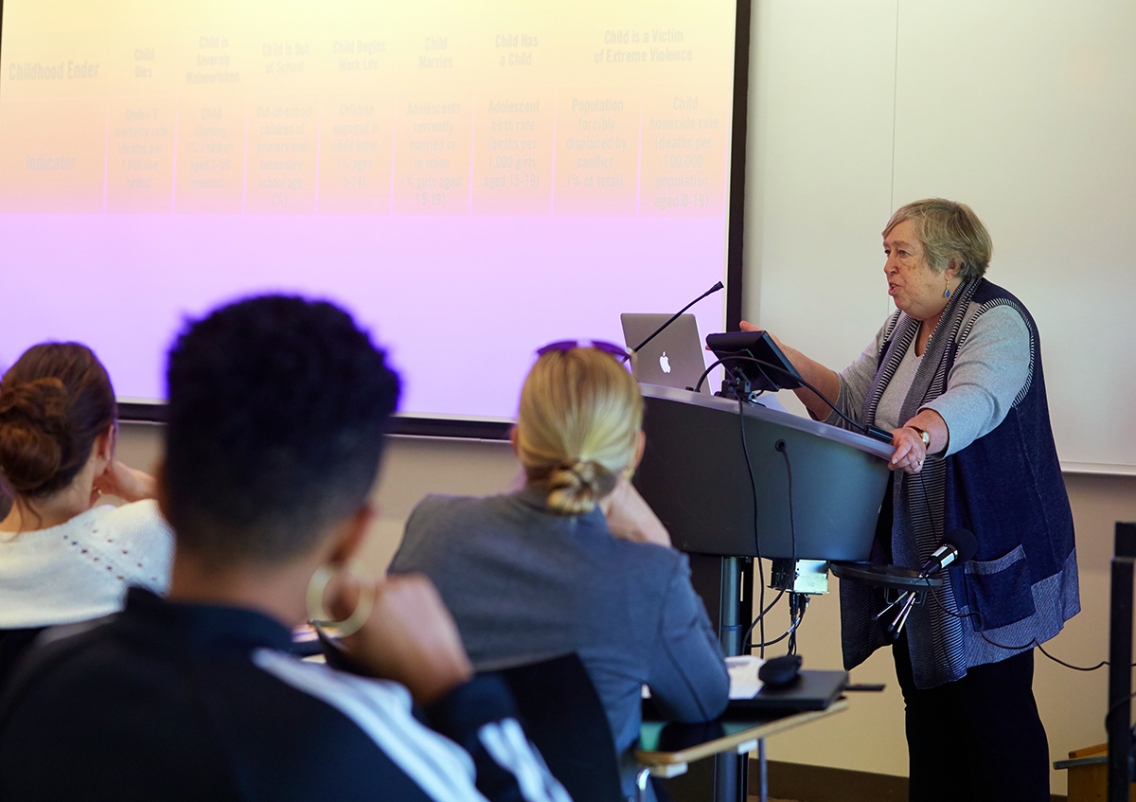 Beryl Levinger, Distinguished Professor and Chair, Development Practice and Policy Program at the Middlebury Institute, gave a talk titled, "Protecting Children: a comparative analysis of 175 countries and 50 US states."

Meanwhile, other panels covered topics ranging from migration and changing borders to rhetoric and inclusion. William Arrocha, associate professor at the Middlebury Institute's Graduate School of International Policy and Management, argued for compassionate migration and pointed to the expanding number of sanctuaries established by state and local governments in the U.S.—a trend that stands in opposition to what many see as the country's growing xenophobia. He began by reading several quotes from U.S. presidents on the topic of immigration and then asked the audience to match the name of a president with each quote. The exercise's results surprised some and illustrated the country's changing attitude toward immigrants.
In all, 42 faculty members, including seven from the Middlebury Institute, participated in the panels and three exhibits.
"The forum emphasizes how much we as a community value faculty research and creative work," said Jessica Teets, associate professor of political science and one of the forum's organizers. "It allows us to share our work with our colleagues, students, families, and staff; and potentially foster more interdisciplinary collaboration across campus."
A full listing of the faculty presenters from this year's forum is available online.
By Stephen Diehl; Photos by Yeager Anderson and Todd Balfour
For More Information