Mahaney Arts Center Receives Chamber of Commerce Award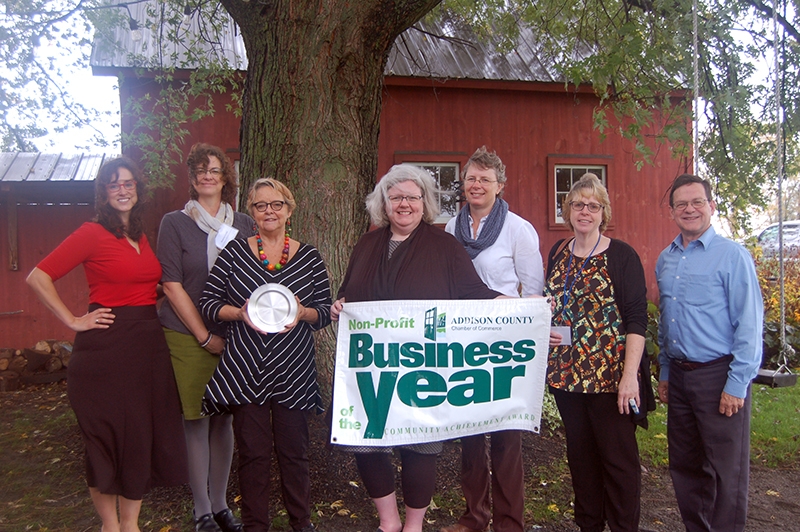 Staff of the Mahaney Arts Center (from left): Liza Sacheli, Shannon Bohler, Debby Anderson, Allison Coyne Carroll, Christa Clifford, Missey Thompson, and Addison County Chamber of Commerce President Rob Carter. Missing: Mark Christensen, Pieter Broucke

MIDDLEBURY, Vt. – The Addison County Chamber of Commerce honored a local business, individual, and non-profit organization with awards during its annual meeting on October 11 at Tourterelle Restaurant in New Haven.
Middlebury's Mahaney Arts Center received the Chamber's Community Achievement Award, which is given to a nonprofit organization that "provides a significant and sustained contribution to the well-being of the area. Liza Sacheli, director of the Mahaney Center, accepted the award on behalf of the Center.
William Brooks executive director of the Sheldon Museum, presented the honor, noting that "Over 300 public events are held at the Center each year, all enhancing our cultural life. They include world-class art exhibits, concerts, dance recitals, and theatrical performances. Visitors of all ages are welcome. Especially popular is the annual "Spring into the Arts" festival honoring the work of local students from elementary through high school. And of course, throughout the year programs at the Center are geared to enhancing the education of Middlebury College students, but also benefitting the thousands of local residents who visit the Center's offerings each year."
The Chamber also presented the Business of the Year award to Silver Maple Construction of New Haven, and the Buster Brush Citizen of the Year Award to Amey Ryan, owner of IPJ Real Estate in Middlebury.
The Mahaney Arts Center staff includes: Claire Adams, art events assistant, Debby Anderson, box office manager, Shannon Bohler, arts events manager, Pieter Broucke, director of the arts, Allison Coyne Carroll, director for the performing arts series, Mark Christensen, concert hall technical director, Christa Clifford, associate director of operations and finance, Liza Sacheli, director, and Missey Thompson, administrative and box office coordinator.