Middlebury and UVM Host Poverty Symposium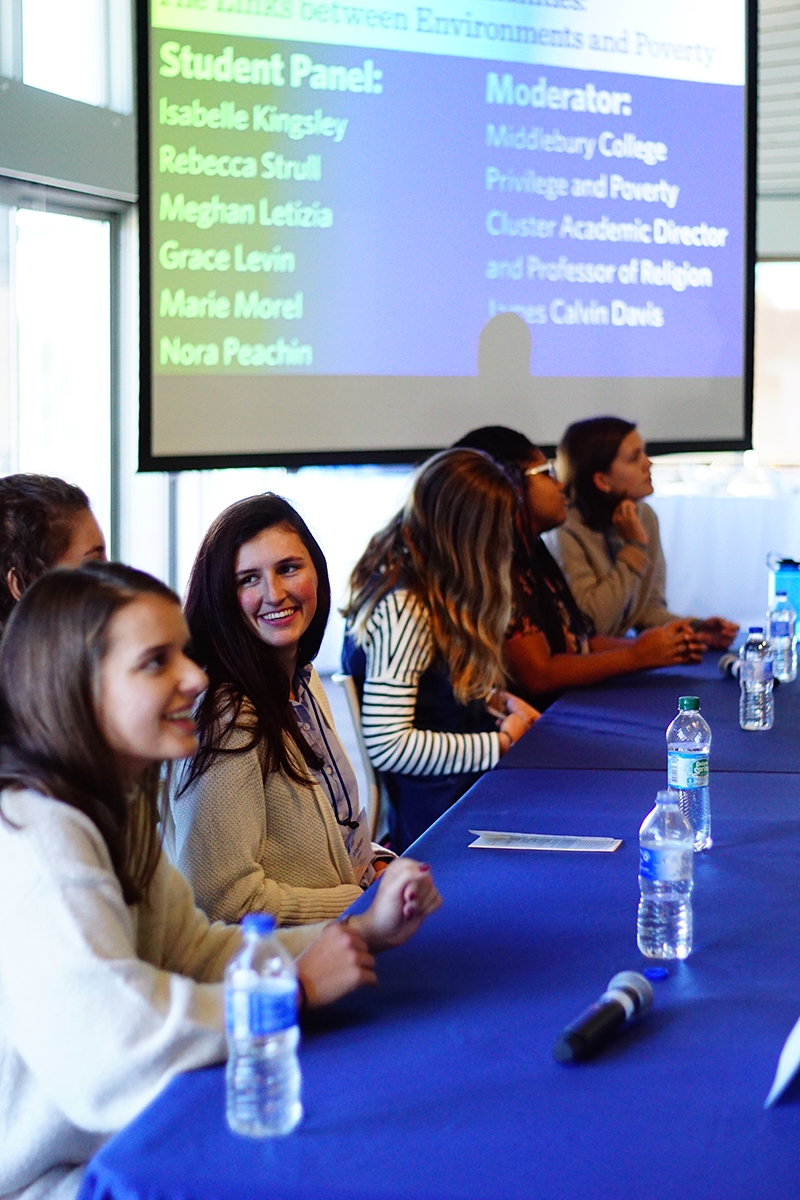 Students from Middlebury and UVM spoke about their summer internships addressing poverty issues at the Vermont Educational Alliance on Poverty symposium. Student panelists (from left): Isabelle Kingsley (UVM), Rebecca Strull '20 (Middlebury), Meghan Letizia (UVM), Grace Levin '18 (Middlebury), Mariel Morel (UVM), Nora Peachin '21 (Middlebury)
MIDDLEBURY, Vt. – Middlebury's Kirk Center welcomed more than 50 participants to this year's Vermont Educational Alliance on Poverty symposium, titled "Fostering Equitable Communities: The links between environments and poverty," on October 26. The symposium is a joint effort between Middlebury and the University of Vermont's College of Education and Social Services.
According to the symposium's organizers, the event aimed to provide an opportunity for students, faculty, staff, and community partners to consider, together, such questions as: In your community, what links have you seen between poverty and the environment? How has climate change impacted your thinking about community, particularly as the impact relates to individuals and families living in poverty? And, how can we best situate experiential learning opportunities at the intersection of environment and poverty to foster equitable communities?
President Laurie Patton and Professor of Religion James Calvin Davis welcomed the participants, noting the importance of integrating place-based experiential learning within the academic curriculum.
"This is an extension of our schools' efforts to develop intentional learning opportunities around the social problem of poverty," said Davis, who directs Middlebury's Privilege & Poverty Academic Cluster. "The focus of our work is on inviting students to put their classroom learning on poverty-related issues in deep and critical conversation with the learning they can do with and in real communities right here in Vermont. In other words, we are working together to develop meaningful opportunities to do engaged learning around the issue of poverty."
Patton highlighted the value of experiential learning in her remarks. "The integration of classroom learning and experiential learning is such a powerful manifestation of what I envision higher education's purpose to be in 2018," said Patton. "The way I frequently phrase it is 'learning in the world and the world in learning.' These programs that blend traditional instruction with learning in the world is what makes a liberal arts experience hopeful. They allow students to find meaning in their learning."
Students from both schools kicked off the first session with a panel discussion, moderated by Davis, reflecting on their summer internships addressing poverty issues. Later in the afternoon, UVM faculty members Brendan Fisher and Trish O'Kane delivered the keynote talks. Fisher described his work with impoverished communities in Mozambique, the impact of environmental degradation on those communities, and the ways that those communities are working to steward their environments. O'Kane talked about her work building an environment-focused mentorship program that connects college students with middle school students through outdoor programming. Middlebury College Associate Professor of Environmental Studies Rebecca Kneale Gould closed the conference with her keynote response, describing access to beauty as a basic human right.
The symposium, which included representatives from community partner organizations, state offices, and the national Shepherd Higher Education Consortium on Poverty, received support from the Fieldstone Foundation.