Student-Designed Habitat for Humanity Houses Move Forward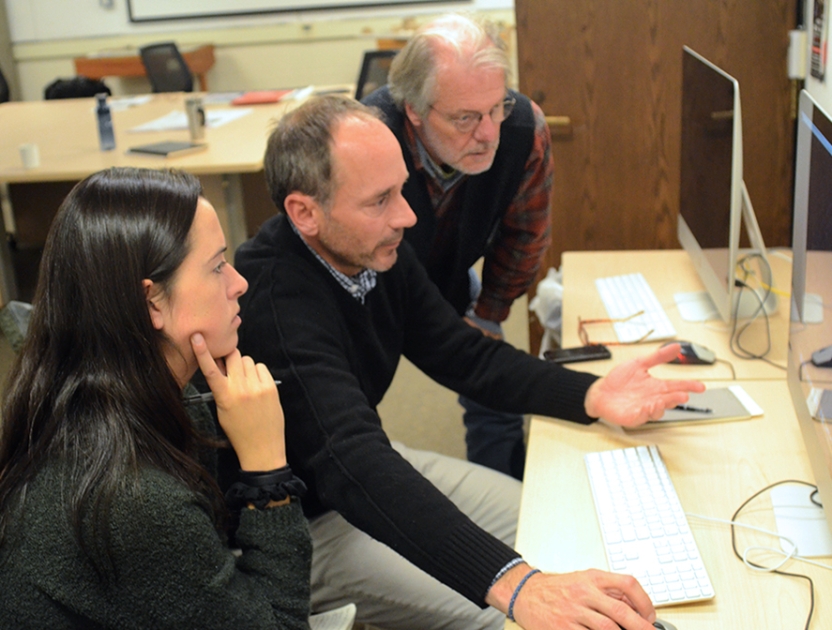 This is the second installment in ongoing coverage of this Habitat for Humanity project undertaken by Middlebury students. You can find the first part here.
MIDDLEBURY, Vt. – "We are going to need that rendering today." "Please work with your project manager now to get those details." "We cannot have an inaccuracy of 13/16ths of an inch in these drawings." "We have to have everything ready to go by Friday."
These are the sounds of urgency one might hear inside a busy architectural firm, except we are not in an architect's office today. We are in a Middlebury College classroom in the Johnson Building with architect and assistant professor John McLeod and the 11 undergraduates in the interdisciplinary class called Architectural Studies 273.
The students are busy designing two Habitat for Humanity houses that will soon occupy a 20,000-sq.-ft. lot located at 51 Seymour Street in Middlebury.
The design development for two single-family homes that meet all town and state building codes, and adhere to Habitat for Humanity requirements, would normally be a task undertaken by a small team of architectural professionals. But in this instance, McLeod, a Middlebury "professor of the practice," is operating the class "just like it's an architectural firm consisting of one principal and 11 interns."
With the need to complete all construction drawings by early February 2019, McLeod says, "The project is going very well overall. We have had many challenges on many fronts" – including square footage, storm water drainage, and parking – "but none of that is unusual. Making buildings is a complex process and every hurdle we encounter is a good experience for the students because for anyone interested in being an architect, it doesn't get any more real than this."
Adds McLeod, "In a typical architect's office, you'd have only one or two people working on a project of this size, so with 11 students we have to divide the work up and that can be quite challenging at times." While some students on this Tuesday in October are busy researching products and materials, energy-efficiency standards, and fire and safety codes, other students are using AutoCAD and sophisticated software products to produce the technical drawings needed for construction.
Representatives from the Addison County chapter of Habitat for Humanity (i.e., the "clients" on the project) attend almost every class to observe, ask questions, and offer assistance.
House A, the house closer to Seymour Street, will contain three bedrooms and be approximately 1,100 sq. ft. in size. The house further set back, or House B, will contain two bedrooms and be about 900 sq. ft. Both houses will meet Efficiency Vermont's highest standards, which, as McLeod explains, will cost a little more up front but will reduce significantly the operating costs for the eventual homeowners (who have not been selected yet.)
Each house will have one full bathroom and a laundry area, and each will have its own electric heat-pump system for heating and cooling. And to reduce cost and stay within budget, the houses will be built on slabs.
The next deadline for the class is November 5 when the Middlebury Design Review Board will again examine progress on the project. In January, McLeod's business partner and architect Stephen Kredell will lead a winter term class that will finalize the drawings and prepare to seek bids on the site work, concrete, electrical, and plumbing for both houses.
The construction of the houses will be undertaken later in 2019 by Habitat for Humanity volunteers, with the hope that some will be Middlebury students.
"Our intent all along has been to take the project though about 75 percent of the construction documents this fall semester, and to finish the remaining 25 percent during winter term," said McLeod. "That will give us plenty of opportunity this winter to adjust things if needed according to the budget before the actual construction begins."
– With reporting and photography by Robert Keren