Students Protest Trump's Proposed Changes to Definition of Gender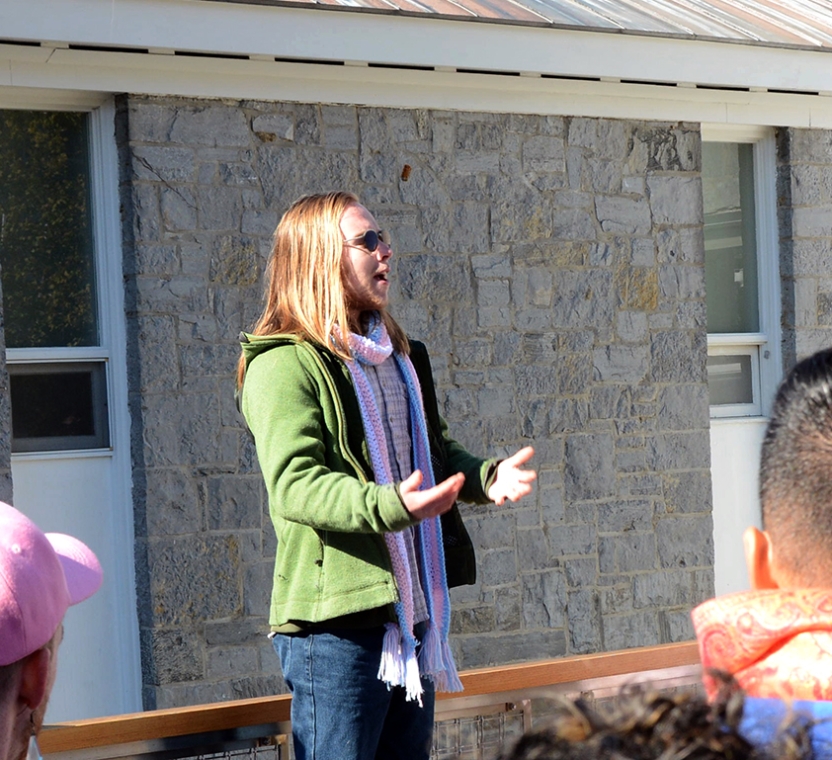 MIDDLEBURY, Vt. – Less than a week after a leaked memo from the Trump administration mapped out a plan to narrowly define gender under federal law, Middlebury students rallied on Proctor Terrace to protest the proposed action and express their support for the campus transgender community. Organized by the College's Queers and Allies and Trans Affinity Group, the #Won'tBeErased rally called for action against what many see as a reversal of progress on transgender rights.
The Department of Health and Human Services, in a memo obtained by the New York Times, proposes that "sex means a person's status as male or female based on immutable biological traits identifiable by or before birth."
Several students spoke at the rally, decrying what they believe will erase the identities of transgender and intersex people. One student read statements emailed from students who did not feel comfortable speaking in public on the topic. Students called on the crowd of about 200 students for solidarity and support and urged them to join the fight.
Earlier on Friday, in an email to all faculty, staff, and students, President Laurie Patton and Chief Diversity Officer Miguel Fernández pledged their continued support to transgender students at Middlebury.
"We write to assure you that any change to the national policy will have no effect on Middlebury's policies or procedures. Middlebury prohibits discrimination in employment (or in admission or access to its educational or extracurricular programs, activities, or facilities) based on sex, sexual orientation, gender identity or expression, among many other forms of identity. Furthermore, it is unlawful in Vermont for an employer to discriminate because of a person's race, color, religion, ancestry, national origin, sex, sexual orientation, gender identity, place of birth, disability, or age.
"At Middlebury, we remain committed to maintaining a diverse and inclusive campus environment where bigotry and intolerance are unacceptable. We will continue to offer the highest levels of support for our transgender and gender-nonconforming colleagues and students in the face of challenges ahead."