Athletics Hall of Fame Inducts New Members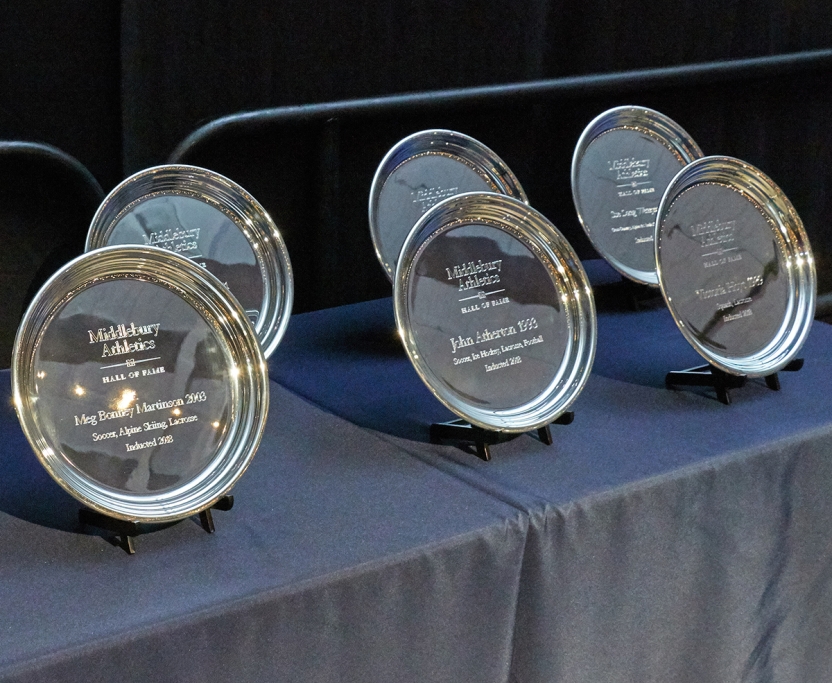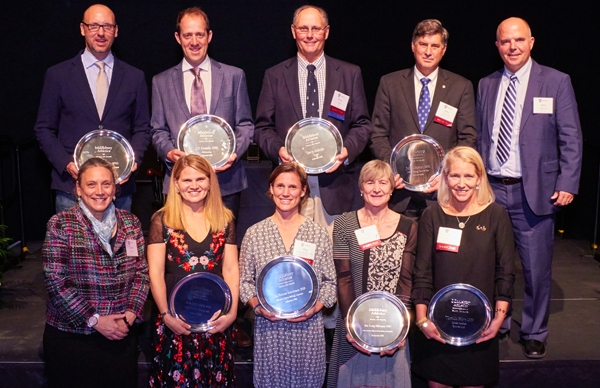 New inductees to the Athletics Hall of Fame pose with Laurie Patton following the induction dinner celebration on November 3. Back row, from left: John Atherton '93, J.P. Gowdy '99, Terry Aldrich, John Morton '68, Athletic Director Erin Quinn; Front, from left: President Patton, Kate Irvin Pfeffer '01, Meg Bonney Martinson '03, Sue Long Wemyss '82, Victoria Hoyt '89.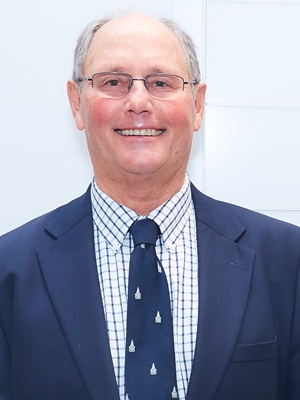 Terry Aldrich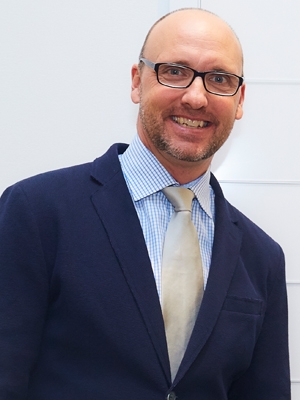 John Atherton '93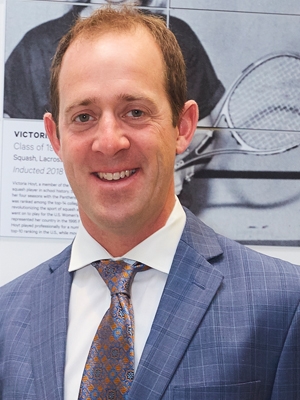 J.P. Gowdy '99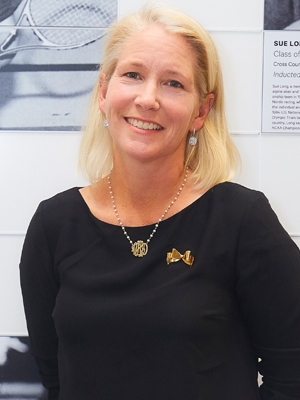 Victoria Hoyt '89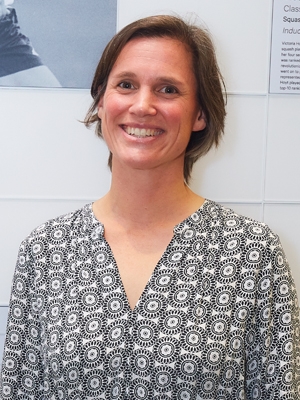 Meg Bonney Martinson '03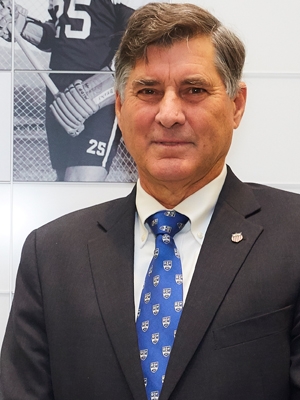 John Morton '68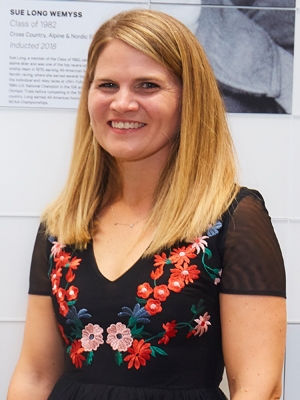 Kate Irvin Pfeffer '01
Sue Long Wemyss '82

MIDDLEBURY, Vt. — The Middlebury Athletics Hall of Fame inducted eight new members at a gala induction ceremony and dinner held on November 3, 2018, in Nelson Recreation Center.
With about 275 alumni, faculty, coaches, staff, friends, and family members in attendance, the ranks of Middlebury's Hall of Fame swelled to include 36 luminaries in the field of intercollegiate athletics. The newest class of inductees made contributions that span five decades, from the early 1960s to 2010.
Middlebury's Hall of Fame, founded in 2014, commemorates the athletic performance and service of alumni, coaches, administrators, and staff dating back to the 1880s for men when baseball emerged as the first varsity sport, and back to 1934 for women when the ski team held a carnival for athletes of both genders.
President Laurie L. Patton welcomed everyone to the annual gathering that celebrates "the key role that athletics plays in a Middlebury liberal arts education." In her brief remarks, the president said "the love of sport combined with passion, commitment, and intentionality continue to be the hallmark of Middlebury athletes and young alumni."
She observed that a group of seven alumni and coaches from the field hockey team will soon travel to India to use their sport "as a vehicle to help teach empowerment to vulnerable young women. They are applying their love and enthusiasm for the game and its transformative powers to help those in great need. Passion, commitment, intentionality—this is what is and has always been at the heart of Middlebury athletics, and what remains across the generations."
Erin Quinn '86, Middlebury's director of athletics, served as master of ceremonies for the Hall of Fame ceremony. The new inductees:
Terry Aldrich was a head coach for 36 years, primarily with the skiing and cross-country running programs. He devoted 31 years to coaching skiing, where he led the women's team to national championships in 1979 and 1980. He coached 30 All-American skiers and three Olympians. Aldrich was also the head cross-country coach for 36 years. His women's teams captured six NCAA championships, 10 NESCAC titles, and 11 regional crowns. His men's cross-country squad won its first NESCAC championship in 2010 and advanced to the nationals for the first time in 2010, his final year at the helm. Aldrich was introduced at the ceremony by Mike Schoenfeld '73, senior vice president.
John Atherton '93 was a standout athlete in four sports—soccer, hockey, lacrosse, and football—who earned 12 varsity letters. He was an All-American defender in soccer who also earned All-New England honors three times. Atherton was all-conference in lacrosse and an honorable mention All-American for three seasons. On the ice, he was a steady defenseman for the nationally ranked Panthers, and he also played one season on the football team. The all-around athlete was introduced at the dinner by his former lacrosse coach, Erin Quinn.
J.P. Gowdy '99 was a dominant swimmer in the late 1990s who still holds school records in the 100-meter freestyle, 200-meter individual medley, and 400-meter individual medley. In 1997, he captured the NCAA championship in the 400-meter individual medley with his time of 3:59.85. Gowdy, the first male swimmer to be inducted in the Middlebury Athletics Hall of Fame, earned 17 All-American honors and seven honorable mentions during his four years in the pool. A member of four record-holding relay teams, Gowdy was introduced by his former coach, Peter Solomon.
Victoria Hoyt '89 is the most decorated squash player in Middlebury history. She earned All-American honors in each of her four seasons in an era when Middlebury competed against all divisions. Upon graduation, she played the next eight years for the U.S. women's national squash team and represented the United States in the 1995 Pan American Games in Colombia. Hoyt also played professionally for a number of years, regularly maintaining a top-10 ranking in the U.S. She was introduced by her Middlebury squash coach, David Saward.
Meg Bonney Martinson '03 excelled in soccer, alpine skiing, and lacrosse at Middlebury. On the soccer pitch, she tallied more goals (53) and more points (119) than any other player, woman or man, in school history. She earned four All-NESCAC selections and was the league's rookie of the year in 1999 and player of the year in 2000. She was also an All-American skier in 2001, and her lacrosse teams amassed a remarkable 51-1 mark, including two NCAA championships and three NESCAC titles. Martinson was introduced by her former lacrosse coach, Missy Foote.
John Morton '68 was a standout Nordic skier at Middlebury who went on to become a world-class biathlete and designer of ski trails. During his senior year, Morton finished first in every carnival cross-country event and won the EISA championship for his second time. A member of the 1972 and 1976 Olympic biathlon team, he won the U.S. national championships in 1974 and 1976. He has designed more than 225 ski trails in the U.S. and abroad, and was introduced to the Hall of Fame audience by Karl Lindholm '67, former dean of advising.
Kate Irvin Pfeffer '01, a runner, earned All-American honors 10 times at Middlebury, which is more than any other athlete in track history. She won All-NESCAC honors during all four of her spring track seasons, including two victories in the 1,500-meter run and one laurel at the 800-meter distance. At NCAA championships, Pfeffer placed third for three consecutive years at 1,500 meters. In the fall, she was a standout member of the cross-country team, which won its first NCAA championship in her senior year. Introduced at the ceremony by Coach Martin Beatty '84, she was a top-four finisher in all four of her NCAA cross-country championship races.
Sue Long Wemyss '82 was an All-American alpine skier and one of the top racers on the 1979 national championship team before converting to Nordic skiing, in which she also excelled. After Middlebury, she was the U.S. champion in the 10-kilometer and 20-kilometer events and won the 1984 Olympic trials at both distances. She represented her country at the '84 Olympics at Sarajevo. Also an avid runner, she earned All-American honors in cross country in 1981 and placed third at the NCAA championship. She was introduced by fellow inductee Terry Aldrich.
Athletic Director Quinn closed Middlebury's fifth Hall of Fame induction ceremony by paraphrasing John F. Kennedy: "Tonight Middlebury College revealed itself by the men and women it honored, and the men and women it remembered."
Quinn thanked all eight inductees for attending the ceremony and added: "What is revealed to us as we honor you and remember you tonight represents what is best about Middlebury College and Middlebury College athletics. Thank you for all you have done for us and with us."
For More Information