Video: Squash Center Dedicated on Hall of Fame Weekend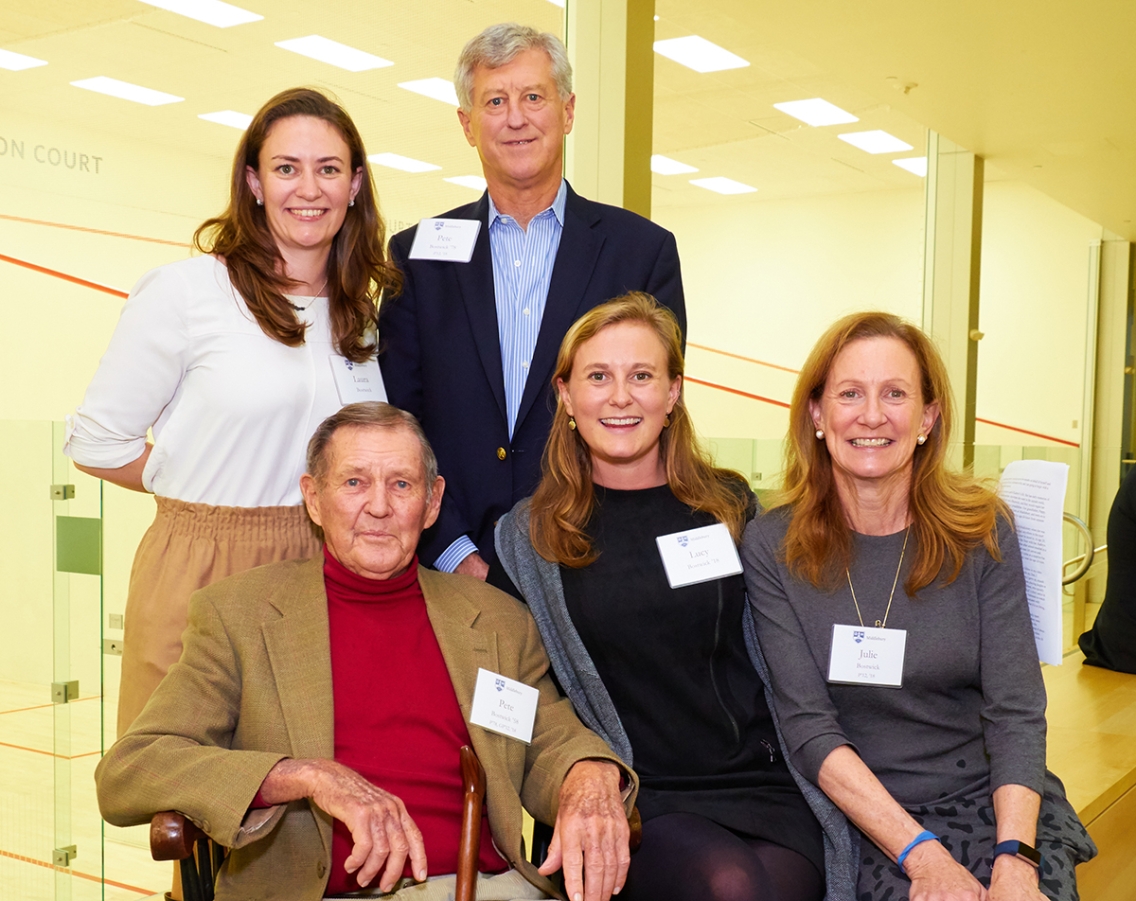 The Middlebury College squash center was named for the Bostwick family at a ceremony on November 3. Front row (L-R)—Pete Bostwick Jr. '58, Lucy Bostwick '18, Julie Bostwick; Back row—Laura Bostwick, Pete Bostwick III '78.
MIDDLEBURY, Vt. – Middlebury dedicated one of its newer athletic facilities to a multigenerational family of athletes with deep ties to the College. Just before the 2018 Athletics Hall of Fame ceremony on November 3, the squash center was officially named the Bostwick Family Squash Center. Pete Bostwick Jr. '58, Pete Bostwick III '78 and his wife, Julie, along with daughters Lucy '18, and Laura were all present for the dedication. A third daughter, Kathryn '12, another Middlebury graduate, was unable to attend.
"This is a family with a proud Middlebury lineage," said President Laurie Patton in her welcoming remarks. "And they are a family of accomplished athletes with a great appreciation for sport."
Pete Jr. '58 was a multisport athlete during his time at Middlebury. He went on to win three national championships in squash and was one of only a handful of men to have competed in the U.S. Open in both golf and tennis. His son, Pete III '78, was a talented athlete in skiing, hockey, squash, tennis, paddle tennis, and golf over many years. Kathryn and Lucy competed at the collegiate level in squash, becoming squash team captains at Middlebury. Daughter Laura played squash for Colgate University.
"I know I speak for everyone affiliated with Middlebury athletics and the squash program when I say it is an honor to have your name permanently affiliated with our facilities and our squash program," Athletics Director Erin Quinn said to the family members gathered for the dedication.
The nine-court squash center opened over Homecoming Weekend in 2013, just prior to the first official day of men's and women's varsity squash practice that year. Middlebury hosted its first intercollegiate match two weeks later.
Designed by ARC/Architectural Resources Cambridge and built by Engelberth Construction of Vermont, the 18,000-square-foot squash center gave the College community a modern structure dedicated to the sport.
Former Panther squash player Lucy Bostwick '18 offered some inspiration to the generations of athletes who will follow in her footsteps at the Bostwick Center.
"Use the new facility to work hard, to be the best player that you can be, and never forget your love of the game and the family that you will make in the four years that you play."