Makerspace Offers Place for Students, Classes to Create, Try New Ideas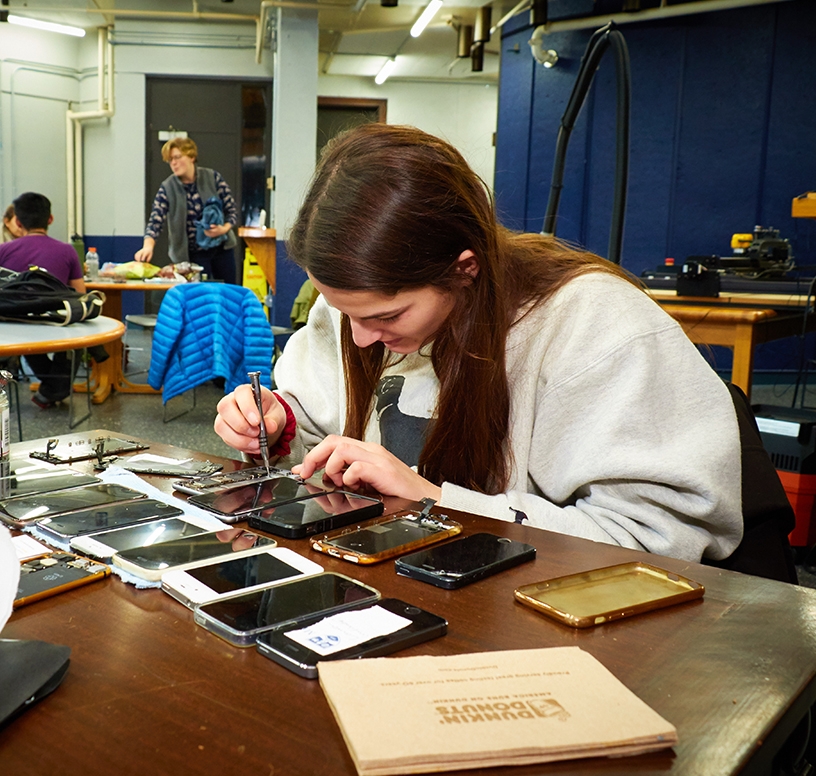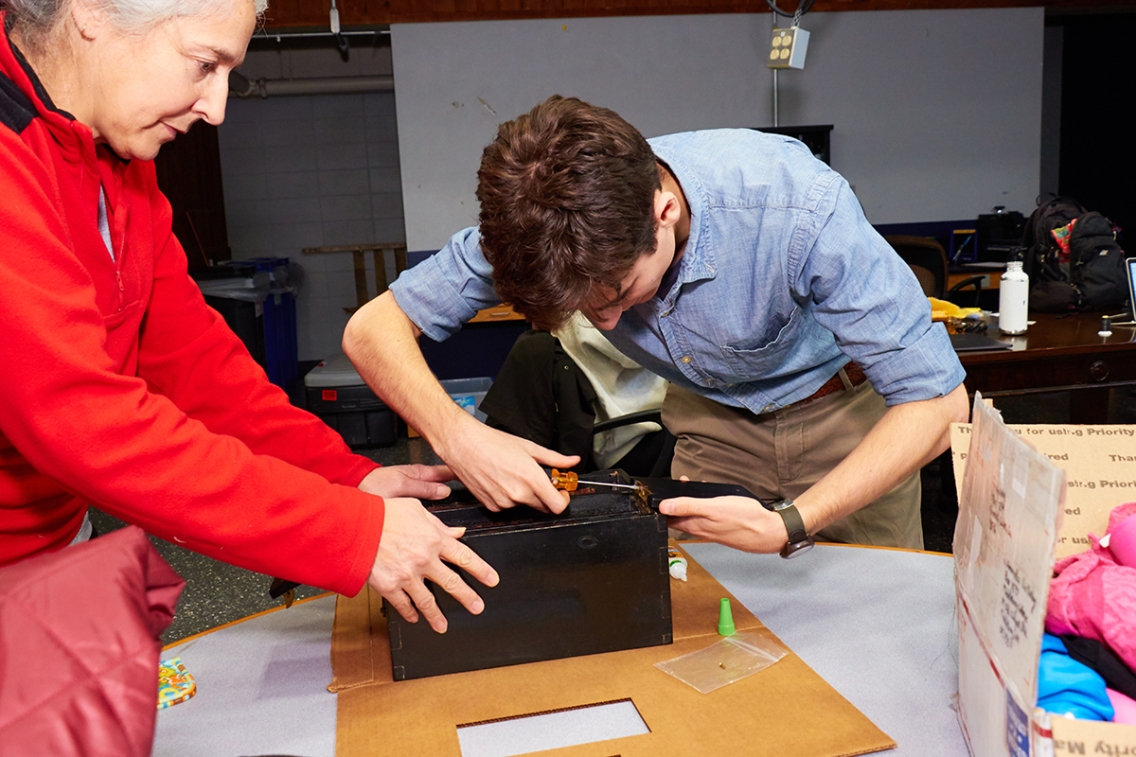 Sandra Bonomo, School of the Environment coordinator and budget coordinator of the Summer Language Schools, works with a student on repairing a box at the Repair Café.
Two classes, including Paul Hess's physics course Intermediate Electromagnetism, visited the space this semester to use the 3-D printers. Sarah Laursen, assistant professor of history of art and architecture and curator of Asian art, brought her students to the Makerspace for a new course she taught this fall, Digital Methodologies for Art Historians.
"The 3-D printers present so many opportunities," said Laursen. "For example, we have a tiny cylinder seal in the museum collection that has been increased in scale to make its decoration more visible, but tactile experiences also improve visitor engagement, increasing the amount of time visitors spend with an object and making it more memorable."
A spring semester interdisciplinary course, Enterprise & Entrepreneurship, plans to use the Makerspace as well.
The Makerspace also offers training workshops and hosts events. Student interns who are members of the Franklin Environmental Center's Sustainability Solutions Lab (SSL), and who specialize in waste reduction on campus, recently held a Repair Café at the Makerspace. Most people who attended used the sewing machine, including one student volunteer who spent several days teaching himself to sew and design so that he could make himself a backpack. Kyle Kuzman '20 helped people fix their phones and laptops—something he also does as a side business.
The SSL students plan to make the Repair Café a monthly or bimonthly event. They hope to hold the next session earlier in the semester to attract more students and possibly on a weekday to make it more accessible to staff.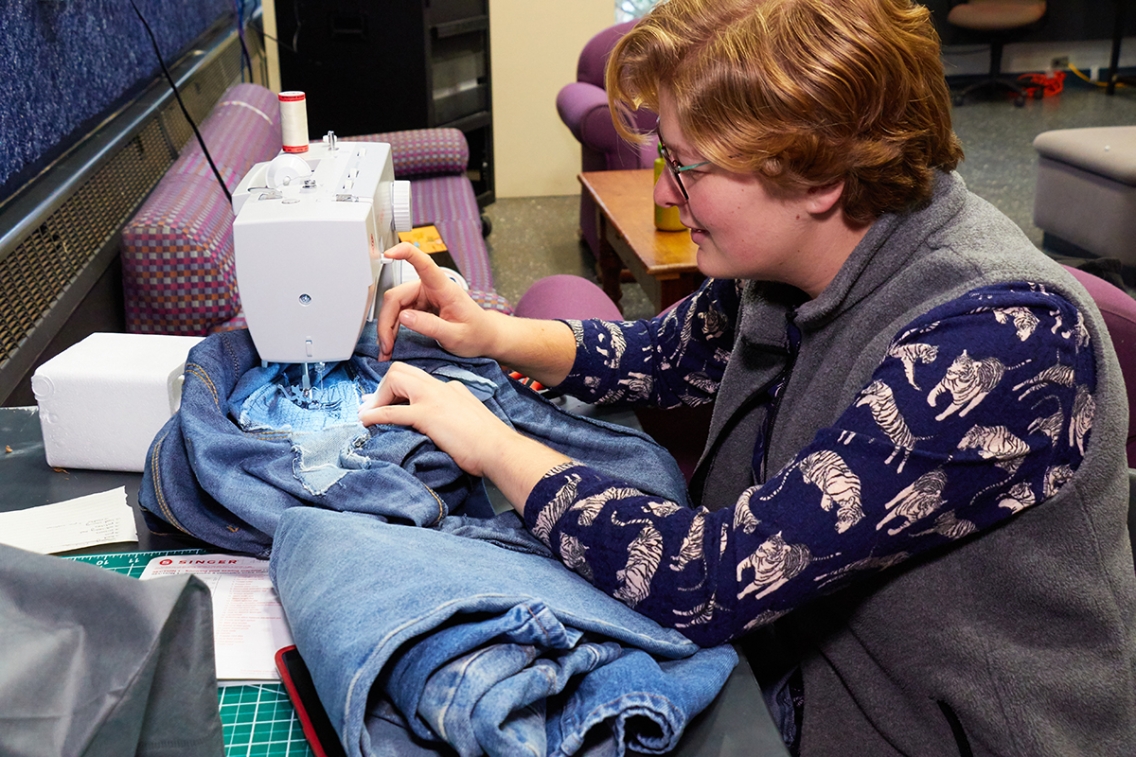 Annie Benson '19 works on a denim project at the Repair Café in the new Makerspace. The sewing station was among the most popular at the event.
The effort to establish the Makerspace began in January 2015 when Leo McElroy '18 and Joey Button '17 could not find a place on campus to build an electric car. After three years of filling out applications, giving presentations, collaborating, and attending meetings, McElroy helped launch the project in May 2018 just before graduating. The facility is part of the Center for Creativity, Innovation, and Social Entrepreneurship.
"At the Makerspace, everyone is learning new skills," said Bill Koulopoulos, who leads the project as Middlebury's director of technology and infrastructure. "The student may become the teacher and vice versa."
The Makerspace has open hours for students, faculty, and staff from 8–10 p.m. every Thursday. It is located in the former Bunker, the portion of FIC closest to Bicentennial Hall. To access the space at different times, please contact Bill Koulopoulos at bkoul@middlebury.edu.
Photos by Todd Balfour