Show Me the Money: Student Brings Ancient Coins to Light at College Museum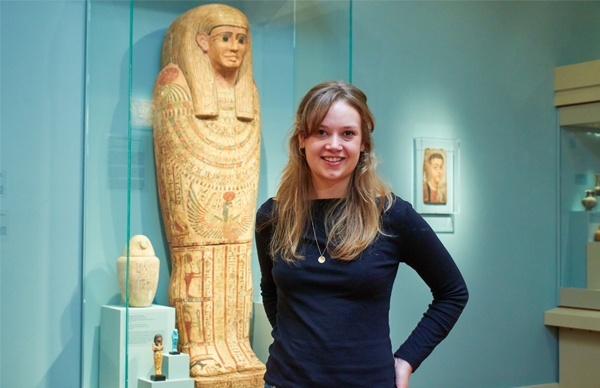 MIDDLEBURY, Vt. – A physics major from Putney, Vt., who is interning this year at the Middlebury College Museum of Art, has created an iPad interface to help showcase 30 ancient Greek and Roman coins from the College's collection.
Louise "Roo" Weed '18.5, the current holder of the Reiff Internship in Ancient Art, taught herself the programming language Swift in order to create a digital catalog that shows both sides of the coins, the approximate year in which they were struck, and their metallic composition and historical significance. For example, the "Posthumous Denarius of Julius Caesar" is a silver coin from 44 BCE showing the wreathed head of Caesar with the Sidus Iulium (Julian Star) on the front of the coin, and the goddess Venus with the legend "SEPVLLIVS MACER" on the reverse.
The senior will give an illustrated lecture about her work with the coins on January 24 at 6:30 p.m. in Room 125 of the Mahaney Arts Center. Weed's public lecture will be titled "Show Me the Money: A Digital Interface for Displaying Ancient Coins in a Museum Gallery."
The rare coins, along with an iPad containing the digital catalog, will go on permanent display in the museum's antiquities gallery in the near future, possibly as soon as the summer of 2019.
"Coins are actually very difficult to display," explains Professor Pieter Broucke, the museum's curator of ancient art and Weed's internship advisor, "because a coin is a rather small item and the label text, by the time you have explained the object, is always going to be much bigger than the coin itself. So in terms of real estate, coins are difficult to display. Also, you can only show one side of a coin. This is where the digital can really help."
The museum plans to display 15 Greek coins on a map of ancient Greece and 15 Roman coins on a timeline, with an iPad mounted close by.
Screen shots from the digital interface
[view:embed_content==605658 width:400]
Weed's appointment as the Reiff Intern might have seemed unlikely a few years ago. She was well on her way to majoring in physics when she enrolled in a Middlebury art history class to meet a distribution requirement. "I said, 'Okay, whatever, I'll just do it,' and I took an art history class in my fourth semester here. And it turned out that I loved it, and I am really interested in Indian painting and Asian art in general. So now I am a physics major with an art history minor who is doing my senior project in a type of chemical composition analysis called Raman spectroscopy."
After working with the coins and appreciating them as tiny works of art, Weed says, "The digital interface will eventually be available online as well as in the gallery, which will make it a valuable resource for researchers around the world. It is very important to tell the story of these coins in such a way that others from outside of Middlebury can benefit from them." (Two previous museum interns, Shanyue "Shane" Zhong '17 and Simone Edgar Holmes '20, contributed extensive research to the project.)
Weed will complete her academic requirements after the 2019 winter term, after which she plans to travel in South America and work in the Putney area before deciding whether to go to graduate school and what to study there.
While enrolled at Middlebury, Weed completed an internship in astrophysics at Wesleyan University's Van Vleck Observatory and a second internship one summer later in electrical engineering at NASA's Goddard Space Flight Center.
Now the 22-year-old is pondering ways to combine her interests in science and art history. "Perhaps I will find some shorter-term internships to help me figure that out," she says. "Middlebury has helped me discover passions I never knew that I had, and I feel grateful and privileged to have had that experience here."
By Robert Keren; Photos by Todd Balfour
For More Information