Students Invited to 'Write-In' Wednesday Night
Davis Family Library, Middlebury. Photo: Brett Simison
MIDDLEBURY, Vt. – As early December chills the air and final-exam anxiety looms, it's a perfect time for students to enjoy the warmth and camaraderie of writing together. On Wednesday, December 6, from 8-11 p.m., the Writing Center at the Center for Teaching, Learning, and Research will cohost an International Write-in event with Davis Family Library, the Anderson Freeman Center, and the Writing and Rhetoric Program. All students are invited to join at the Davis Family Library (room 201) or the AFC.
Writing tutors and research librarians will be on hand in both locations to assist students with whatever kind of writing they're working on. Students can also enjoy an array of sweet and savory snacks and hot chocolate to keep their energy up.
"Writing can be lonely, solitary work," says MaryEllen Bertolini, director of the writing center. "Joining a group of other student writers can be motivating, productive, and calming."
This is the fourth time Middlebury has participated in the International Write-In, joining more than 100 colleges and universities around the world in creating an intentional time and space to focus on writing. And the event's organizers emphasize that students can bring any kind of writing.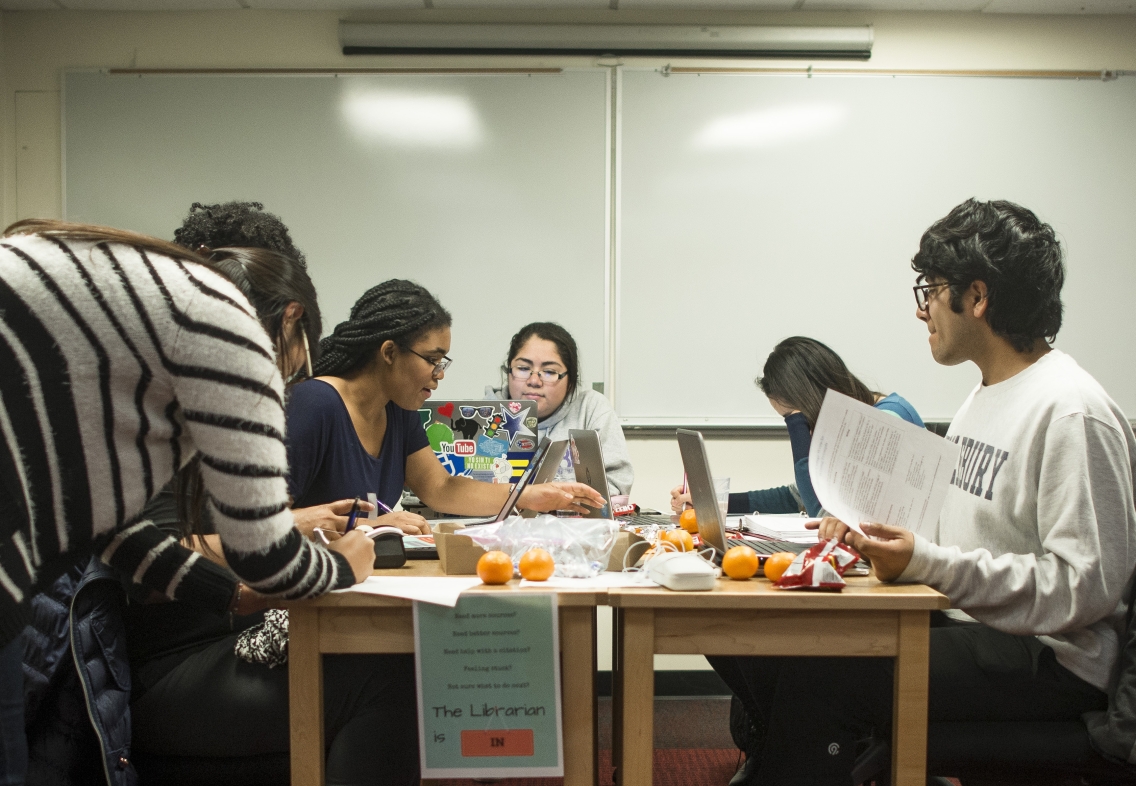 Students gather for a writing session at an earlier "Write-In" at the Anderson Freeman Center. This fall's International Write-In will take place December 5, from 8-11 p.m. Photo: Raf Cruz Hernandez '19

"This is a time of the semester when a lot of students are working on research papers, so we offer support from the library staff" said Carrie Macfarlane, director of research and instruction. "But we also encourage students to bring any kind of writing—maybe a fellowship or internship application or just a personal project. The main thing we try to convey is that you don't need to write alone."
Past Middlebury write-ins have attracted nearly 100 students to various campus locations. Students can stay for as little as 15 minutes or for the full three hours if they wish. One room at Davis Family Library, 230, will be designated as a quiet space. Peer writing tutors and a research librarian will be on-hand in the library's room 201 and at the Anderson Freeman Center.
Additional writing tutors will be available at the Center for Teaching, Learning & Research in Library 225 and at Ross 391 from 9-11 p.m. Students should sign in at either Library 201 or the Anderson Freeman Center for snacks and prizes. All students who sign in will be eligible to receive a $5.00 credit to their declining balance on their student ID card. Students who work with a writing tutor or librarian will receive additional chances.