J-Term Scenes: Sunday in the Park with George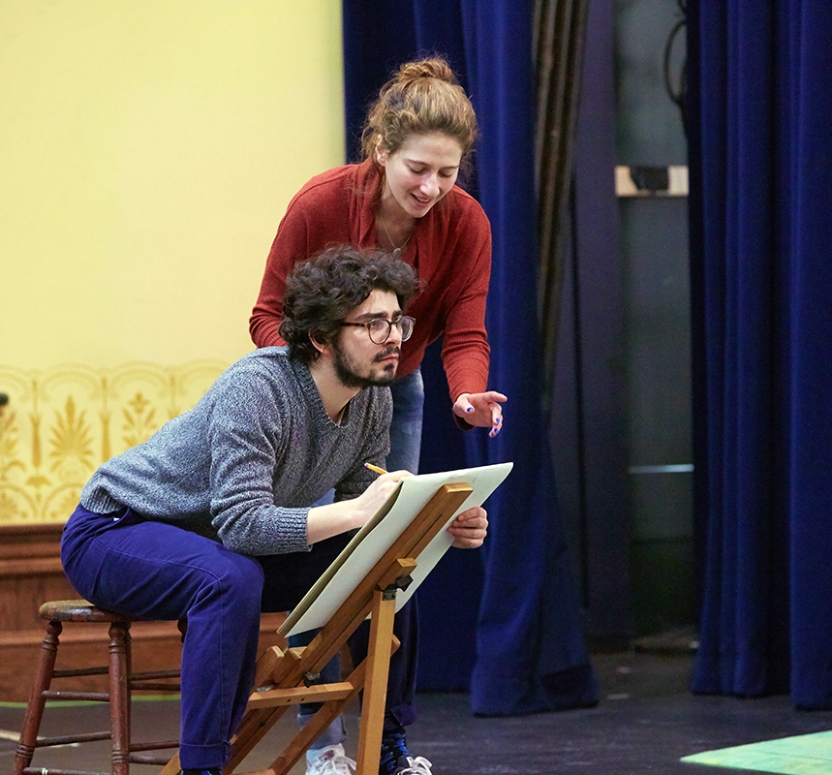 MIDDLEBURY, Vt. – For the last 14 years, the J-term musical has become one of the most popular events around, bringing Middlebury students into town to perform a fully staged production at Town Hall Theater. This winter, a 23-member cast presents Stephen Sondheim's Pulitzer Prize–winning Sunday in the Park with George Jan. 25–28. Although tickets are sold out, the public is invited on a first-come, first-served basis to an open dress rehearsal on Thursday, January 24.
Working at a professional pace with twice-a-day rehearsals, students have immersed themselves in acting, singing, and dancing since the first day of J-term.
"This is a true J-term course in that you do one thing, maybe something a little outside of your comfort zone, and you work at it very intensively," said Douglas Anderson, artistic director at Town Hall Theater and director of the J-term musicals since 2004.
"The musical is the most bang-for-your-buck experience that you can engage in during J-term," said Michael Koutelos '20, of Holmdel, New Jersey, an Italian major who plays the leading role of George in two of the four performances.
"It is six-plus hours every day, not just in the theater, also outside of it, working with your script with your scene partners, investing time in practice rooms to really get the music in your body. The dimensions of what putting up a quality performance and production entails really manifest every single day."
With students from all years and different academic interests, the ensemble becomes a versatile team that handles many aspects of the production, from props and sets to lighting and costumes.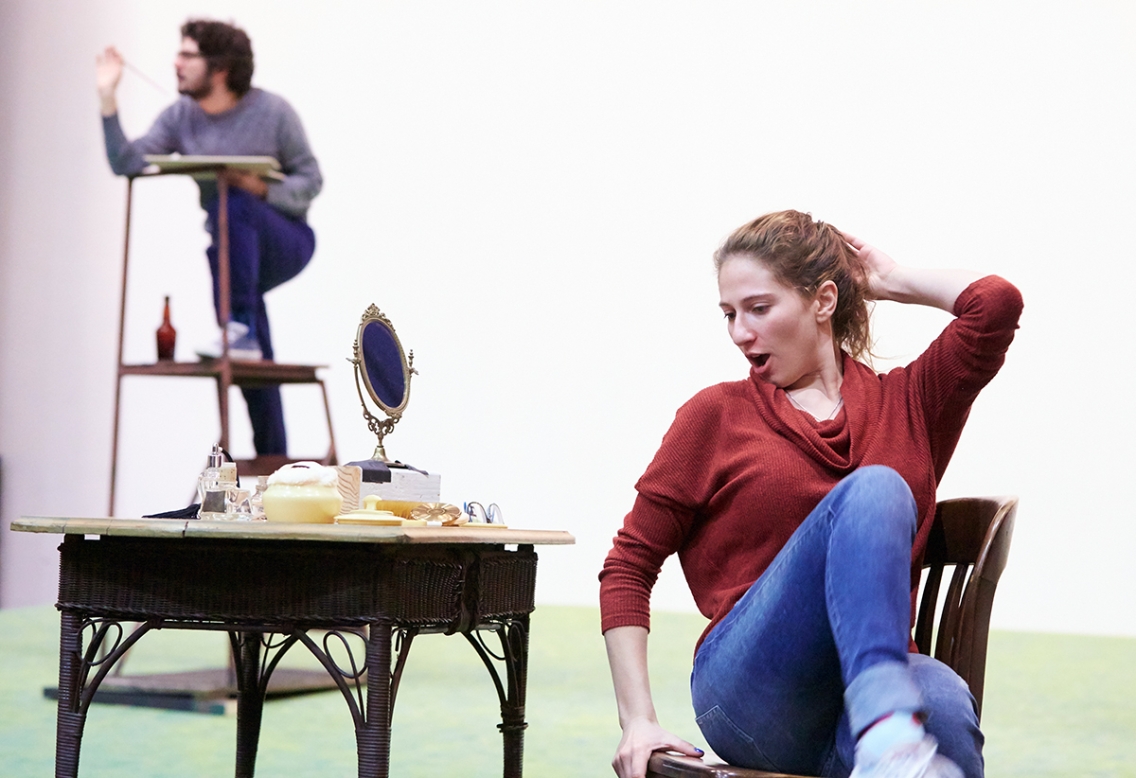 Ashley Fink '18.5, rehearses a scene from Sunday in the Park with George at Town Hall Theater. Michael Koutelos '20 (background) plays George in the J-term production.
"The experience offers you the opportunity to work with people you might not know outside, but you are all bound together by this drive for success, and for quality work, both individually, but especially as a team," said Koutelos.
Anderson stresses professionalism in all aspects of the project, and urges the students to be very intentional in how they approach their work. It's "remarkably rewarding," he says, when everyone comes in prepared, moves in the same direction and supports each other's work.
Sondheim's music and lyrics in Sunday in the Park with George offer students a great challenge, particularly with such a short production time frame.
"Sondheim is full of unexpected rhythms, unexpected harmonies," says Anderson. "He often writes lyrics that are very very dense and come at you at a very great speed, so it requires just a lot of technical ability as a singer."
"There are a lot of moving pieces that are hard to navigate, so sometimes it becomes a traffic control," said Olivia Christie '19, a theatre major from Fairfield, Vermont, who plays the part of Dot—the love and inspiration for George—in two of the four performances. "When you really get all of those pieces working together, it creates the theatrical experience that is enhanced by the music and isn't detracted by any other aspects."
Casting for the show took place early last fall and cast members began to learn the score with music director Carol Christensen during first semester. All the staging, however, takes place during J-term.
Stage manager Queenie Li '22, of San Francisco, California, has enjoyed watching the show progress from its early stages. "At the beginning, things are kind of rough," she said. "People don't know what they are doing. But now, it is just so much more put together and developed. It has been really fun—really time-consuming—but I have really enjoyed it."
In Sunday in the Park with George, there are two depictions of the artist. While Act One revolves around George, a fictionalized version of Georges Seurat, whose iconoclastic vision and innovative art practice were only recognized after his time, the second act centers on a similar struggle of his great-grandson, George, a contemporary artist stuck in his career.
"It is about creating a process for your art and sticking to your vision," said Anderson. "In both cases, the men were trying to do something new, trying to stick to their visions, trying to find a process for breaking through into something substantial and meaningful. I think that is a student's process as well—figuring out who you are, and what is your process." said Anderson.
Tickets for the performance have sold out, but the final dress rehearsal is open to the public on Thursday, Jan. 24, with a suggested donation of $10 for the public and $5 for students—cash only. The rehearsal starts at 7:30, lobby opens at 6:30. More details here.
By Qian Li '19; Photos by Todd Balfour