New Mural Reflects Student Experience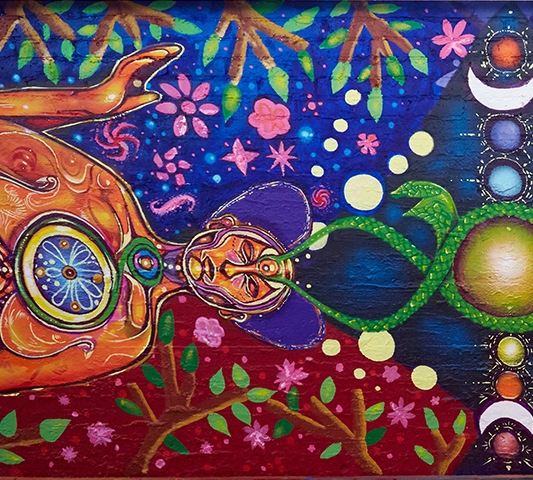 Meagan Corrado, a licensed clinical social worker and mosaic artist, led the session.
"We also incorporated wisdom, compassion, and love as themes since student conversations from the workshop focused on these ideas too," said Crow. "I feel we captured the essence of what the students expressed."
The workshop concluded with each student's creation of a small piece of visual or written art. The finished pieces surround much of the quote on the second wall.
Maria Farnsworth, a member of the Student Activities staff, recommended Nhất Hạnh's quote for one of the murals during the workshop. "I came across it in a book I was reading," said Farnsworth, "and liked it because it reflects compassion and a willingness not to be judgmental."
"Isaias, Jennifer, and I also gave some deep reflection to the themes," said Kasso, referring to his fellow artist and to Jennifer Herrera Condry, associate director of the Anderson Freeman Resource Center and his wife. She and Kasso had organized the first project, titled Gentle Ripples, and teamed up again after the Student Activities Office suggested the idea for a second mural in McCullough.
"The trauma narratives workshop was consistent with how we approached the first McCullough mural," said Herrera Condry, "and gave students space to reflect on their personal experiences and connect them to a collective vision."
The Student Activities Office, Herrera, and Kasso will host an official unveiling of the new murals in February.
For More Information