Professor Uses Broadcast to Promote Use of Mayan Languages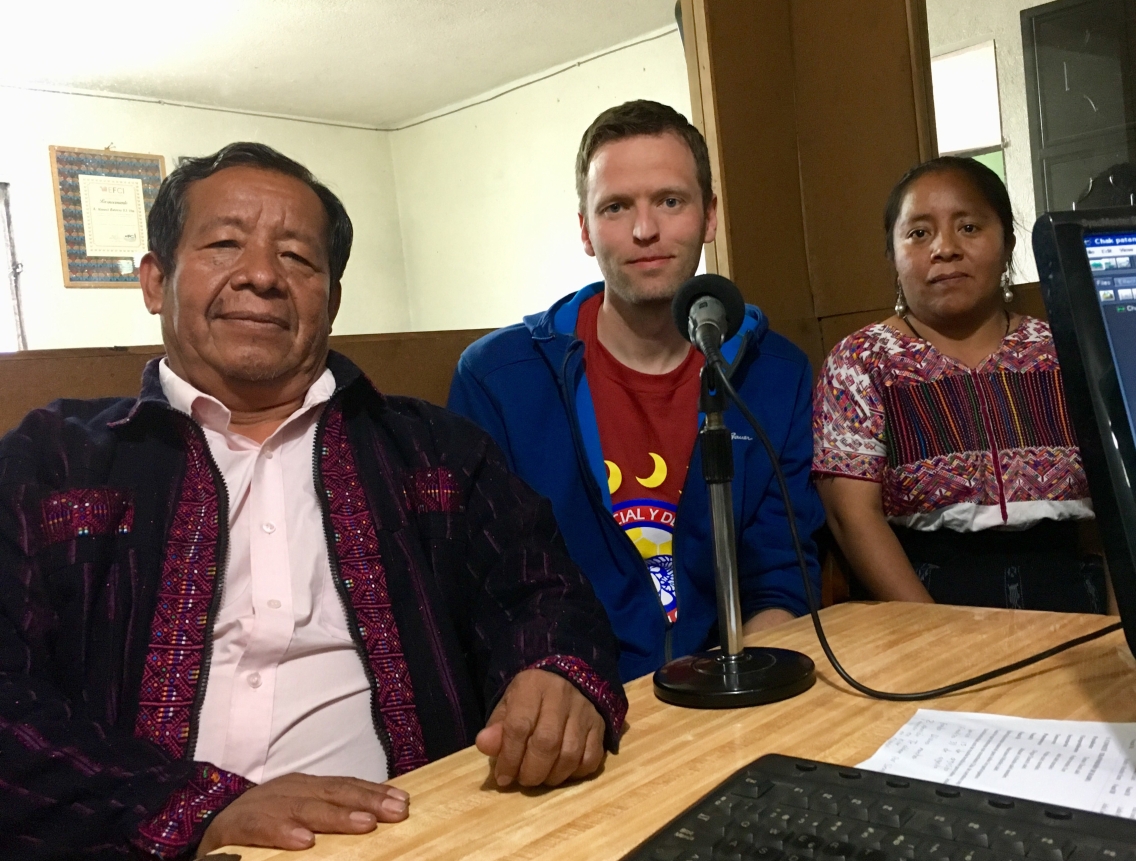 Brandon Baird (center) with Manuel de Jesus Tahay Gomez (l.) and Manuela Tahay Tzaj (r.) during the Guatemalan radio broadcast.

MIDDLEBURY, Vt. – Brandon O. Baird, a Middlebury College assistant professor of Spanish and linguistics, produced a radio program promoting the use of Mayan languages that was broadcast across Guatemala in 2018.
A member of the Middlebury faculty since 2014, Baird is an expert in how bilingual speakers of Spanish and K'ichee' use language in their daily lives. He conducted research for both his master's and doctoral degrees with speakers of K'ichee' in Latin America, and has published articles on such facets of the language as the "dialectal evolution" of its vowel systems and its "acoustic correlates of stress."
His most recent research, in which Baird administered a bilingual language profile to 162 speakers of K'ichee' in two Guatemalan communities, has been accepted for publication in an upcoming issue of the journal Hispania. Baird was intentional about publishing his research in a Spanish-language journal so it would be accessible to the more than one million speakers of K'ichee' in Central America and Mexico.
"Not many researchers go back [to Guatemala] to share their research with their subjects," said Baird. "That's why I decided to write my paper in Spanish and publish it in a Spanish-language journal." It's also why he returned to Nahualá, the municipality in southwestern Guatemala where he conducted much of his study, to organize and host a radio program in August.
The broadcast in K'ichee' "enabled me share the results of my study and talk directly to speakers of K'ichee' about the importance of their language and culture," said Baird. He was joined on the radio show by two native speakers of the Mayan language, including the former mayor of Nahualá. The program has been rebroadcast several times, was picked up by the Center for Open Resources and Language Learning at the University of Texas, and is on
as well.
Baird, who is proficient in K'ichee' and a proponent of revitalizing its use, teaches the course SPAN 377, Bilingualism in the Spanish-speaking World. Now he hopes to add a Winter Term course about Mayan language revitalization in which his students would visit Nahualá and interact with speakers of K'ichee'. Baird envisions that Middlebury students could also study the cognitive benefits of bilingualism with Guatemalans who speak Spanish and K'ichee'.
"My favorite aspect of teaching is doing research with students," the fifth-year professor said. "It's incredibly rewarding, and I know my colleagues would say the same thing. Finding ways to get students involved, especially outside of the classroom, is beneficial for everyone, especially when you can make it applicable to our students' lives."
There is an added benefit to engaging students in fieldwork. As Baird explains: "When you do scientific research on language, and we do consider linguistics to be a science, it dispels many of the cultural stereotypes that exist, such as 'this person is lazy' or 'that person isn't smart.' When you meet the people and talk with them and see how they live, it really helps you understand the bigger picture."