Students Get a Jump on Salary Negotiation, Personal Finance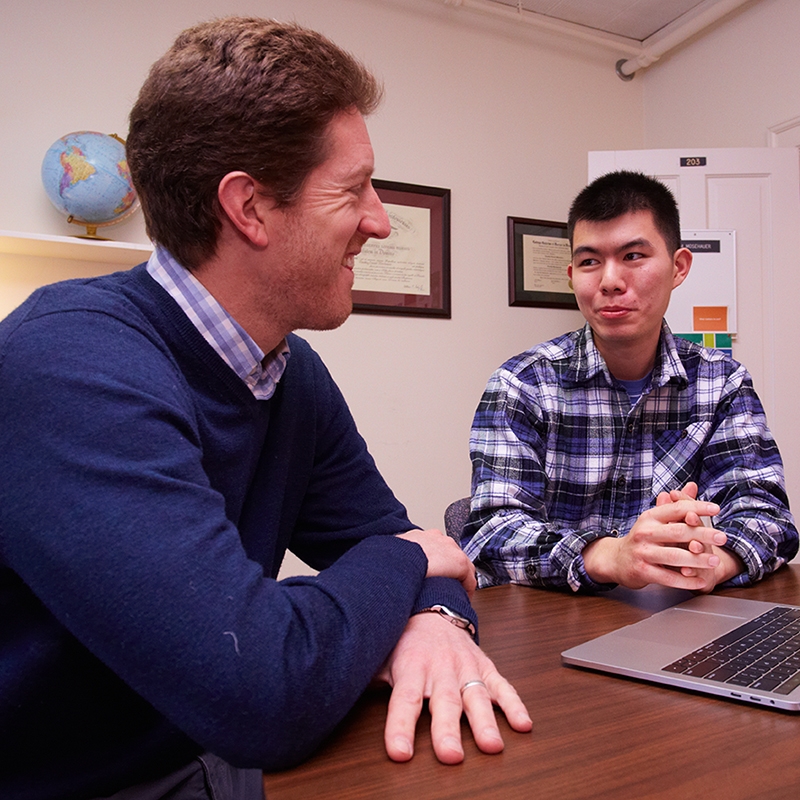 MIDDLEBURY, Vt. – A popular two-year-old workshop series, "Life Beyond Middlebury," is offering students the skills necessary to launch their careers and lives on their own – away from the dorm and the dining hall. Through research and conversations with students, the staff at Middlebury's Center for Careers and Internships (CCI) found that it wasn't sufficient to help students land a great job or internship; students also wanted to learn how to manage their finances, negotiate their salaries, and handle other challenges that came with working and living independently.
"These workshops are what students want and what they need," said Tim Mosehauer, associate director of professional and career development, who worked with several of his colleagues to organize the six-part series. "All of the events are applicable to all students, regardless of their class year, their major, or their potential career interests. The 'Beyond' in 'Life Beyond Middlebury' can apply to an internship or a summer job before the student graduates, not just their first fulltime job after graduation."
On a recent Monday afternoon in Twilight Auditorium, about 85 students attended the second event in the series – "Personal Finance 101" led by Kevin Renshler, associate director of MiddCORE and professor of the practice in business and enterprise at Middlebury.
Renshler took the students through a one-page document that helped them to calculate the money they would have left from their salary after they had paid their monthly expenses, from taxes and rent to food and health insurance.
"I feel like I'm not very financially literate," said Kyle Freiler '19, a double major in English and philosophy from Glen Ellyn, Ill., who came to the workshop. "I found the breakdown of what to expect for monthly expenses really helpful." Freiler added that Renshler's advice to participate in an employer's retirement plan was useful too. He plans to attend the next workshop in the series, "Negotiating Salary."
Tenzin Gyalpo '20, a computer science major who is Tibetan and grew up in India, also attended. "When I was applying for internships, I had no idea what salary to ask for," said Gyalpo. She was surprised by how little money was left after all the potential monthly expenses had been subtracted. "I'm better prepared now but it's scary."
Future "Life Beyond Middlebury" sessions include "Balancing Work and Wellness After Graduation," "Jumpstarting Your Career: A Panel with Young Alums," and an "Etiquette Dinner."
The first event in the series gave students the opportunity to come to CCI's offices ­­­to have a professional photographer take a head shot for LinkedIn. Afterwards, CCI staff were available to help students learn how to make the most of their LinkedIn profile.
Mosehauer and his colleagues are pleased with the number of students who have signed up for the various sessions – 53 came to the LinkedIn photo sessions and more than 60 have registered for "Negotiating Salary" and "Jumpstarting Your Career."
One result of the workshops, said Mosehauer, is that they often lead to students setting up individual appointments with members of the CCI staff, who can then offer advice tailored to a student's specific interests. "There are so many benefits to these workshops," he said. "Our plan is to keep making improvements and to continue offering them in the future."