Class of 2022.5 Arrives for Orientation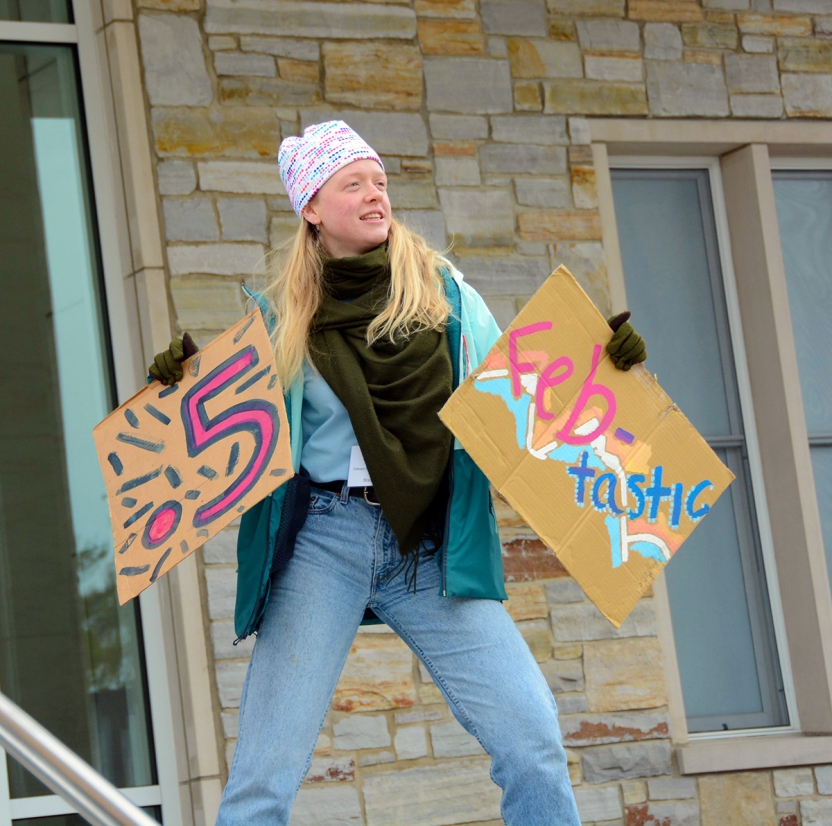 MIDDLEBURY, Vt. – One hundred seven first-year students arrived on campus Wednesday, February 6, under sunny skies with temperatures in the low-20s and amid the sound of raucous cheering from their orientation leaders.
The new arrivals, who are more commonly known as "Febs," comprise the Class of 2022.5 and join a mid-year tradition that started at Middlebury College nearly five decades ago. After getting their room keys and dropping off their possessions, the new arrivals will have five days of Feb Orientation, including Convocation with President Laurie L. Patton, first-year seminar meetings, registration for classes, and info sessions about student services, academics, personal wellness, and the Honor Code.
Aside from learning about all that Middlebury has to offer, the Febs will have plenty of opportunity to bond with each other before the spring semester commences on February 11. There will be Commons dinners, dance parties, a torchlight parade, trivia, and guided trips into the Vermont countryside—all designed to help the new arrivals get acclimated to college life and to each other.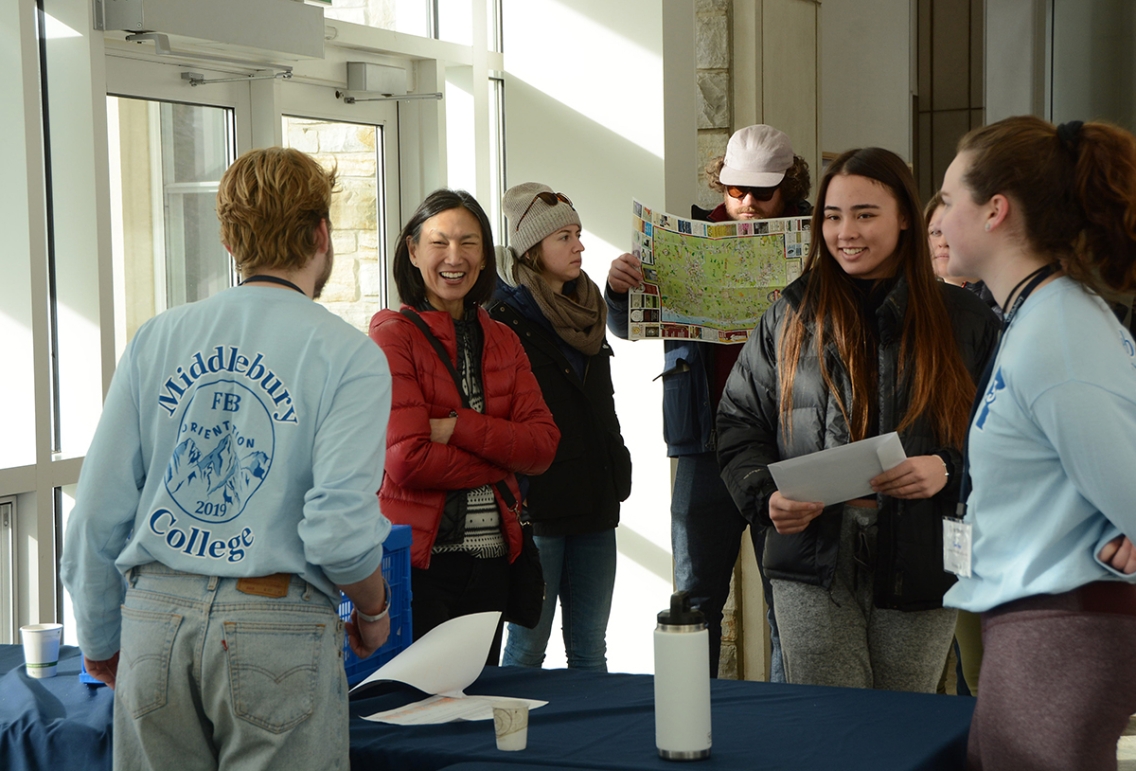 Orientation leaders Austin Kenny '19.5, left, and Courtney Wright '21.5 welcome new Feb arrivals at the Axinn Center.
Middlebury's living and learning residential system known as the Commons was instituted in the 1990s to weave the academic, social, and residential components of college life into an integrated community experience. Each new student's first-year seminar is a Commons-based course taught by a faculty member who will serve as the undergraduate's academic advisor until the end of sophomore year, which is when all students declare their majors.
Adam and Kristen Buckley of Peabody, Mass., were waiting inside the Axinn Center while their eldest child, Cameron, visited the information tables and chatted with other students. The Buckleys talked about Middlebury ("this place is just beautiful") and how it reminded them of when they met at Providence College more than 25 years ago. Minutes later, Kristen received a text from Cameron saying that he had gone to Forest Hall with an orientation leader to check out his dorm room.
The couple gathered their things and hustled over to meet their son while checking a campus map for directions to Forest Hall. "Cam wasn't so sure about waiting until February to start his academic career," Kristen said, "but he's more than ready now. He just knew that Middlebury was the best choice for him."
Another new "Feb," Gabryail Leelah Meeks, graduated from Phillips Exeter in the spring and spent the last several months interning at a nonprofit housing agency, tutoring kids in an after-school program in Connecticut, and visiting family in Haiti. Together with her parents, Gabryail was excited to walk over to her new residence hall accompanied by one of the 27 Feb Orientation leaders, most of whom had arrived at Middlebury as Febs themselves just a year or two ago.
The whole arrival process, from training the orientation leaders to greeting family members to making sure that the refreshments are replenished, is supervised by Amanda Reinhardt, the associate director of student activities.
The Feb Orientation leaders, dressed in their light-blue, long-sleeve T-shirts emblazoned with a big ".5" (signifying mid-year arrival), are the backbone of the welcome center, says Reinhardt. The leaders generate enthusiasm and make the experience more personal for the new students and their family members. They also provide a helping hand in carrying boxes and linens and packages of every shape and size into the residence halls.
The Registrar's Office reports that this year's 107 mid-year arrivals hail from 12 foreign countries, 26 states, and the District of Columbia. (Three are from Vermont.) In addition, there are six new transfer students joining the student body in February. The transfers will gather with the Class of 2022.5 for many orientation activities, and will also participate in meetings and advising sessions designed for their particular needs.