'Innovation Trek' Brings Students inside Silicon Valley Giants and Start-Ups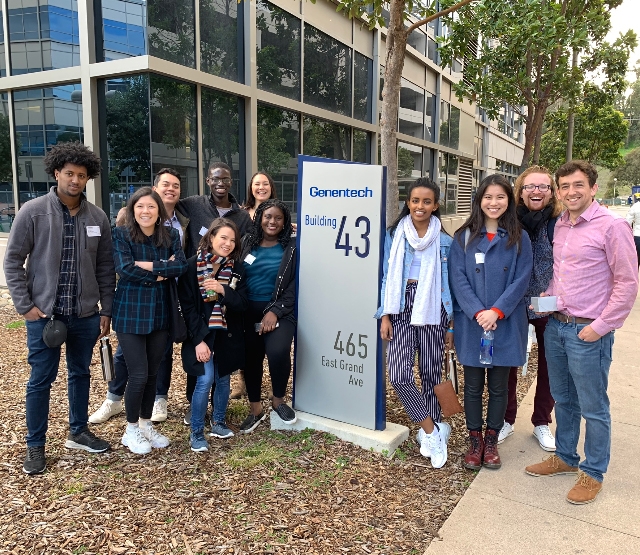 Middlebury Trek attendees viewed a molecule design simulation and gene modeling programs during a tour led by Jack Terrett '11 (right), a scientist in the Discovery Chemistry group at Genentech.
MIDDLEBURY, Vt. – After a weeklong "innovation trek" to the San Francisco Bay Area last month, 10 Middlebury undergraduates returned to campus for the start of spring semester with a better understanding of career opportunities in leading-edge innovative companies, ranging from Ike, a self-driving truck start-up, to Salesforce, a cloud-based technology firm.
The trek culminated in a reception for students and alumni on the 61st floor of the Salesforce Tower in San Francisco. Hosted by Middlebury trustee (and Salesforce cofounder and CTO) Parker Harris III '89, more than 75 Middlebury College and Middlebury Institute graduates currently working in careers involving innovation attended the event to engage with the students and network with one another.
"Each trek is a beginning and not an end in itself," said Sawyer. "Many of these alumni want to engage students and become more deeply involved in their Middlebury Professional Network and the Middlebury community at large."