Matthew Evan Taylor Brings New Sounds and a Love of Collaboration to Campus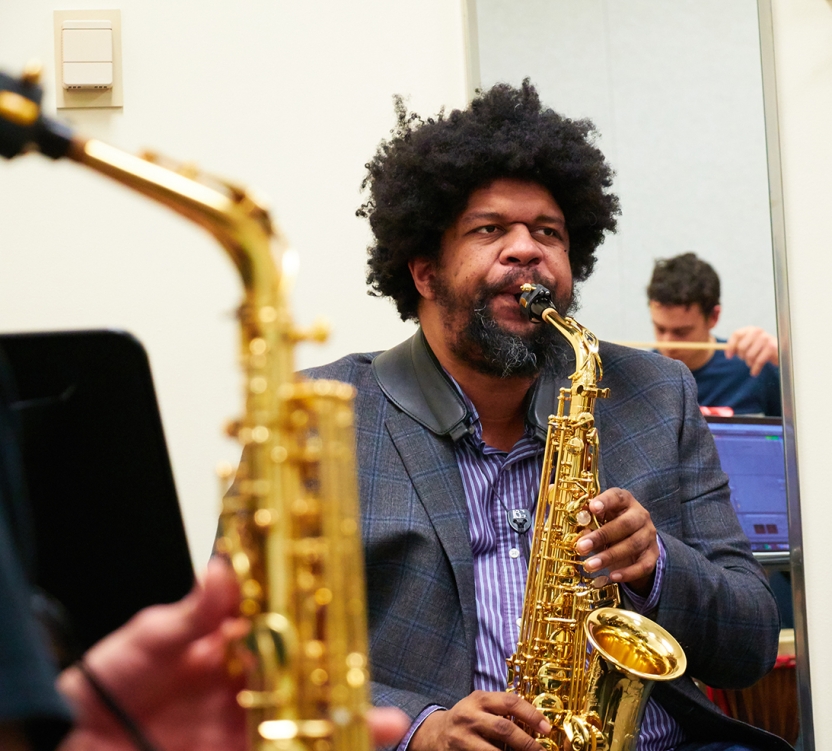 MIDDLEBURY, Vt. – When the formally clad musicians in a string quartet raise their instruments, pose together in utter silence, and then start pounding out West African drumming rhythms, literally using the bodies of their instruments as percussion, you know you're in for something different.
"This concert is going to be a blast," said Assistant Professor of Music Matthew Taylor, ushering in the third concert in his New Century/New Voices classical music series at Robison Concert Hall. Taylor's concerts are designed to highlight the music of women and people of color, groups often overlooked in classical music.
"When we think of traditional concert music," said composer Carlos Simon, the invited curator for the evening's dynamic collection of young American composers, "we tend to think of dead Germans: Beethoven, Bach, Mozart. We don't typically think of women or composers of color in this setting."
Taylor, now in his second year at Middlebury, said he devised the series both to "expose the Middlebury and wider Vermont communities to music of people I admire" and to dispel common misperceptions of classical music: "that it's 'monochromatic,' that it's not being created anymore, that it's not approachable."
Audience members at recent offerings would undoubtedly say that Taylor is accomplishing all of the above. Simon's program, for example, included such vibrant soundscapes as a solo flute piece depicting a vessel adrift at sea, complete with sea monster; a multilayered string quartet with bursts of Appalachian fiddle music; a piece at times driven by—and at times underscored by—a hip-hop drum set that builds across winds, strings, and piano to become a transcendent song of hope. On another night, Taylor and noted classical pianist Asiya Korepanova premiered a saxophone and piano piece she'd written expressly for him that likely touched every ivory on the piano and explored every sound an alto sax can make.
"It's so important for new music to be one of the voices at the table," said Professor Jeff Buettner, chair of the Music Department. "And Matthew really wants us to engage with that. The network of musicians and composers he's bringing with this series is really exciting and important. Not only is he bringing all these new voices to campus, but with the concerts in Burlington and elsewhere, he's engaging the whole region."
Hearing Stravinsky's Rite of Spring while in college, Taylor thought, "I want to do that." But his path to becoming a classical composer was not a traditional one.
Taylor grew up playing the saxophone and loving the music of jazz greats like Miles Davis and Ornette Coleman. But as an undergraduate, he started out as a pre-law, political science major. Nevertheless, his stellar performances in campus music ensembles kept drawing the attention of Birmingham-Southern College's Music Department.
"The department chair, Lester Seigal, would nudge me every time he'd see me walking on campus and say, 'Why aren't you a music major?'"
Taylor said he was obsessed as a first-year with Ella Fitzgerald and used to go around singing and scatting her music. Seigal overheard him and told the jazz choir to follow Taylor around campus to learn how to scat.
"I didn't know this until one day I was walking across campus, and I noticed somebody behind me who was darting out of my vision every time I looked around. Finally, I just spun around and was like, 'What's going on?' He told me that's what Lester had asked them to do… . I think Lester recognized a kind of total bodily commitment to music that I had."
Taylor graduated with a degree in saxophone performance, joined the indie rock band Moses Mayfield and toured for several years, but then grew "restless." Film scoring seemed like a good next step, so he began poring over scores and studying film scoring one-on-one with Birmingham-Southern mentor Dorothy Hindman.
"After a few lessons she was like, 'Well yeah, you could definitely do this, but I think you're more of a concert composer.' What she was recognizing was that I was really dedicated to my idea. For film scoring, the director's view is king. You kind of have to submit to that. I'm still curious about doing that, but as a career she was recognizing that I was probably a little too restless."
That same restlessness has led Taylor to tackle an array of classical genres—opera, symphonic poem, the ever-shifting constellations of chamber pieces. Right now he's working on his first full symphony, he's writing pieces for solo voice for his first album (to feature baritone Carl DuPont and mezzo-soprano Megan Ihnen), and he's at work on two commissions, one for full orchestra and another for a chamber group, both to be performed in Vermont. Recent works will soon premiere with the Durward Ensemble, the Orchestra of St. Luke's, and the Metropolis Ensemble. He's currently composer-in-residence with the Metropolis Ensemble, the Manhattan Girls Chorus, and Festival Baltimore.
Taylor is also an adventurous collaborator, having worked not just with other musicians—often writing for a particular colleague, with a particular sound—but with dancers, theater performers, and even visual artists. Painter and installation artist Dannielle Tegeder has twice commissioned Taylor to compose and perform music as part of an exhibition. For the Elsewhere Museum in Greensboro, North Carolina, Taylor created an interactive installation of musical scores, inviting the audience not just to listen but to rewrite them.
Since arriving at Middlebury in fall 2017, Taylor has already engaged with colleagues on a number of projects. He created the music for both the 2018 and 2019 Dance Company of Middlebury January performances—his music for 2019's Warrior Work was improvised live by Taylor and senior Fiona Sullivan. He and dance professor Laurel Jenkins are currently brainstorming an environmental music and dance project tentatively titled Beacon Fires. Taylor and philosophy professor Kareem Khalifa, also a musician, are working on a symposium about improvisation.
"What's brilliant," said Taylor, "is that I haven't had to look far to find friends that I really want to work with—and it extends outside of the arts building. It's a dream."
For the 2018 Clifford Symposium, theater professor Michole Biancosino, dance professor Christal Brown, and Taylor collaborated on an adaptation of Toni Morrison's Recitatif. Taylor attended rehearsals, watched, and improvised, as he created the score, featuring flute, piano, and sax. He and Korepanova played for the performances.
"Matthew's just a very open artistic collaborator. He's game to jump into anything, making mistakes, taking risks, seeing what happens," said Biancosino. "Not only does Matthew bring such a generous spirit, he's just an enormous talent."
Describing their collaborative process and the ways the performances engaged with audiences, Biancosino also noted how art provides a powerful way to examine challenging issues.
"It was great to work with other artists who were not afraid to have conversations about class, about race, and together figure out how to tell this story," Biancosino said.
Remembering himself as an undergraduate, Taylor emphasized the ways that teaching and mentoring are really important to his role at Middlebury.
"I think I was fortunate when I was younger in that I recognized that people were willing to help me. I think that so many people go into an undergraduate or graduate program and think that they're invisible and that nobody wants to help them. And the tragedy is that they don't know that they could just ask a question or there might actually be somebody that's actively saying, 'Tell me about yourself.' They don't recognize that as an invitation."
Sophomore Gus Wallach, a non–music major taking Taylor's beginning theory class, said he was a bit afraid that studying theory might make something he loved—music—into something dry and technical. Instead, Taylor's approach really brings the music to life, and so far has drawn on everything from hip-hop to Fiddler on the Roof.
"He's just so into the music," said Wallach.
Senior Hannah Smart is writing a rock opera set in the Cold War era, with Taylor as her faculty advisor. She said she appreciates the ways he encourages her by pushing her to be a better composer, often in ways she might not have thought of otherwise.
"I trust that if I do something good or something terrible or something in between—he'll tell me," said Smart.
Music colleague Peter Hamlin noted the contributions Taylor has made to Middlebury in just the short time he's been here.
"Matthew brings amazing talents as a composer and improviser and music theory teacher. And aside from that, he's a super-friendly guy who loves to make connections with people. He's found artistic collaborators across campus and the community and the state. What he's done here in such a short time is amazing!"
Added Buettner: "He's open to everything. We talk about how we teach, what music means, what a student needs. That's why people like us love to teach."