Middlebury Offers Admission to 1,175 to the Class of 2023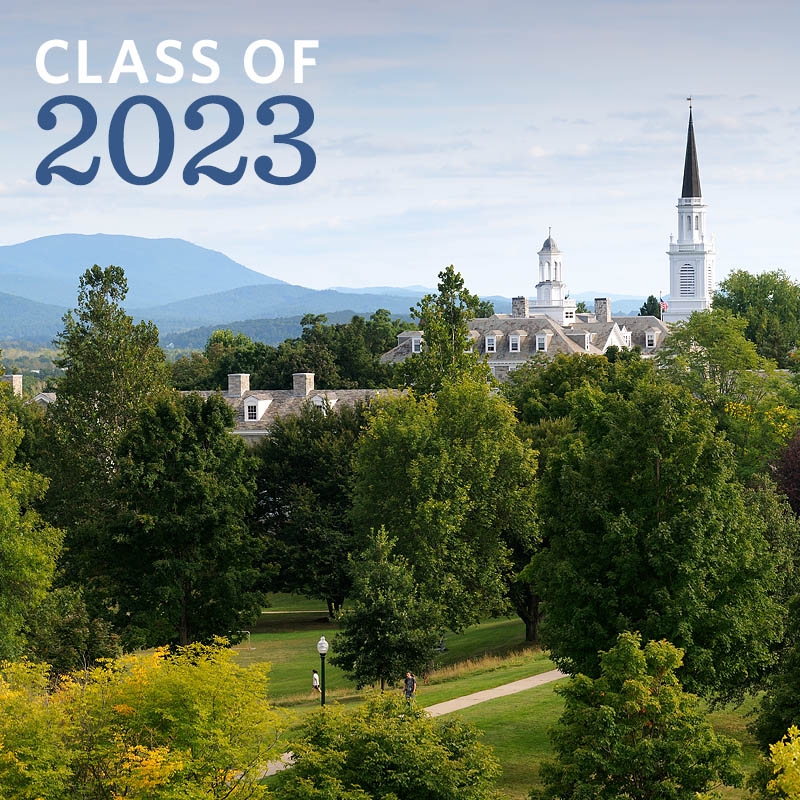 MIDDLEBURY, Vt. – Middlebury College has offered admission to 1,175 students who applied as regular decision candidates for the Class of 2023. They join the 372 accepted through Middlebury's early admissions program in December and February, and bring the total number of admitted students to 1,547. In all, the students were selected from a pool of 9,750 applicants, the largest in the College's history. The overall acceptance rate, including those who applied early decision, was 16 percent.
The students accepted to the Middlebury Class of 2023 come from 82 countries as well as all 50 states and Washington, D.C. The six states with the most admitted students are, in order, California (198), New York (184), Massachusetts (134), New Jersey (70), Florida (63), and Connecticut (60).
This year China was the top country for admitted students, with 42, followed by Canada, India, South Korea, Japan, and Mexico.
"With a record number of applicants, we remain highly selective and had to make some very difficult decisions," said Dean of Admissions Greg Buckles. "We're excited about the talents and academic strength of the admitted students, and their many interests, which range from sustainability to community service." Buckles noted that the number of international students and students of color remains strong.
"We're also pleased with their geographic diversity," said Nicole Curvin, director of admissions and coordinator of multicultural recruitment. "As the number of high school graduates in the Northeast and mid-Atlantic declines, we recognize that it's important to think long term about recruiting in new areas. Our work is to tell the College's story to students who may not have heard of Middlebury.
"For several years, we've made an effort to visit more schools in Florida and other Southern states where we haven't traditionally recruited students, so it's great to continue to see the results of this work," added Curvin. "I look forward to increasing our application numbers even more in Florida and central California as well as in Texas."
Middlebury College's Office of Admissions is already focused on the next task—assisting admitted students with their decisions. As part of that effort, Middlebury will provide about 450 admitted students with an opportunity to learn more about the College during Campus Preview Days, April 15–17, when those accepted through regular decision are invited to come to campus, take part in various events, and meet current students and faculty.
The College expects to enroll between 610 and 630 students in September 2019 and about 100 to 110 in February 2020. The Admissions Office anticipates that about 35 students admitted this year may request a gap year—a comparable number to recent years. Middlebury will award about $15.5 million in need-based financial aid to the class, with roughly 46 percent of the students receiving support.
Students learned of their admission by logging onto an admissions web page starting at 8 a.m. Eastern Time on Saturday, March 23. The College mailed letters to their homes on Friday, March 22.
Admitted students have until May 1 to accept Middlebury's offer.