Scholars Examine Migration, Displacement, and Belonging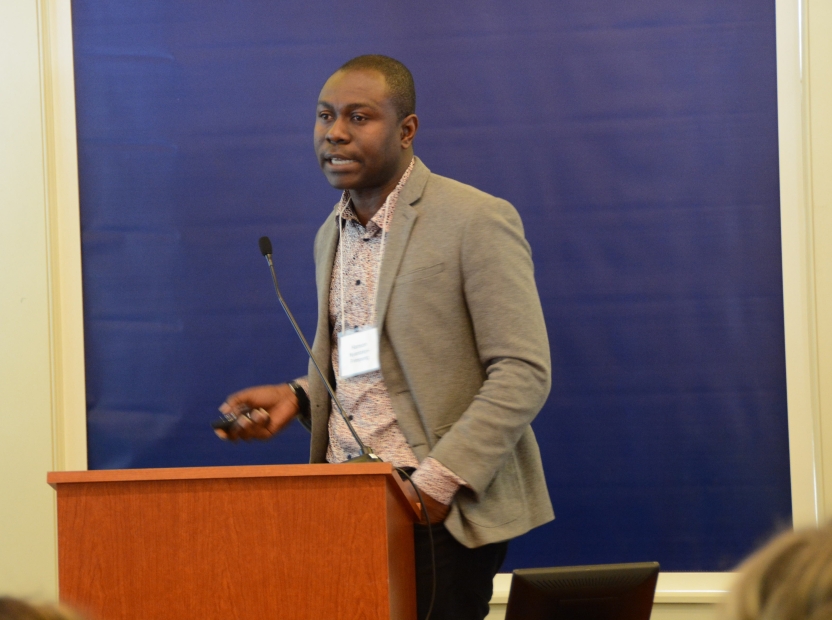 MIDDLEBURY, Vt. – Fifteen scholars from across North America and Europe convened at Middlebury College March 7–9, 2019, for a conference titled "Migration, Displacement, and Belonging: Challenging the Paradigms."
Students, faculty, and community members gathered for the seventh annual International and Interdisciplinary Conference conducted by the Rohatyn Center for Global Affairs to engage in topics ranging from the complex relationship between refugees and sponsors in Canada, to a feminist methodology of migration trauma, to a comparative analysis of refugees in Arizona with nomads in Mongolia.
In a Friday afternoon session at the Robert A. Jones '59 House, three scholars offered their specific research findings about migration in a panel called "Fleeing for Your Life."
Hilda Lloréns, an assistant professor of anthropology at University of Rhode Island, is primarily concerned with how racial and gender inequality is manifest in cultural production, nation building, access to environmental resources, and exposure to environmental degradation. For the Middlebury audience, she focused her attention on the effects of 2017's Hurricane Maria in a paper titled "Re-Conceptualizing Puerto Rican Migration: From Voluntary to Economic to Climate Migrants."
Lloréns pointed out that since displaced Puerto Ricans are also United States citizens, "they are not technically refugees because they did not cross any international boundaries" when they arrived in the U.S. after the Category 5 hurricane.
"Instead," she continued, "according to the 1998 United Nations guiding principle of internal displacement, they are considered displaced persons because the storm and its disastrous consequences are understood to produce short-term hardships. Puerto Ricans did not face any of the three prescribed impediments—legal, factual, or humanitarian—for returning to their homeland."
Moreover, Lloréns emphasized that migration and return has been a regular "characteristic of life" for many Puerto Ricans. "In the 21st century, the island's debt crisis and ensuing austerity policies and politics, coupled with the intensifying environmental hazards of contamination and pollution, has caused more people to leave the island."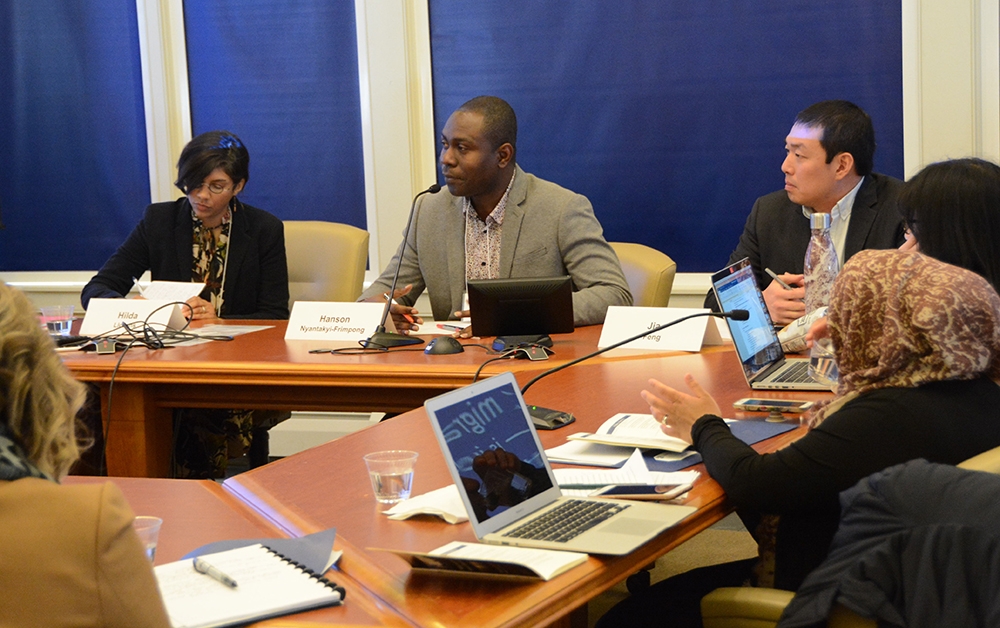 Panelists (from left) Hilda Lloréns, Hanson Nyantakyi-Frimpong, and Jia Feng presented their research findings about migration and displacement in Puerto Rico, Ghana, and China, respectively. (Click on photo to enlarge.)
The University of Denver's Hanson Nyantakyi-Frimpong, an assistant professor in the Department of Geography and the Environment, delivered a talk titled "New Insecurities: The Political Ecology of Climate Migrants, Belonging, and Adaptation to Multiple Stressors in Ghana." His research interests include the human dimension of global environmental change and the sociocultural barriers to climate adaptation.
Nyantakyi-Frimpong told the Middlebury audience that he disguises himself as a climate migrant "and return[s] to Africa every summer to interview families" about their migration patterns back and forth between northern and southern Ghana.
He discovered that migrant workers receive different wages depending upon whether they are from the north or south, and that tenant farmers or sharecroppers typically pay the landowner two-thirds of the profits while retaining one-third for themselves. The researcher quoted one migrant from northern Ghana who traveled 50 miles for work: "I am exploited in my own country."
The third panelist, Jia Feng, is a lecturer in geography and history at Washburn University who is interested in migration, marginality, and informality. Most recently he has studied the clusters of migrants who live and work in the enormous recycling centers on the outskirts of China's sprawling capital city, and he delivered a talk on that topic titled "A Parallel Society in the Making? A Case Study of the Migrant Recycling Enclaves in Beijing."
Feng discovered that the recycling centers are often divided into "family-based yards" for handling specific types of material such as paper, glass, plastic, etc., and that the families who live in the yards are typically Chinese citizens who have migrated from rural areas to work in the city.
Historically, internal migration in China had been heavily controlled, Feng said, and "there was only one way to change your status from a rural person to an urban person, and that was through education, [and it] was a rare thing in China." Change came after Mao's death in 1976, and by the 1980s "there were lots of people moving into the cities, and many [migrants] went into the recycling business in Beijing" and formed enclaves.
The conference was organized by Tamar Mayer, director of the Rohatyn Center and Robert R. Churchill professor of geosciences; Darién Davis, professor of history; and Trinh Tran, assistant professor of sociology.
Over the course of three days and 15 presentations, the conference sought to address the inherent risks of migration, how it generates insecurity and anxiety, and why migrants contend with issues of belonging and identity.