Bill McKibben Talk Marks the 30th Anniversary of "The End of Nature"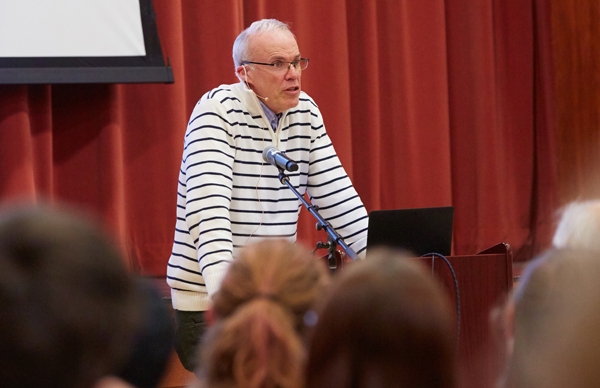 MIDDLEBURY, Vt. – In the 30 years since Bill McKibben published The End of Nature, the first book for a general audience on the topic of climate change, the author and environmental activist has aged in what McKibben called the expected ways—a process that's bittersweet, perhaps, but normal, hoped for, McKibben said, speaking in Wilson Hall on April 4.
In that same span of years, the planet transformed in radical ways: The Arctic lost half its sea ice in those three decades. We must look back tens of millions of years, McKibben said, to the last big asteroid strike, to see change at the pace and scale we're now experiencing.
"It's hard to imagine a more profound physical change," said McKibben. "In geological time, of course, 30 years is nothing. The Earth is not supposed to be like that."
These were among the reflections that McKibben shared in an evening devoted to two milestones: the 30th anniversary of The End of Nature, and the forthcoming release later this month of McKibben's latest book, Falter: Has the Human Game Begun to Play Itself Out?
And for McKibben's colleagues, the evening also provided the chance to celebrate McKibben's unflagging work as the preeminent voice on climate change. McKibben, the Schumann Distinguished Scholar at Middlebury College, has authored a dozen books about the environment. Together with seven Middlebury College alumni, he founded 350.org, a global grassroots movement to address climate change. He's been on the frontline of environmental activism in the United States, and globally—work that inspired the never-before-read Wendell Berry poem "Bill McKibben, Looking Out" that Professor of Economics Jon Isham read, in a surprise to McKibben, at the beginning of the evening's remarks.
"Somebody has to keep watch. Somebody has to stick out a forefinger and raise a shout. Somebody has to call to the sleepers under the roof," Isham read.
President Laurie Patton likened McKibben to a "quiet prophet" at work on behalf of the planet, and praised him as the savviest thinker with whom she's ever worked.
"Being a prophet means waking people in a single sentence," said Patton. "Bill does that, again and again, and he wakes us up through love."
Looking back on three decades of learning, McKibben said it took him far too long to realize that addressing climate change wasn't merely a matter of writing books and articles and hosting symposiums. There's a difference between arguments and fights, said McKibben, and climate truth-tellers found themselves engaged in the latter. They were up against an industry—fossil fuel companies—that we now know had understood the reality of climate change since the 1980s, and yet had the money and power to perpetuate what McKibben called "the most consequential lie in human history, given the stakes."
And so, about 15 years ago, he began spending the majority of his time organizing. There was the 2006 five-day walk from Robert Frost's cabin in Ripton to downtown Burlington, which culminated in what was at that time the largest-ever gathering in the country devoted to climate change activism. A few years later came the birth of 350.org, which has since spawned 20,000 gatherings and protests worldwide, at least one in every country on Earth except North Korea. The participants challenged what had been the stereotype that environmentalists were old, white, and monied; 350.org proved that people the world over, many of them young and poor and people of color, would lead the charge for a better response to a warming planet.
"If you look at them, you're reminded of the iron law of climate change, which is, the less you did to cause it, the more you suffer from it," said McKibben.
McKibben went on to say that if climate change activists had 50 years to address the problem, this kind of mobilization—a generational shift in thinking—would be enough. But "this is a timed test, and time is passing really, really quickly," said McKibben. It's a test human beings may not pass. Climate change isn't a negotiation of the usual sort, in which politicians or activists might work toward compromise. Physics don't compromise, and this is not, McKibben said, like Martin Luther King Jr.'s "arc of the moral universe"—long, but bending toward justice.
"The arc of the physical universe is short, and bends toward heat," he said. In other words: "Winning slowly is a different way of losing in this fight."
McKibben finds some occasion for hope in the face of a daunting fight. He called out two 20th-century inventions—the marvel of the solar panel, now widely available and commercially viable, and the technology of nonviolent movement building—that may be the keys for helping human civilization advance through the 21st century.
"In a rational world you shouldn't have to go to jail in order to get people to pay attention to science, but you do have to, it turns out, and it works, it turns out," said McKibben.
And finally, he said, he's learned this: "All of this is worth a try because the world is so beautiful, and the people in it are so remarkable, that it would be a shame to watch as it decisively shifted away."
Despite the long odds, despite the changes already under way and inevitable as the planet warms, McKibben isn't giving up the fight.
"We are messy creatures, often selfish, prone to short-sightedness, susceptible to greed," McKibben writes in the closing pages of Falter. "In a Trumpian moment with racism and nationalism resurgent, you could argue that our disappearance would be no great loss. And yet, most of us, most of the time, are pretty wonderful: funny, kind. Another name for human solidarity is love, and when I think about our world in its present form, that is what overwhelms me."
By Kathryn Flagg '08; Photo by Todd Balfour