College Presents Student Leadership Awards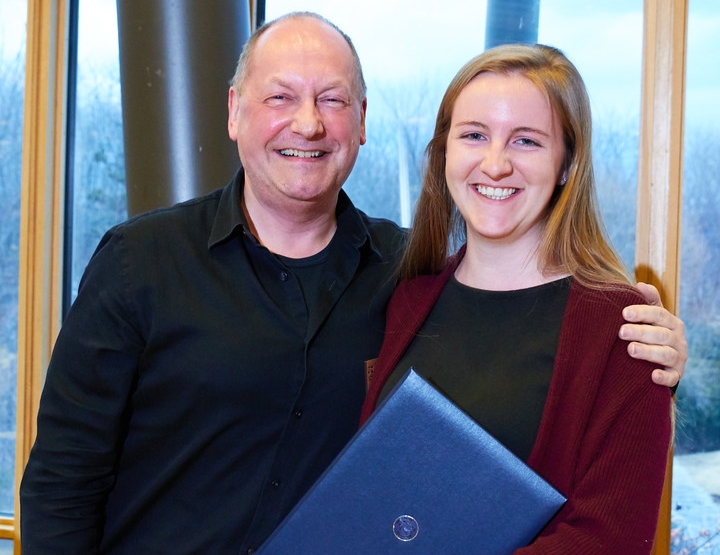 MIDDLEBURY, Vt. – Seventeen Middlebury College undergraduates, the members of four student organizations, and eight faculty and staff members were honored at the 2019 Student Leadership Awards Ceremony held on April 9 in Atwater Dining Hall.
Vice President for Student Affairs and Dean of Students Baishakhi Taylor welcomed the gathering of Middlebury students, faculty, staff, alumni, and community members to the ninth annual event. Middlebury College has a long tradition of honoring undergraduates for their contributions to the campus, the local community, and the world through "innovative programs and initiatives, volunteerism, commitment to diversity and inclusion, advocacy, passion and enthusiasm, and academic excellence," said the vice president.
President Laurie L. Patton also greeted the attendees and remarked that the nominees for the evening's awards embody the values that Middlebury tries to imbue in all of its students. "You are the manifestation of our mission to be an institution where students not only receive a thoughtful education, but where they also can, and should, become thoughtful world citizens too."
The Student Leadership Awards were presented in three categories: Vice President for Student Affairs Awards, Joint Dean of the College and Student Government Association (SGA) Awards, and Student Government Association Awards.
Vice President for Student Affairs Awards
The Angels Award for a sophomore woman of color who demonstrates leadership, scholarship, and activism was presented to Destini Armstrong '21 and Megan Job '21 by Professor and Director of Intercultural Programs Roberto Lint Sagareña and SGA President Nia Robinson '19. The award is given in memory of four women of color from the Class of 2003: Anisa Gamble, Tiffany Holmes, Maika Prewitt, and Iniko Johnson.
The Barbara J. Buchanan '62 Memorial Prize for a senior woman who represents Buchanan's academic excellence and her ideal of service was presented to Lulu Zhou '19 by Vice President Taylor.
College chaplains (l. to r.) Saifa Hussain, Danielle Stillman, and Mark Orten presented three awards pertaining to religious and spiritual life. (Click on photos to enlarge.)

The Carri A. Smith '98 Award for Outstanding Intercommons Council Member, which goes to a student who exemplifies the ideals of the commons system, a passion for the College, and a commitment to student life, was presented to Sarah Howard '19 by Professor Roman Graf, the faculty head of Brainerd Commons.
The Interfaith Cooperation Award of the Charles P. Scott Center for Spiritual and Religious Life was presented to the residents of MOSAIC Interfaith House by Associate Chaplain Saifa Hussain. The award recognizes students who actively promote and facilitate interfaith understanding, communication, or programming, and it was the second year in a row that MOSAIC received the award.
The Spiritual Life Leadership Award of the Charles P. Scott Center for Spiritual and Religious Life was presented to Mehek Naqvi '19 and Celia Alter '19.5 by Dean of Spiritual and Religious Life Mark Orten for advancing the spiritual lives of others on campus and for supporting the spiritual journey of peers.
The Spiritual Life Innovation Award of the Charles P. Scott Center for Spiritual and Religious Life was presented to the members of the Hillel Board by Associate Chaplain Danielle Stillman in recognition of Hillel's originality in the development of religious activities on campus.
The First-Year Achievement Prize for academic excellence and the ability to relate well to others was presented to Kayla Richards '22 by Vice President Taylor.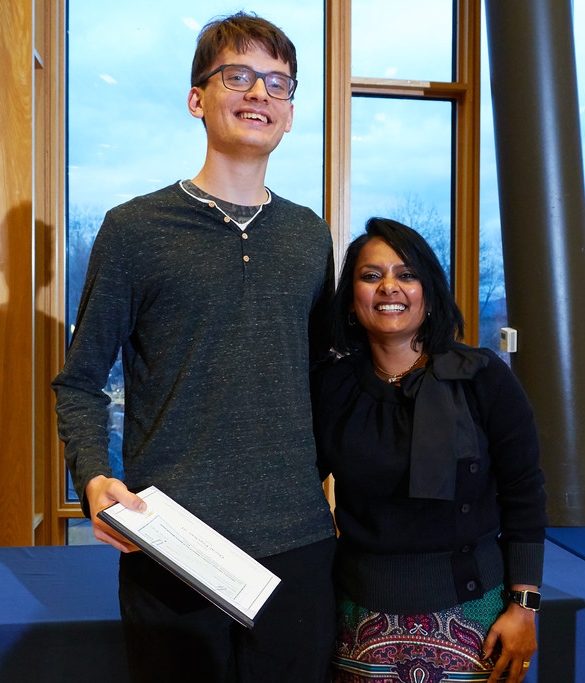 Oscar Psychas '21 received the Williams Memorial Award from Vice President Baishakhi Taylor.
The Peter Kohn Service Award goes to a student-athlete who "best exemplifies the spirit of community and service" as demonstrated by the late Peter Kohn, who served as a manager for Middlebury athletics for over 20 years. Presented by Director of Athletics Erin Quinn, the recipient of the award was Kira Waldman '20.
President Patton stepped forward to present the Newman Civic Fellows Award, which is given in memory of the founder of Campus Compact, Frank J. Newman. The award exemplifies Dr. Newman's passionate advocacy for civic engagement in higher education, and the 2019 honor was extended to Abby Dennis '21.
The Alexander Twilight 1823 Diversity and Community Leadership Award was presented to Tre Stephens '21 by Professor Lint Sagareña. The award honors a student for leadership and determination to effect change within the Middlebury community by transcending boundaries of race, class, and gender.
The Franklin G. Williams 1913 and Sarah H. Williams 1912 Memorial Award was presented to Oscar Psychas '21 by Vice President Taylor. It is awarded to a sophomore on the basis of natural kindness, perceptivity to the needs of others, and an abiding sense of personal responsibility.
Joint Dean of the College and Student Government Association (SGA) Awards
The Outstanding Campus Leader Award recognizes a junior or senior for innovation, motivation, initiative, and perseverance. The 2019 recipient was Nia Robinson '19. Amanda Reinhardt, associate director of student activities, presented the award to Robinson in recognition of the SGA president's "immense" leadership and interpersonal skills. Robinson has advocated for the needs of students and been a powerful catalyst for change at Middlebury, Reinhardt said.
The Extraordinary Emerging Leader Award is presented annually to a first-year student or a sophomore for organizing events and activities, and for improving the Middlebury community. Presented by Nia Robinson, the recipient was Divya Gudar '21 for her ability to "integrate sustainability, inclusivity, and environmental justice" into Middlebury campus life.
Student Government Association (SGA) Awards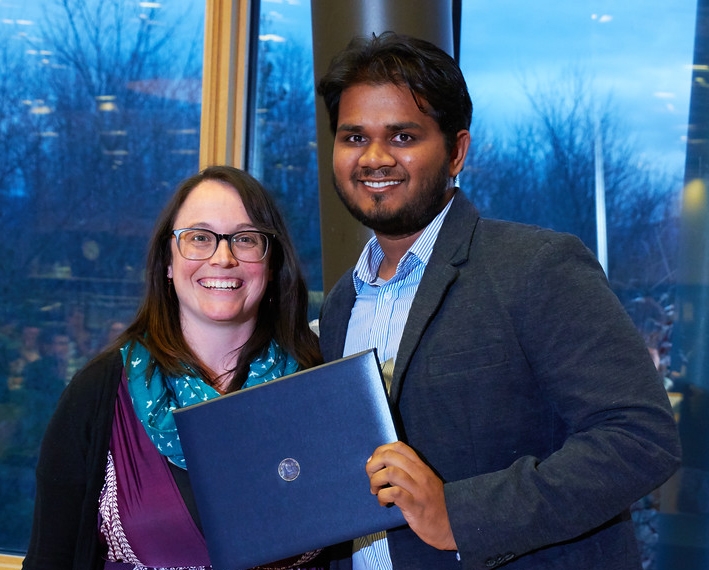 Saif Panday '21 accepted the Baumgarten and Udzenija Memorial Award from Amanda Reinhardt, the associate director of student activities.
The Baumgarten '98 and Udzenija '99 SGA Memorial Award honors a sophomore who personifies academic achievement, the passion for learning, compassion for others, and involvement in student activities. Presented by Amanda Reinhardt, the 2019 recipient was Saif Panday '21 for his leadership ability and organizational skills, and his engagement in campus life. Panday, as a member of student government, presented the next three SGA-specific awards.
The Extraordinary Initiative Award recognizes an exceptional program, cultural event, guest speaker, or production that is conceived and carried out by a student or students. The award was presented to Jacob Freedman '21 and Alex Gemme '21 for their work on the Scholarship for Snow Bowl Initiative, a program that offered ski lessons to 201 Middlebury students who would not have otherwise been able to afford them.
The Outstanding Leader of a Student Organization Award is presented each year to a student who has brought honor to a student organization through his or her leadership and selflessness. This year's recipient was Teal Witter '20 for his leadership with the Middlebury Debate Society.
The Outstanding Overall Achievement Award recognizes one organization for sustained contributions to the campus and student life. This year's recipient was the Sunday Night Environmental Group for its work toward Middlebury College's announcement that it would divest from all investments in fossil fuels.
The Outstanding New Organization Award goes to a newly formed, SGA-recognized campus group that addresses a need or community issue that had not previously been supported. The 2019 recipient was PALANA Social House for its transition from student organization to social house. Nia Robinson presented the award.
The final event of the evening was the presentation of a new annual award called the Advisor Award for an advisor (or advisors) of an academic or student organization who "takes advising seriously and really engages with students." The awards were presented by Saif Panday, Nia Robinson, and Baishakhi Taylor. The inaugural recipients of the Advisor Award were: Director of Chellis House and Professor of the Practice Karin Hanta and Professor of the Practice Frank Van Gansbeke for the Class of 2019 and 2019.5; Professor of the Practice Pam Berenbaum and Associate Professor Rebecca Gould for the Class of 2020 and 2020.5; Professor Jonathan Miller-Lane and Program Director Ashley Laux for the Class of 2021 and 2021.5; and Assistant Professor Dana Yeaton and Professor Robert Cluss for Class of 2022 and 2022.5.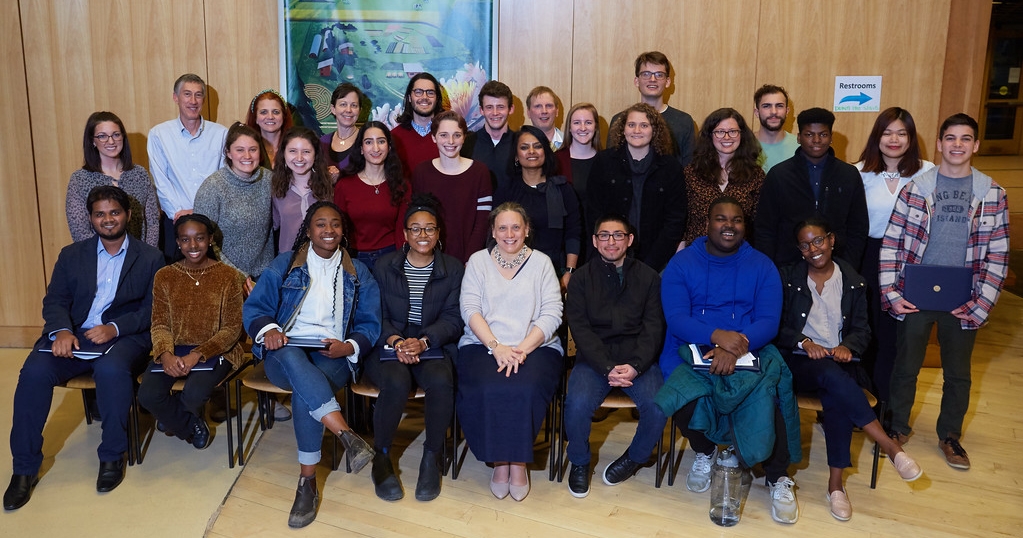 The 2019 award recipients and preseters gathered with President Patton (seated, center) for a group photograph when the evening had concluded.