Pieter Broucke Reflects on Notre Dame in VPR Commentary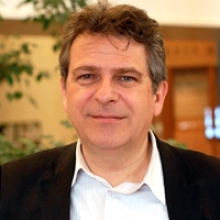 on Vermont Public Radio, Middlebury Director of the Arts Pieter Broucke said that he recalled seeing the Notre Dame Cathedral, recently damaged by fire, when he was 16 during his first visit to Paris in 1977. He had arrived in the city by train with three friends from his native Brussels.
"The cathedral at the heart of Paris made a deep impression on me," said Broucke, "and it has held my interest ever since." At the time he did not know that he would go on to become an architect and an architectural historian who would teach about the famous gothic structure to his students at Middlebury College.
Broucke points out that Notre Dame has experienced change before—in the 1240s the buttresses were added, and the spire was a 19th-century addition. "And so the great cathedral will now be updated again in our times, adding yet another layer to its function as a crystallization of humanity," said Broucke.