Students Will Present their Academic Research and Creativity at Spring Symposium, April 12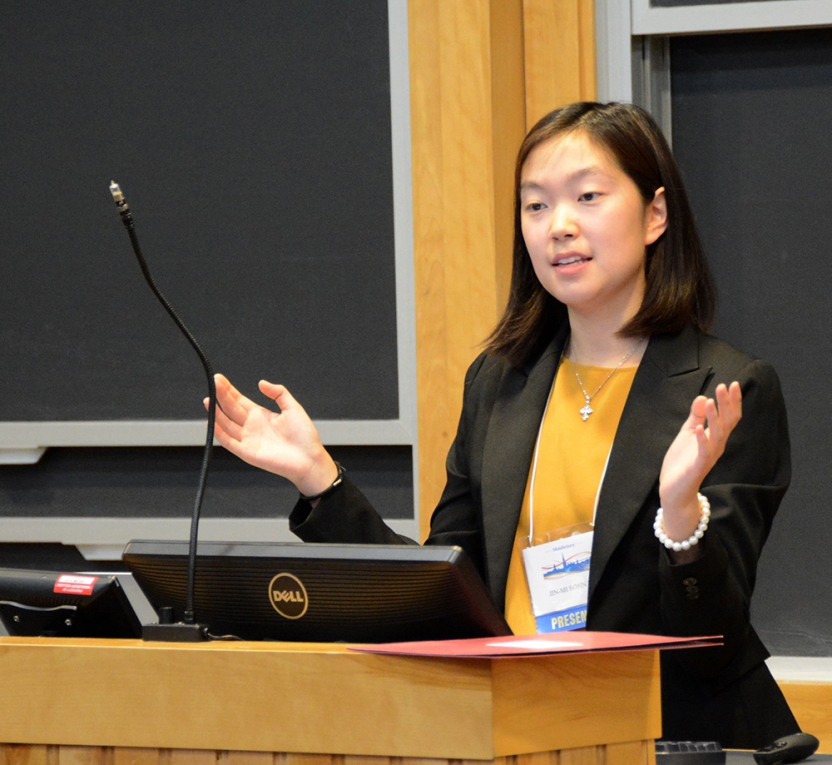 MIDDLEBURY, Vt. – More than 240 Middlebury College undergraduates will share their original academic and creative works at the annual Spring Student Symposium on Friday, April 12, in McCardell Bicentennial Hall and Johnson Memorial Building.
The symposium, which started in 2004 with about 60 presentations, has evolved into a multidisciplinary daylong celebration of undergraduate achievements in the arts, humanities, and sciences. No classes are held on the day of the symposium to encourage all members of the college community to take part in the event.
"Now in its 13th year, the Spring Student Symposium has become an annual tradition of sharing student research and creative and intellectual explorations with the entire community," said Lisa Gates, the associate dean for fellowships and research. "It offers presenters with the rare opportunity to share their ideas and their work in a public space."
Among the oral presentations that will be given in the sciences are: "Characterizing Mercury Methylating Microbe for River Wetland Management" by Rebecca Lightman '19 (MBH 438, 10:15 a.m.), and "Entanglement in a Quantum Spin Glass during the Adiabatic Algorithm" by Asher Lantz '19.5 (MBH 438, 3:50 p.m.)
In the arts, there will be oral presentations such as "The Presence of Jazz in Today's Hip-Hop" by Nathan Ng '19 (MBH 104, 9:15 a.m.), and "Feeling and Healing in the Plays of Branden Jacobs-Jenkins" with Kahari Blue '19 (MBH 303, 1:50 p.m.)
Students in the humanities will speak on a range of topics including: "Women's Resistance Movement during the Dictatorship of Pinochet" by Nicolas Plume '19.5 (MBH 331, 2:10 p.m.), "Does Uber Really Reduce Drunk Driving Fatalities?" with Andrew Smith '19 (MBH 219, 4:10 p.m.), and "Women of Game of Thrones" by the students in the first-year seminar taught by Nikolina Dobreva, a visiting professor of film and media culture.
In addition to the 125 oral presentations taking place throughout the day, there will also be 61 poster presentations given in Tormondsen Great Hall in two separate sessions that will run from 10:30 a.m. to 11:15 a.m. and again from 2:45 p.m. to 3:30 p.m.
The first session of posters will include: "Geochemical and Textural Investigation of Luna Meteorite NWA 032" with Elizabeth Simmons '21, and "Expressing Sympathy in Japanese: Omoiyari and the Territory of Information Theory" by exchange student Karina Kerrouchi.
The second session of posters will include: "'White Supremacy'versus 'White Nationalism': A Linguistic Analysis of the Unite the Right Rally" by Brigett Weinstein '20, and "Forest Land Use Activities as a Threat to Northeastern Forest Cover and Water Quality" with Mikayla Haefele '20.5.
Students in studio art classes will exhibit their works in The Pit and on the Mezzanine of the Johnson Memorial Building from 10 a.m. to 4 p.m. on Friday.
The Spring Student Symposium reflects Middlebury's commitment to providing all students with hands-on undergraduate research and experiential learning opportunities across the disciplines. "The symposium embodies the dynamic learning and discovery that happens at Middlebury," said Associate Dean Gates.
Students and visitors filled the Great Hall during a poster session at the 2018 Spring Student Symposium.
For More Information