Middlebury Elects 56 Students to Phi Beta Kappa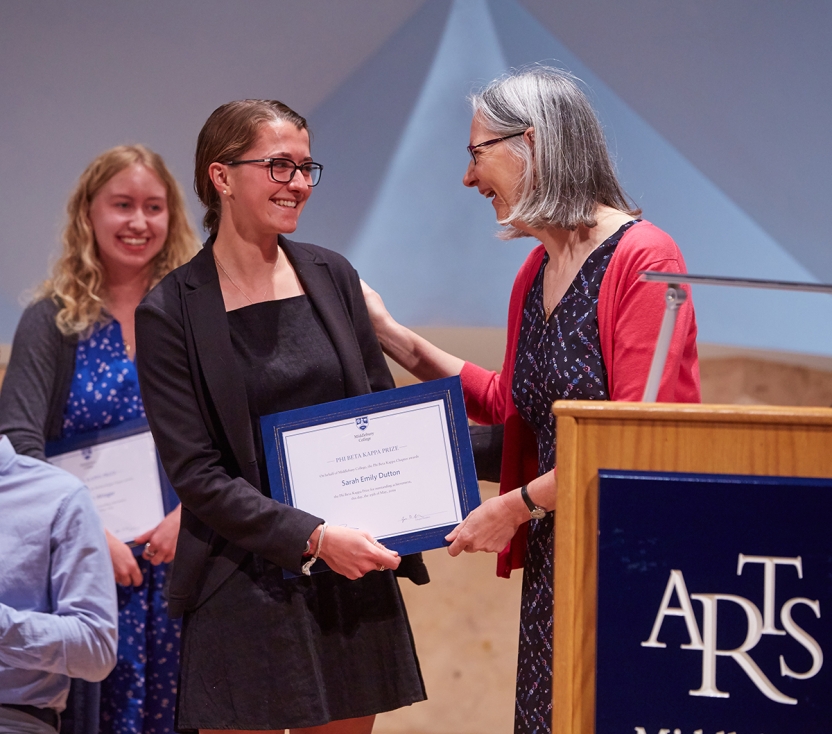 MIDDLEBURY, Vt. – In a Commencement Weekend ceremony at Robison Concert Hall, 42 students participated in Middlebury's 151st Middlebury Phi Beta Kappa induction. Phi Beta Kappa is the country's oldest honor society for the liberal arts, founded in 1776 by a group of undergraduates at the College of William and Mary. The members inducted Saturday joined 14 classmates who were inducted last fall after three years at Middlebury.
Jane Chaplin, the James I. Armstrong Professor of Classics and president of Middlebury's Phi Beta Kappa chapter, welcomed the audience and offered a brief historic overview of the organization. Chaplin noted that Phi Beta Kappa in more recent times has pushed to defend and promote the liberal arts.
Election to Phi Beta Kappa is an achievement and an honor, said Chaplin, "but I hope that you will see your path to it as the true lasting accomplishment, and that what you will do with it is to lead meaningful, thoughtful lives that attest to you, and to all those who know you, the inherent worth of liberal arts education."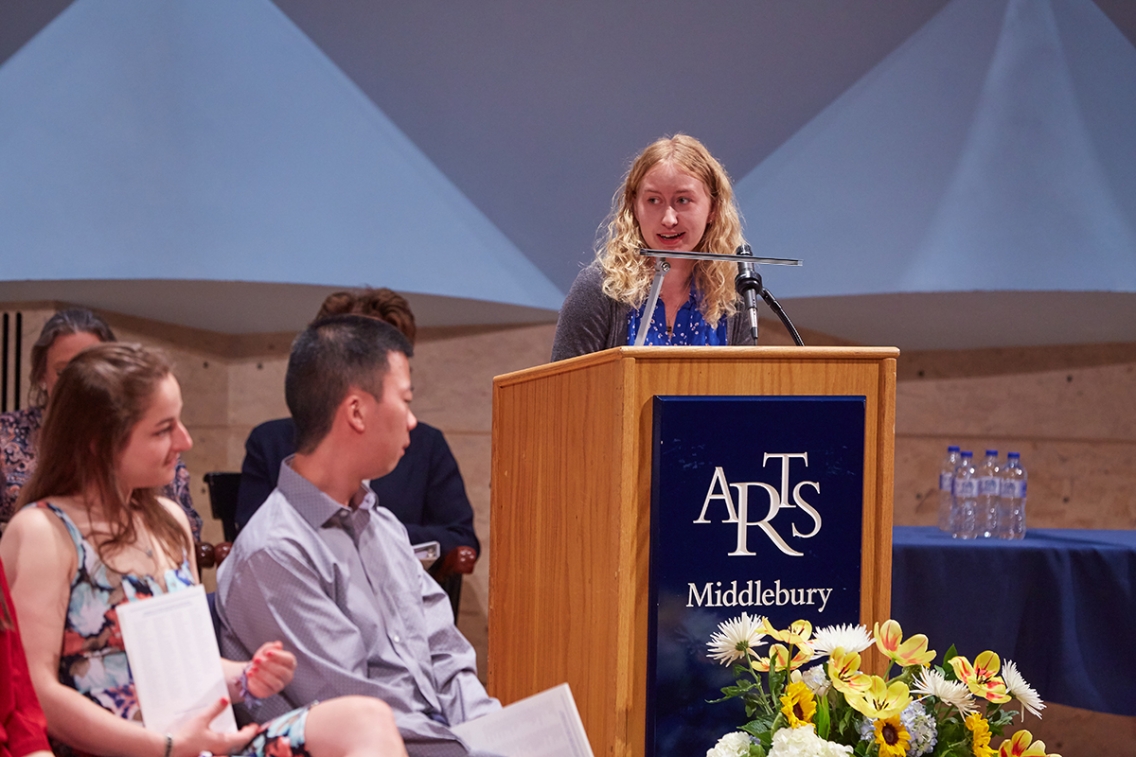 Kylie Winger '19 gave the student address at the May Phi Beta Kappa induction.
Kylie Ann Winger '19, a Literary Studies major from Medford, Ore., gave the Phi Beta Kappa student address. Winger, who has attended the Bread Loaf Writers' Conference and interned at New England Review, reflected on the value of uncertainty, which, she noted, was likely causing her classmates some anxiety as they prepared to leave Middlebury.
"At some point over the past four years, most of us have had to face the question, 'What are you going to do with that?' Which is a different way of asking, 'How are you going to get paid for that?'"
Winger reassured her classmates that not knowing what they plan to do with their liberal arts degrees is not just okay, but actually valuable. "I think we would all do well to admit to ourselves more often the things we don't know because there is beauty in not knowing. Not knowing creates opportunity," she said.
Winger and fellow inductee Sadie Dutton '19 won the Phi Beta Kappa Prize, an award given by faculty members of the Middlebury chapter to "the senior whose scholarly or artistic accomplishment and breadth and contribution to the intellectual life of the community best exemplifies the society's regard for intellectual excellence."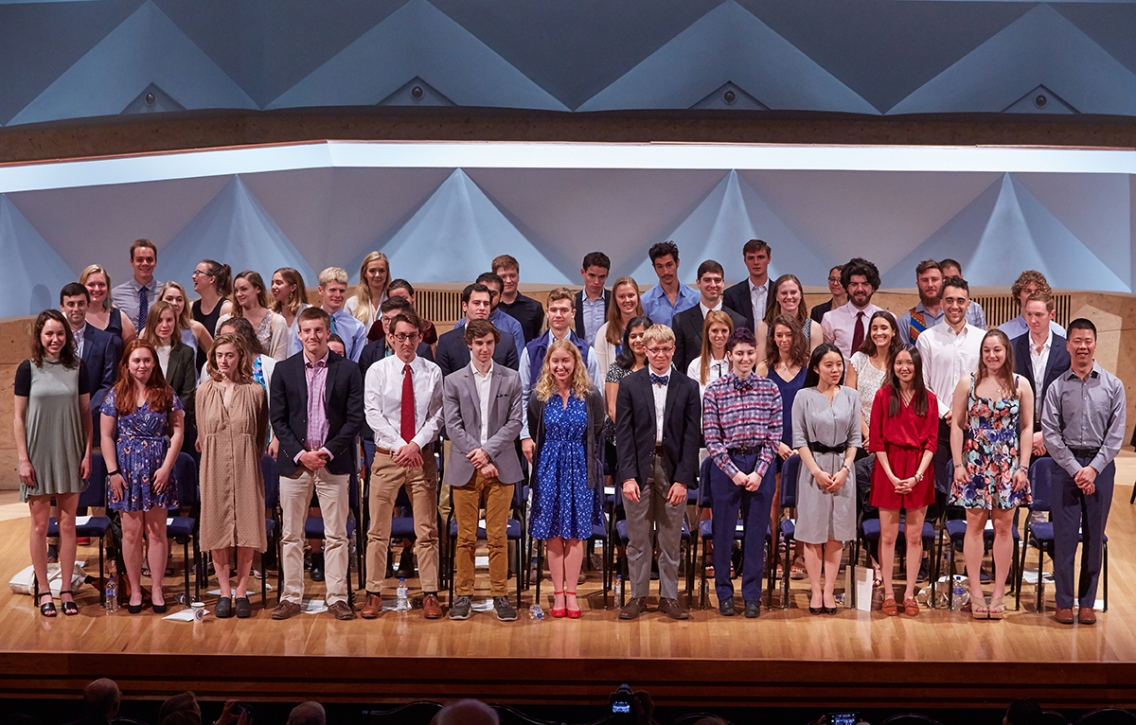 Middlebury's 2018–19 Phi Beta Kappa inductees at a May 25 induction ceremony at Robison Concert Hall.
Susan Baldridge, professor of psychology and vice president of the Middlebury Phi Beta Kappa chapter, performed the induction ceremony. Afterward, Baldridge read a brief paragraph about each student from information the students had supplied about highlights of their Middlebury careers and their future plans.
Each year the Middlebury chapter elects up to 10 percent of the senior class to Phi Beta Kappa membership. Two percent of the class is elected in August, on the basis of six semesters' work, and up to an additional 8 percent is elected in May, on the basis of work completed over eight semesters.
One of the traditional symbols most often identified with Phi Beta Kappa is the key, which the society developed in its early days. Middlebury owns one of the oldest Phi Beta Kappa keys still in existence—that of Middlebury's first president, Jeremiah Atwater.
The 2018–19 inductees:
John Anthony Bowllan
Daniel John Buchman
Katherine Sanders Claman
Kaitlynd Elizabeth Collins
Ellen Franzwa Colton
Heather R. Cox
Sawyer Crosby
Peter Emmett Davis*
Langley Margaret Dunn
Sarah Emily Dutton*
Mariana Elena Echeverria Escobar
Kyle Lincoln Freiler*
Elizabeth A. Giovanniello*
Stacy Meredith Goins*
William Orion Greene
Victoria Jane Isquith
Nicholas Stanley Jaczko
Xiaoli Jin
Hayley Rhiannon Jones
Joseph Harold Juster
Kang Woo Khan Kim*
Lucy Katherine Lang
Chaeree Lee
Brendan Aloysius Leech*
Aaron Yu Teng Low
Sedge Kea Lucas
Adam James Mahady
Madeline O'Neill Maloney
Irene Teresa Margiotta
Samuel Tompkins Martin
Alejandro Martinez Perez*
Jesse A. Masinter
Katherine Tessa Monroe
Finne Murphy
Grant Thurber Olcott*
Molly Haffer Paradies*
John William Parker
Mayher Jay Bimal Patel
Christina Sofia Puccinelli*
Charlotte Alison Reider-Smith
Madeleine La Gorce Russell
Christian Alexander Schmitt
James Francis Scott
Zachary Michael Senick
Neha Sharma
Andrew Douglas Smith
Clara Mendel Sternberg
Peter Joseph Thewissen*
Mary Isabel Trichka
Sydney Leigh Warren
Billie Clare White
Douglas L. Wilson*
Kathleen E. Wilson
Kylie Ann Winger*
Kevin J. Zhang
Lulu Zhou
* Indicates student was elected after three years at Middlebury.