Middlebury's First Hip-Hop Course Grounds Students in Roots and Practice
MIDDLEBURY, Vt. – Senior Ayla Bhattal first heard hip-hop at a family wedding in Delhi. Halfway around the world in Los Angeles, first year Christine Nabung was introduced to hip-hop by a B-boy older brother. For Jack Spiridellis, a sophomore from New York's Westchester county, a love of hip-hop began in high school with friends sharing favorite albums. For senior Julian Joseph, hip-hop was just part of the landscape for kids in his Brooklyn neighborhood.
"It's the voice of the youth," said Joseph. "It's everything that's happening now."
"Originally, hip-hop grew out of the problems presented by dominant American culture. Now hip-hop is dominant American culture," Joseph explained.
Hip-hop encompasses everything from the urgent cry for social justice in Grandmaster Flash and the Furious Five's "The Message" to the fierce tenderness of a mother's love for her unborn child in Lauryn Hill's "To Zion." Lin-Manuel Miranda's hip-hop Hamilton brings new insights to the story of the Founding Fathers; and a song like Lil Nas X's "Old Town Road" recently topped charts in both rap and country categories. In 2018, hip-hop even featured in one of the country's most closely fought congressional races, as incumbent John Faso tried to weaponize challenger Antonio Delgado's brief hip-hop career as a way to brand the Harvard-educated attorney as a dangerous outsider.
It's also emerged as one of the most globe-trotting cultural movements of the past four decades. There is Senegalese rap, Albanian rap, Tasmanian rap. Hip-hop street art now defines certain Tokyo neighborhoods. In the Norwegian film Battle, a young, classically trained dancer ditches her leotards for sweats and sneakers.
At Middlebury, while hip-hop has long been integrated into such classes as Black Womanhood in Pop Culture or Livin' in the City, this spring saw Middlebury's first class devoted exclusively to hip-hop: Elements of Hip-Hop, taught by Professor of the Practice Will "Kasso" Condry, whose dynamic murals, paintings, and drawings fuse formal arts training with street smarts straight from the neighborhood in which he grew up, lived, and worked in Trenton, New Jersey.
"Hip-hop is a hugely important area of study," said Roberto Lint Sagarena, director of intercultural programs and professor of American studies. "If you look in American studies, ethnic studies, it's become a very rich field of academic inquiry."
It's also important, said Lint Sagarena, to have "faculty of color teaching classes, in that students of color, underrepresented students, can see themselves in positions of authority. There's also the issue of the representation of black and brown cultures, which have been less fully represented on campus."
Condry is well known on campus for his murals in the Anderson Freeman Resource Center and in the McCullough Student Center. He was the 2017 Alexander Twilight Artist in Residence and has since taught J-term classes on graffiti and street art. Condry burst into national prominence in 2014 when a street mural of slain teenager Michael Brown captioned "Sagging pants is not probable cause" was painted over by Trenton authorities.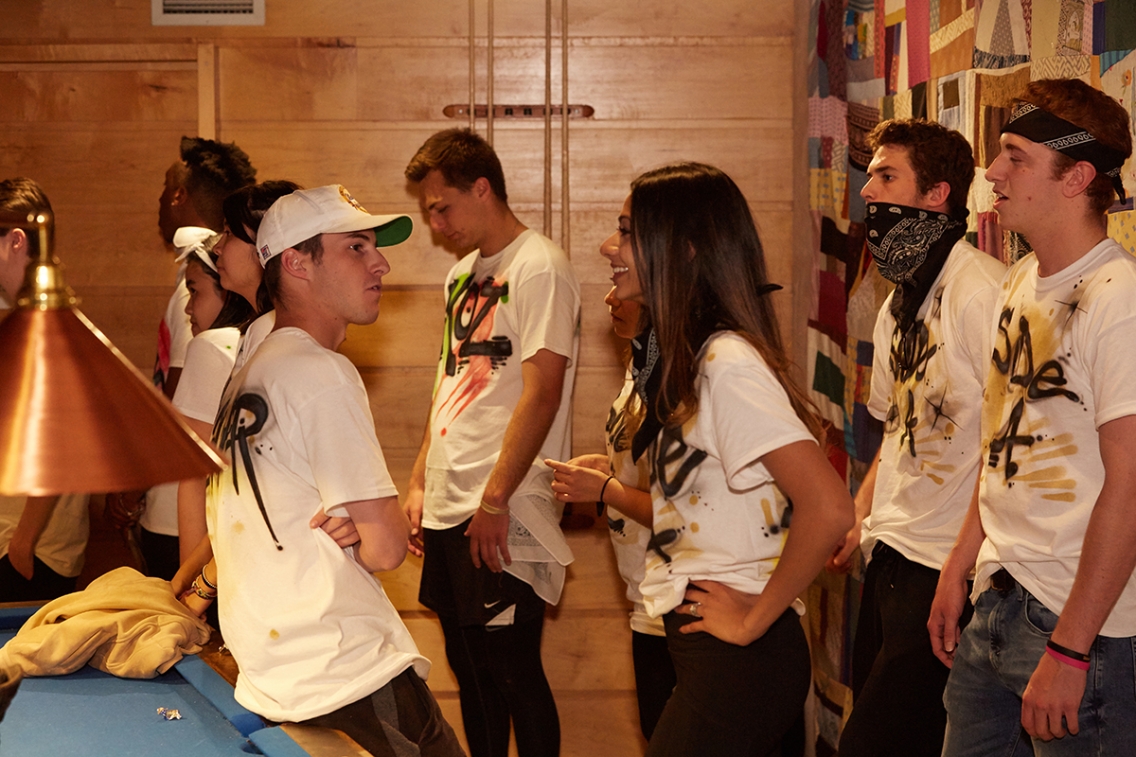 The transformative nature of Condry's street art is perhaps best illustrated by the first mural he ever painted "in broad daylight": a giant portrait of Mahatma Gandhi with Gandhi's words "You must be the change you wish to see in the world." After that, there was no stopping him. He and fellow artists formed a coalition to use "graffiti methods to rebuild neighborhoods instead of destroying them."
Now relocated to Vermont, Condry's recent work includes a portrait series titled Steps to Resilience, each painting layered from footprints. He's currently at work cocurating an upcoming street art exhibit for the Morris Museum in Morristown, New Jersey.
Important to Condry is that students understand hip-hop's emergence out of the urban devastation of the Bronx in the late 1970s.
"You have to understand where it comes from," said Condry. "People of color invented hip-hop. You cannot have hip-hop without music from the African diaspora. You cannot have hip-hop without recognizing Latinos' influence within the culture. It grew from these melting pots."
Continued Condry: "Hip-hop is the voice of oppressed people. It started off as that, and it's always going to have that undertone, regardless of how commercial it gets."
Learning this history has been "very inspiring," said music major Sam Houlihan, whose senior thesis analyzes the influence of bebop on hip-hop, looking at artists like Charlie Parker and Kendrick Lamar.
"The backdrop is horrific, it literally looks like Afghanistan. I had no idea that New York City was this bombed out," said Houlihan. "But here are these kids, and they're powering up their turntables from stolen power in abandoned buildings, throwing these parties, and it's super lo-fi and just 100 percent based off of feeling. They don't have instruments, right. So they're taking music that they have—records—and they're making a new beat out of it. They don't have a canvas. So they just paint on the walls and the subways and make art.
"And you're like, 'How did you do this, when the conditions of your life are so brutal?' People called it vandalism. But I think that's just another form of oppression. The buildings are so bombed out and nobody's lived there for 20 years and these people are making it beautiful.
"I think that's where the power is."
Condry organized the class around the four elements of hip-hop: graffiti, emceeing (rapping), DJing, and break-dancing. It was important to him that students not only deepen their understanding of hip-hop but try their hand at each element.
"Hip-hop is like gumbo," said Condry. "You may not know exactly what it's made of, but you know it tastes good, and you want more, right? Then you want to figure out, 'How do I make it my own?' And you're going to switch some ingredients."
He brought in guests such as graffiti artist Lady Pink; break-dancers Macca Malik and AB Zulu Nation; DJ Ahmad Shakir; emcee Black Collar Biz; and spoken word artist and Middlebury graduate Sadé Williams '14.5.
"They all live it. None of them treat it as a hobby or a hustle. That's how they make their living full time. That was something I wanted to emphasize," said Condry, who noted that Williams is now in a PhD program at Temple University.
Each artist inspired students differently.
"It was really interesting to Skype Lady Pink because she was one of the first female graffiti artists. I connect to that because the industry I'm going into is still very male-dominated," said Bhattal, who's heading for a career in tech finance. "Talking with her was such an eye-opening experience—to see a pioneering woman in such a different industry."
Added Nabung, "It's funny because we were having a video call, and Lady Pink's like, 'How come all the girls are sitting in the back?' you know? It was a call to action."
For sophomore Jack Spiridellis, an athlete on the men's soccer team, the breakdancing workshop with Malik gave him "a whole new appreciation of hip-hop as a sport. I came out of that session sweating and really tired." A jazz drummer, Houlihan noted that trying his hand at DJing with an old-style turntable was "way more involved than I ever gave credit to. You are constantly thinking and counting."
For Nabung, Williams's workshop was especially powerful. Reflecting on author and poet Audre Lorde's posthumous collection Your Silence Will Not Protect You, she found herself reassessing her personal values and aspirations. The course has inspired her to widen her STEM focus to include more arts and humanities.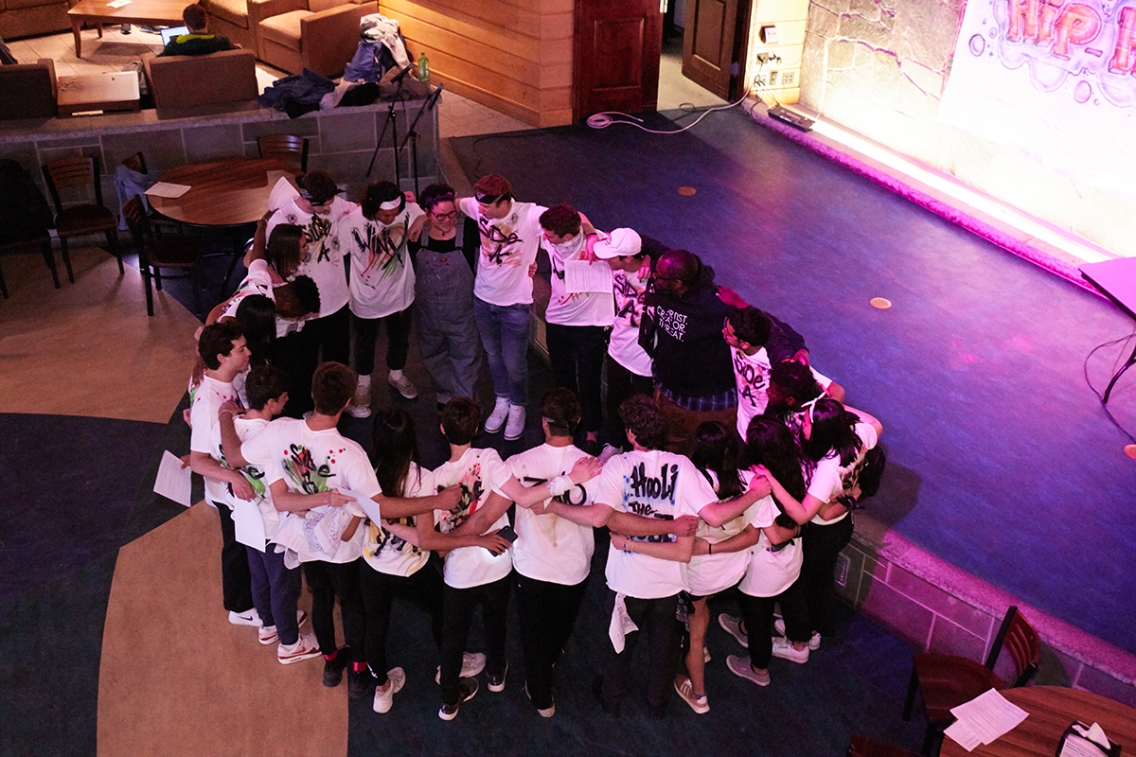 For a final project, students created a public performance called Middlebury Remix. Broken into two crews, "Side A" and "Side B," students tagged a backdrop with their personal graffiti monikers and then competed against each other emceeing and break-dancing to raucous cheers. Fittingly, the evening ended in a big dance party. Instrumental in helping keep the Remix show on the road was AFC associate director Jennifer Herrera Condry, also Condry's wife.
A recurring theme among students interviewed for this article is how the class challenged them to step out of their comfort zones, tap into their own creativity, and be more courageous.
"This has actually been one of my hardest classes because it requires me to think in such a different way," said Joseph, an economics major. "Other classes, you read a book, and it's like the book tells you, more or less, how to do what you need to do. It's kind of hard to find a book on how to put on a good show and how to write a good song and all these things."
"I would never really consider myself a creative person," said Spiridellis, who's majoring in international politics and economics. "But you actually don't have to be 'creative' to create. You can just create and then learn from it, which is really cool."
"When I was younger, I used to be very into painting and art, but that diminished as I focused more on my finance and econ courses," said Bhattal. "Being in this class has allowed me to be more well-rounded and more holistic in my approach to life and learning."
Especially inspiring has been the opportunity to work alongside Condry himself.
"Kasso grew up in Trenton, and he's done so much for that community," said Spiridellis. "It's taught me a lot about finding a place that's home, building great relationships within that place, and then making that place better. That's extremely inspiring."
For Joseph a powerful part of the class was being taught by someone who not only understands where he comes from but shares those experiences.
"Middlebury has plays and all these things, and these are things that I've kind of thought about trying out," said Joseph, "but at the end of the day I never really was able to give myself that push because I've never really felt like that space was for me. But the space that Kasso's made in this class—I don't feel hesitant to take space and do things because it's more for me."
By Gaen Murphree; Photos by Todd Balfour