Nicole Curvin Named Dean of Admissions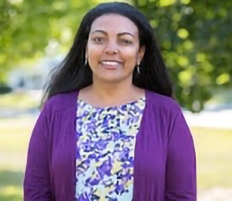 MIDDLEBURY, Vt. – President Laurie Patton has announced that Nicole Curvin, director of admissions and coordinator of multicultural recruitment, will become the new dean of admissions on July 1. Curvin replaces outgoing dean Gregory Buckles, who departs June 30 to become the dean of enrollment management at the Lawrenceville School.
"I've come to know Nicole well in recent years and I'm impressed with her energy, integrity, sensitivity, and deep understanding of both the technical aspects and aspirational goals of running a first-class admissions process," wrote Patton in an all-campus email.
Curvin joined the Middlebury Admissions Office in 2014 as associate director and coordinator of multicultural recruitment—a role in which she developed strategies to recruit increasingly diverse classes of first-generation students and students of color. She also participated in the review and selection of Posse Scholars.
In 2017, she was appointed director of admissions and coordinator of multicultural recruitment. In that role, she administered the daily operations of Middlebury's admissions process, coordinating the work of 16 full-time staff members, including six direct reports.
During this time, the Admissions Office staff managed visitor engagement for more than 10,000 campus visitors a year and built the largest applicant pool in College history. They broadened visibility and outreach to Vermont high schools and counselors; developed successful outreach strategies to enhance relationships with community-based organizations and charter school networks to increase applications from underrepresented student populations; and implemented a transformational team reading evaluation process to refine our application reviews.
Curvin earned a BA in English at Wesleyan University in 1990 and an EdM in higher education administration at Harvard University in 2000.
Curvin brings considerable experience to her position, having served as an admissions advisor at Cornell University and dean of admissions at Marlboro College for four years. She has held admissions leadership roles at Eugene Lang College of the New School for Liberal Arts and at New York University's School of Continuing and Professional Studies. Earlier in her career, Curvin was coordinator of recruitment for African, Latino, Asian, and Native American students at the University of Vermont.
"I am thrilled to take on the role of dean of admissions and I look forward to building on the many successes the recruitment team has achieved," said Curvin. "It is an honor to work alongside a professional staff that is deeply committed to identifying creative strategies for finding the next generation of Middlebury students."