Alumni Celebrate Reunion '19
MIDDLEBURY, Vt. – After a relentlessly wet and chilly spring, Middlebury welcomed more than 2,000 alumni and family members back to campus for Reunion with three days of glorious spring weather. Alumni representing eight decades joined the celebration for a weekend of tours, activities, and lots of reminiscing.
President Laurie Patton greeted the first arrivals—the 50th Reunion class (1969)—with a reception and dinner at the president's house on Thursday evening.
Patton, who appeared at numerous events, formally greeted all of the returning alumni at the festive Reunion Convocation on Saturday afternoon.
"Every year at Reunion, when I walk into Mead Chapel with you, hearing the rhythmic sound of rapping canes, I feel a great sense of connection and belonging," Patton told the gathered classes. "The first Reunion I presided over was a turning point in my relationship with Middlebury. A swell of emotion came over me, and I really felt like I was part of this community, that I belonged to Middlebury."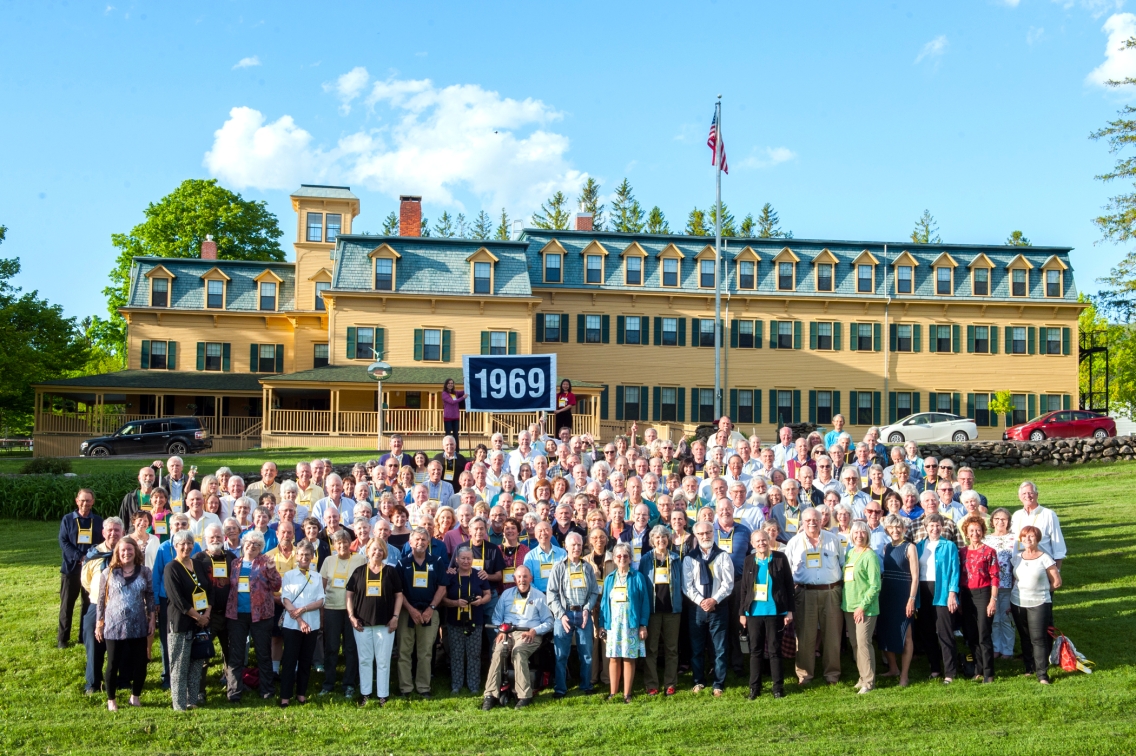 The Class of 1969, celebrating their 50th Reunion, lined up for a photo at the Bread Loaf campus.
"Jill is recognized as a pioneering authority on how to provide life-saving medical care in all but impossible conditions," said Groves. "The protocols she has developed are now being used to address the rapid spread of tuberculosis, malaria, and hepatitis B throughout East Africa. She is credited with saving the lives of thousands of people."
Seaman was profiled by Time magazine as one of the "Heroes in Medicine" for 1997. She was honored by London's Royal Society of Tropical Medicine Hygiene in 1994; was awarded the University of Washington School of Medicine Humanitarian Award in 1998; and was named a MacArthur Fellow in 2009. Middlebury presented her an honorary Doctor of Science degree in 2010.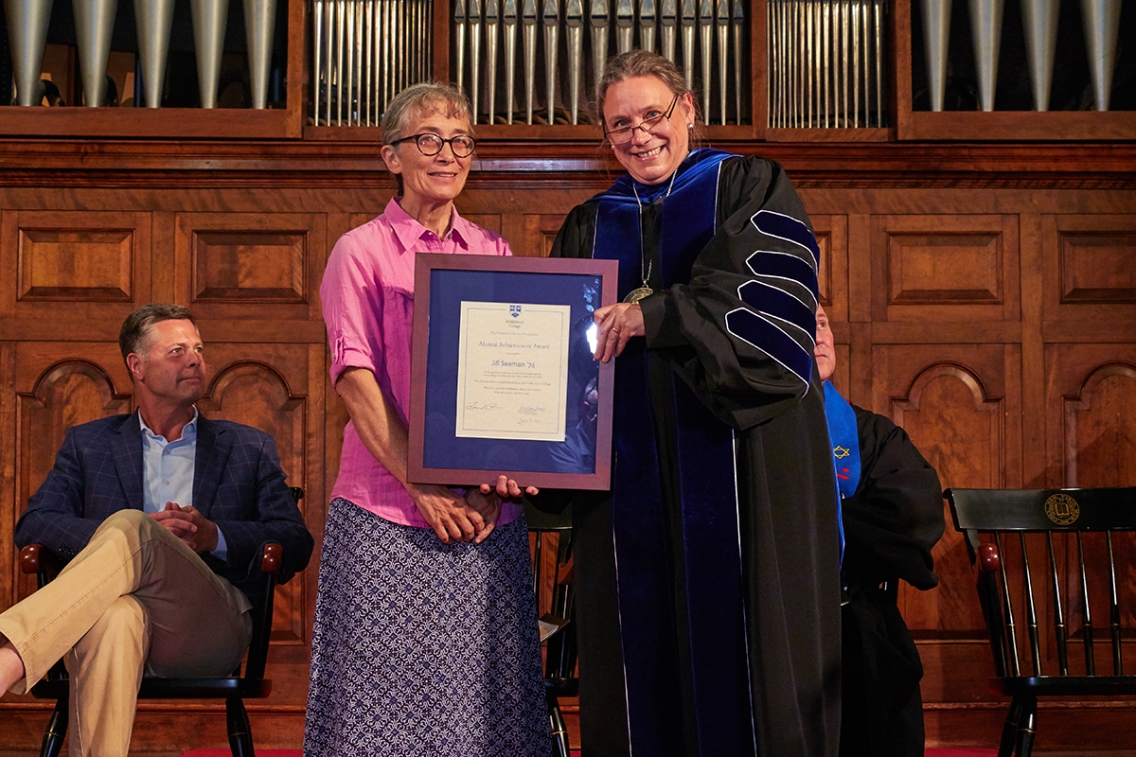 President Laurie Patton congratulates Dr. Jill Seaman '74 on receiving the Alumni Achievement Award.

The Alumni Plaque award, which is presented annually in recognition of service to the College, was presented to Michael Heaney '64, earlier in the day, and to Mary MacArthur Wendell '69 during Convocation.
Heaney, a veteran who was wounded in Vietnam, was featured in the Ken Burns and Lynn Novick documentary The Vietnam War. He arranged for Burns and Novick to share insights on the film with Middlebury students, and has himself taught J-term courses on the war. Mike helped organize Middlebury's first all-veteran Reunion in 2000 and is one of the founders of Middlebury Veterans Give Back, whose members provide career counseling and mentoring to students. Heaney earned his JD at Harvard and, later, his PhD at Rutgers.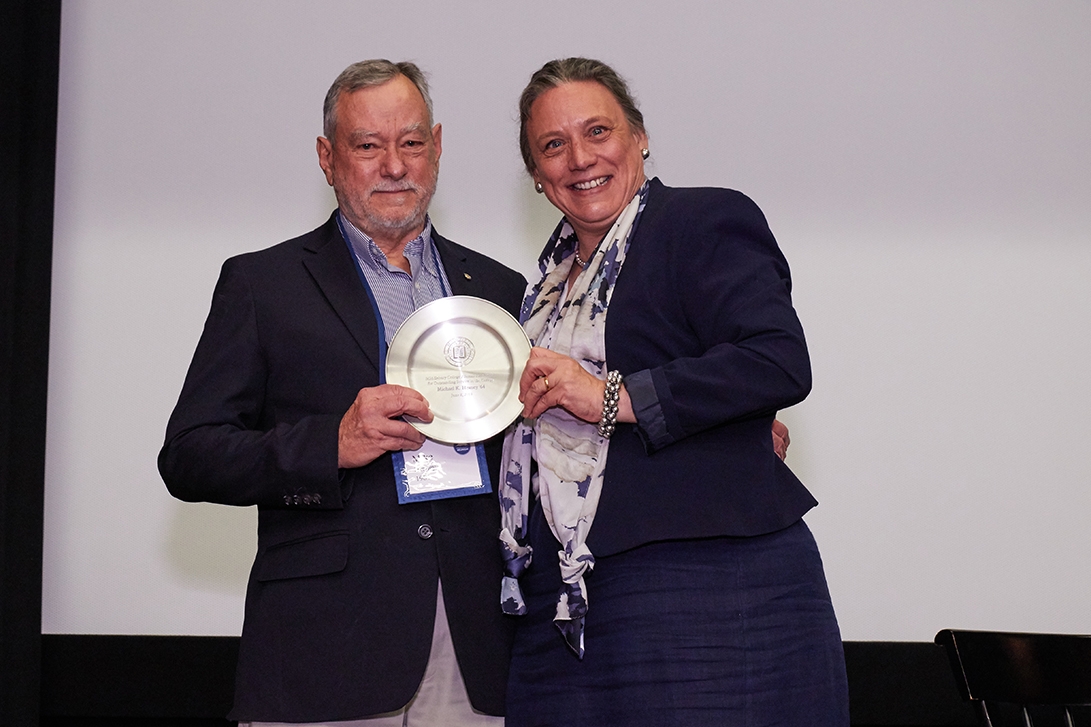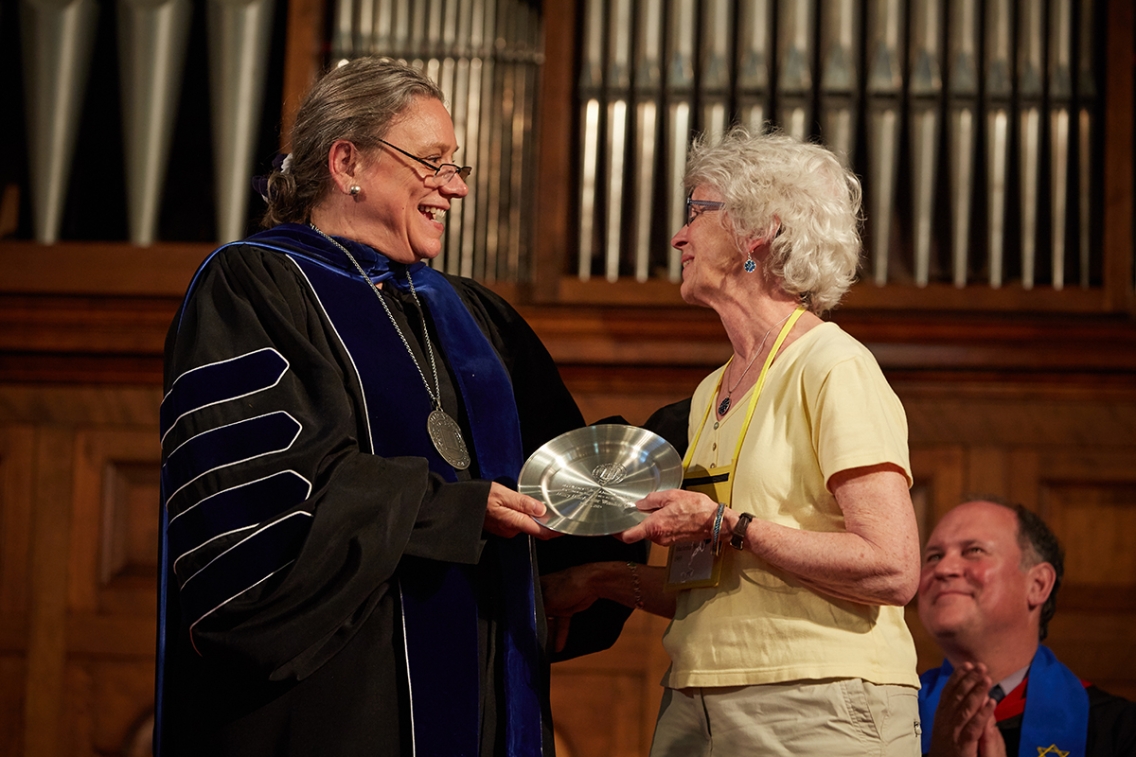 Left: President Laurie Patton presents an Alumni Plaque award to Mike Heaney '64 at Reunion. Right: Patton presents an Alumni Plaque award to Mary MacArthur Wendell '69 at Reunion Convocation.
Wendell began her career at Middlebury in the Admissions Office before moving to Boston where she worked as a portfolio manager at the First National Bank of Boston and then briefly at the Boston Museum of Science. In 1974 she accepted a position at Milton Academy, where she served first as an admissions officer and then as the director of the community service program. Her many years of service to Middlebury include terms on the Middlebury Board of Trustees, Middlebury College Alumni Association, and Annual Fund Executive Committee. She currently serves on the President's Leadership Council.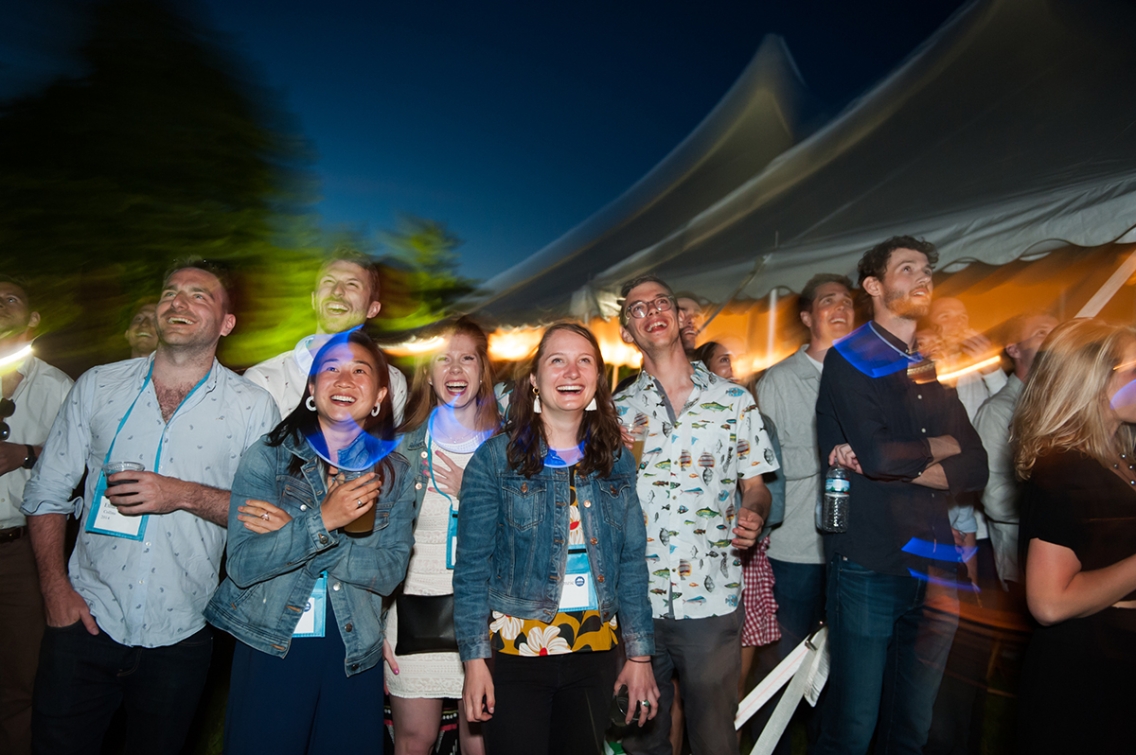 Members of the Class of 2014 enjoyed the fireworks on Saturday evening behind the Mahaney Arts Center.
Four members of the Class of 1949 attended the Convocation, celebrating their 70th Middlebury Reunion: Betty Dean Custer, Dixon Hemphill, Jean Sloan Briggs, and Rachel Stryker Smith.
The weekend's events also included numerous class gatherings, tours, a veterans' gathering, a college admissions workshop, hikes and fun runs, readings, open houses, and class photos. There also were musical performances, yoga, an ice-cream social, a golf tournament, lectures, and panel discussions.
On Saturday evening, under beautiful clear skies behind the Mahaney Arts Center, alumni enjoyed dinner, dancing, and fireworks, with music provided by local-favorite band The Grift.
Photos by Todd Balfour and Jennifer Kiewit.