Middlebury Bread Loaf School of English Begins Summer Session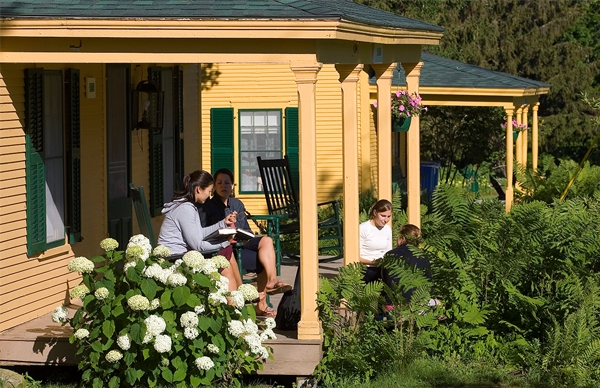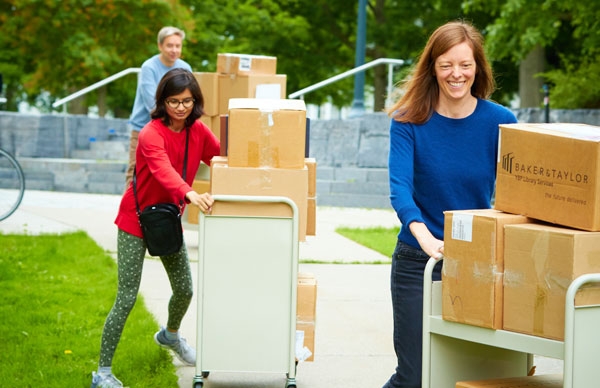 Books for Bread Loaf
MIDDLEBURY, Vt. – It's a sure sign that summer has arrived when staff from Davis Family Library haul nearly 700 course-reserve books up the mountain to Ripton. At the Bread Loaf School of English, the books provide an important supplement to the small permanent collection at Davison Library on the Bread Loaf campus.
This year's titles include This Is the Rope: A Story from the Great Migration by Jacqueline Woodson, which will be used in the class Writing for Children; the poetry collection Blood Dazzler by Patricia Smith for the poetry writing workshop Poetry of Humanity and Hope; and the locally flavored Hands on the Land: A History of the Vermont Landscape by Jan Albers for Creative Nonfiction: The Almanac.
"The Davison Library is very popular with our summer graduate students," says Kellam Ayres, circulation services coordinator for reserves and liaison to the Bread Loaf programs. Ayres, herself an alumna of the Bread Loaf School of English, says the tradition of bringing books up to Ripton dates back to 1920—the inaugural summer of the Bread Loaf School of English—when the school's first dean, Wilfred Davison, brought a collection of his own books and placed them in a small room at the inn.
"This room, where students in his course would read books by kerosene lamp, was the place where library services at the Bread Loaf campus first began," said Ayres. Within the decade, the Bread Loaf book collection had grown to more than 1,000.
The school aims to provide in six weeks a full-time, intensive educational experience, enriched by the local culture at each campus.
A total of roughly 360 students from 40 states, the District of Columbia, and eight countries will pursue continuing graduate education, a Master of Arts, or a Master of Letters in English. Bread Loaf will continue a partnership—inaugurated last year—with the Academy for Teachers that will bring three New York City teachers to Bread Loaf.
Bread Loaf students will study with a faculty of 45, in courses on biographical writing, modern poetry, American print cultures, Melville, Ralph Ellison, Shakespeare, disability narratives, the novel, African American theater, media literacy, and Greek tragedy, to name only a few. New offerings will spotlight anti-racist writing pedagogies, worldbuilding, the cinema and culture of 1977, solo performance, Middlemarch, and Native American women writers.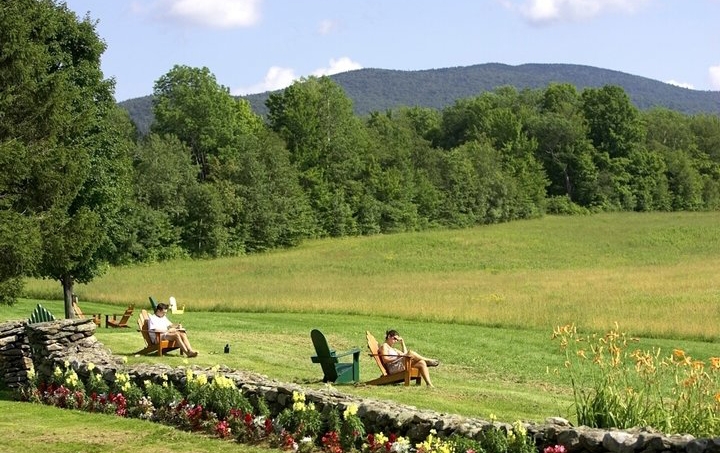 Bread Loaf School of English students study at the Ripton, Vermont, campus, located at the edge of the Green Mountain National Forest.
Studies will extend imaginatively beyond texts and classrooms. Throughout the summer, Bread Loaf students will enjoy diverse cocurricular programs, featuring alumnae authors Rebecca Makkai and Kate McQuade, writer and actor Jennifer Kidwell, author and urban policy and health professor Mindy Fullilove, poet Valerie Martinez, author and professor Daniel Mendelsohn, and Appalachian writers Robert Gipe, Silas House, and Crystal Wilkinson. In Vermont, the Acting Ensemble, under the direction of Stephen Thorne, will work with students to stage Shakespeare's All's Well That Ends Well; Brian McEleney, the director of the Bread Loaf theater program, will bring part of The Iliad to life in a one-man show that premiered this year in Providence.
Other events across the campuses include letterpress workshops, jazz and folk music evenings, films, and panels, as well as opera and theater trips.
More information is available at www.middlebury.edu/blse, 802-443-5418, or blse@breadnet.middlebury.edu.