Bread Loaf School of English Celebrates Commencement on Three Campuses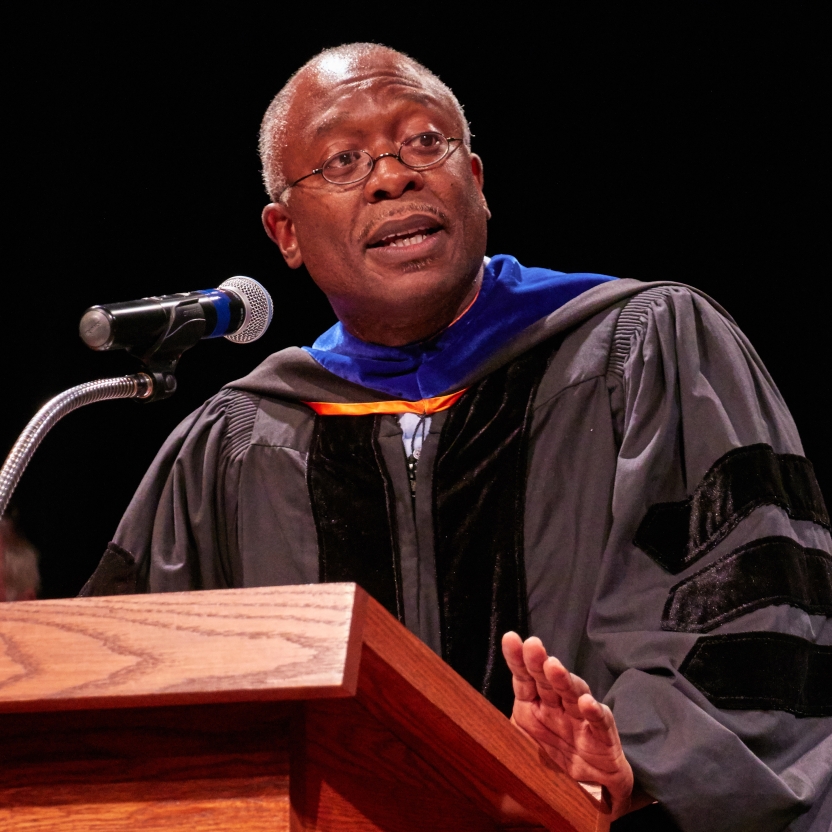 RIPTON, Vt. – As the Middlebury Bread Loaf School of English enters its Centennial year, the graduates of the Class of 2019 rejoiced in the 100th Commencement exercises on the evening of Saturday, August 10. A sense of love—love for the people, the place, the work, and the spirit of Bread Loaf—pervaded the Burgess Meredith Little Theater where the ceremony took place.
Dean of the School of English Emily Bartels opened with an observation on the tenor of the ceremony. "I hope you will see and feel beneath and within all the pomp and circumstance," she addressed the assembled graduates, friends, family, faculty, and staff, "something more … something that defines and propels us as a community and connects what we learn and teach with who we are: we love each other."
Bartels explained that members of the Bread Loaf community admire, support, trust, and inspire one another. The community warmly welcomed and applauded the remarks of Class of 2019 copresidents Nina Davidson and Claudia Perlini. Davidson credited her grandmother for instilling in her gifts of literacy and respect for the importance of words, and for their shared love of the late author Toni Morrison. Perlini delivered a love letter to Bread Loaf writ large, including all the Bread Loafers who had come before. "Bread Loaf is a place," she offered, "for falling in love—with each other, with the mountain, with versions of ourselves we didn't know were possible."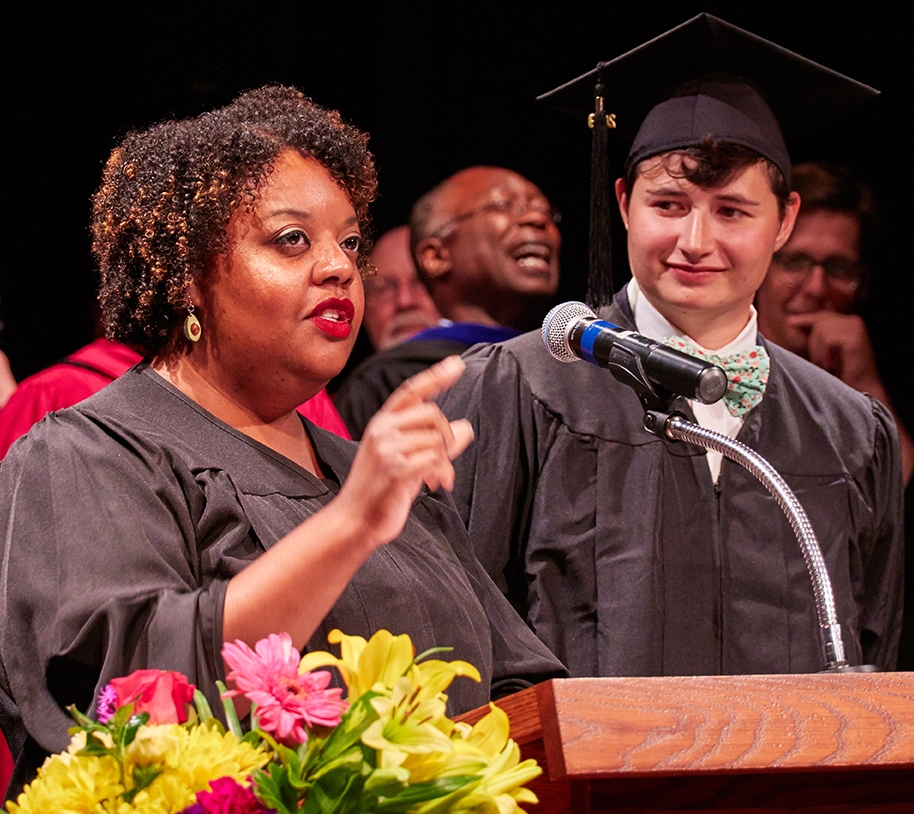 Class of 2019 copresidents Nina Davidson (l) and Claudia Perlini each made remarks at the commencement ceremony in Vermont.
The copresidents then introduced the Commencement hooder, actor Stephen Thorne, and speaker, former Bread Loaf faculty member, and current associate director Lyndon Dominique. Thorne, a member of Trinity Repertory Company's resident acting company and director of the 2019 Bread Loaf Acting Ensemble's production of All's Well That Ends Well, has been a member of that ensemble for 18 summers.
Dominique, an associate professor of English at Lehigh University, previously taught Bread Loaf classes on black British literature, Jane Austen, and the colonial rise of the novel. He is also the author of Imoinda's Shade: Marriage and the African Woman in Eighteenth-Century British Literature, 1759–1808 (Ohio State UP, 2012).
The senior class commended Thorne for the energy and insight he brings to Bread Loaf classrooms and Dominique for the mastery of his teaching craft.
The copresidents also announced their senior class gift to the newly created Centennial Scholarship Fund that will provide support for public school teachers to attend Bread Loaf.
Dominique's address focused on the words and sounds of Bread Loaf, which led him to consider lyrics of musician-poet Jill Scott. In her song "Jahraymecofasola," Scott sings, "I devise a new way to say how much I love you." Music, Dominique counseled, may allow graduates who are reflecting on their five years of study at Bread Loaf to resonate with the essence of emotions that elude words. As a gift to the members of the class of 2019, he printed on Bread Loaf's letterpress, with the help of graduate Nick Sirianno, quotes from Jill Scott and Bob Dylan.
Middlebury President Laurie Patton then acknowledged the life's work of Dixie Goswami, retiring faculty member and founder of the Bread Loaf Teacher Network, by awarding her the Virtue Family Exceptional Service Award, which recognizes faculty and staff who go above and beyond their professional responsibilities to support and connect with students and to live in an exemplary way that builds a more engaged and inclusive Middlebury.
Patton praised Goswami as a forward-looking educator and activist who has revolutionized educational theory and practice over her 38 years of teaching and leading at Bread Loaf. The Middlebury president also expressed admiration for Goswami's ability to always put students' voices and imaginations at the center of the learning process.
Goswami led the effort in the 1980s to bring more public school teachers to Bread Loaf. Over 40 percent of the School of English's teacher population are now from public schools. Patton lauded Goswami as a force, a visionary, a changemaker, and an inspiration. Goswami received, as noted by Patton, a rare honor: a standing ovation in absentia.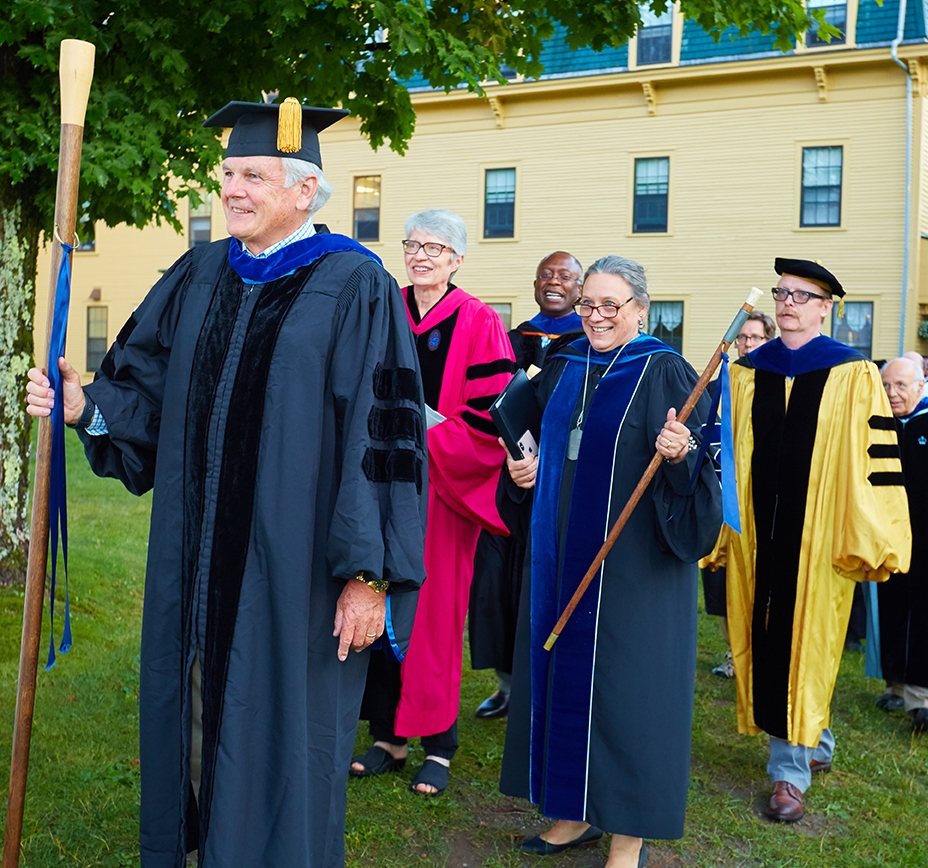 Trustee emeritus Churchill Franklin '71 led the procession of faculty and students at Commencement in Vermont. Behind him are Dean of the School of English Emily Bartels (l) and Middlebury President Laurie Patton.
Like Class of 2019 copresident Nina Davidson, Patton focused her remarks on Toni Morrison, whose collection of essays, The Source of Self-Regard, she had been reading this summer. In the conclusion of one of those essays, Morrison asks the reader to think not about our children and our grandchildren, but about the children and the grandchildren of the world. Patton hoped that Bread Loaf had pushed its graduates to think and teach beyond their own classrooms to empower all students and grand-students of the world.
When the speakers had concluded, members of the class of 2019 received their degrees: 50 Master of Arts and three Master of Letters.
Hours earlier, at Bread Loaf's Oxford campus, 18 Bread Loaf students earned their master's degrees. Stephen Berenson, founding director of the Brown/Trinity MFA Programs in Acting and Directing, professor of the practice at Brown University, and resident acting company member of the Trinity Repertory Company, delivered the Commencement address. Berenson is a Bread Loaf faculty member who has taught the popular Page to Stage course at Bread Loaf's Oxford campus for the past three summers; prior to teaching, he was a member of the Bread Loaf Acting Ensemble for 17 summers since 1984.
Oxford seniors selected faculty member Mark Jerng as their hooder. Jerng, a professor of English at the University of California, Davis, is the author of Racial Worldmaking (Fordham UP, 2018) and Claiming Others: Transracial Adoption and National Belonging (U of Minnesota Press, 2010).
Oxford Class of 2019 president Samuel Gleason and treasurer Kristina Aste-Mayer also offered remarks and announced their class gift, which included contributions to Bread Loaf and a presentation of the Cambridge Guide to the Worlds of Shakespeare to the Lincoln College Library.
Two weeks prior, the New Mexico campus celebrated the graduation of eight seniors. Class copresidents Stacia Bowley and Samantha Samoiel offered remarks. Bowley reflected that her New Mexico peers and faculty "possess a magical combination of intellectual curiosity and compassion," and Samoiel attested to "the undeniable presence of magic" at Bread Loaf in New Mexico. "We're here," she said, "not only to replenish our intellectual buckets … but to restore our sense of why we do what we do… . Here among the quietude and sublimity of the Sangre de Cristos, we're blessed with an opportunity for self-reflection." She offered the Class of 2019 her hope that they would continue to find means to feed their souls "as a way to recreate the space Bread Loaf has given us, to see into the life of things."
Seniors in New Mexico chose faculty member Cruz Medina, assistant professor of rhetoric and composition at Santa Clara University, to deliver their Commencement address. Faculty member and writer Annalyn Swan placed the master's hoods on graduates.
In total, the School of English conferred 79 degrees this summer: 74 Master of Arts and five Master of Letters.
Established in 1920, the Bread Loaf School of English is Middlebury's summer residential graduate program in English, offering courses in literature and the related fields of literacy and pedagogy, creative writing, and theater arts. Students, mostly English or language arts teachers, come from across the United States and beyond for one or more summers of intensive graduate education. Faculty members come from eminent institutions in the U.S. and U.K. to teach and learn with the student body at campuses in New Mexico, England, and Vermont.
Photos by Todd Balfour
For More Information