Middlebury Language Schools Award 102 Graduate Degrees at Commencement Ceremony
MIDDLEBURY, Vt. – The Middlebury Language Schools awarded 98 master of arts degrees and four doctor of modern languages degrees at its Commencement celebration on Friday, Aug. 16, at the Mahaney Arts Center.
The ceremony marked the end of the 105th consecutive summer of intensive language instruction at Middlebury, where for more than a century, students have famously adhered to the Language Pledge, vowing to speak only their language of study for the duration of their summer studies.
If one theme carried the day, it was the powerful belief that language can build worlds, connect communities, and bridge divides—an increasingly important skill in a time of mounting divisiveness and bigotry.
"These past years and summers, you have immersed yourselves in words, in the creative act of thinking, writing, speaking, and teaching in a different tongue," said Rabbi and Associate Chaplain Danielle Stillman in her invocation. "Now we are gathered in this hall, all of us a testament to the beauty of pluralism, celebrating our different languages and cultures together."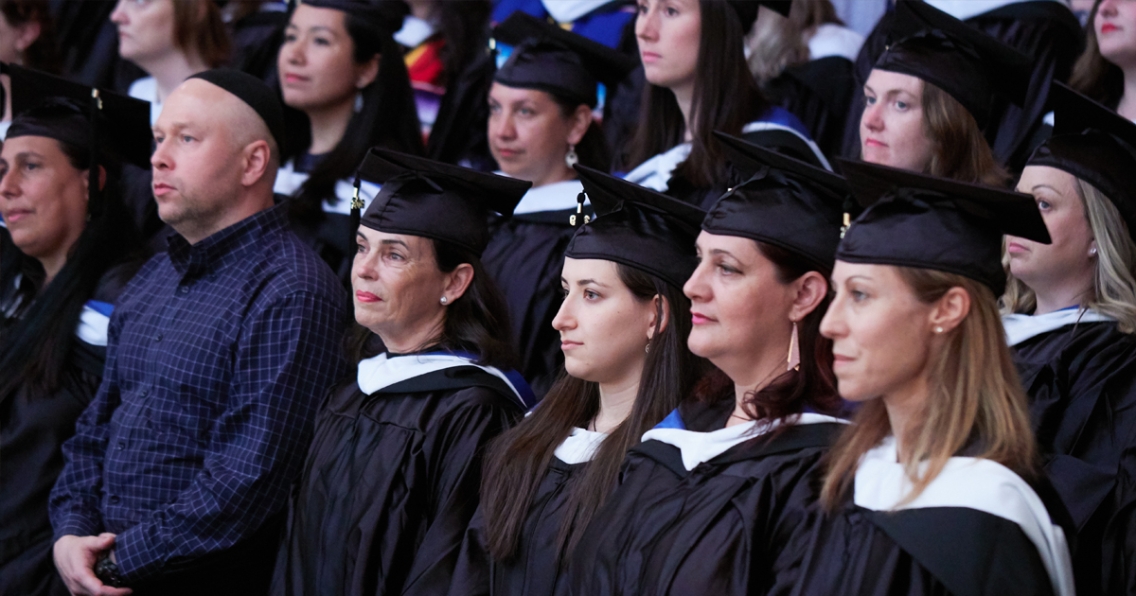 Middlebury Language Schools graduates at their Commencement on Aug. 16 in Robison Concert Hall.
Before her address to the graduates, President Laurie Patton announced that Sheila Schwaneflugel, the assistant director of the Betty Ashbury Jones MA '86 School of French, was being awarded the Virtue Family Exceptional Service Award. Nominated by her colleagues, Schwaneflugel received the award in recognition of her work to build a more engaged and inclusive Middlebury.
"With an indefatigable sense of service, care, unflappable optimism, and love of students, plus an ever-present smile, our honoree strives to make everyone's work easier while doing her own excellent work," said Patton, whose announcement was met with a roar of applause and a standing ovation from the School of French graduates.
Turning to the graduates, Patton reflected on a particular milestone in language learning: the moment when a student begins to dream in their language of study.
"I hope you have begun to dream in your new languages that we are celebrating today," said Patton. "I hope you have achieved that small milestone. But I also want to remind you that even when you couldn't speak a word of French or Russian or Portuguese or Spanish or Chinese or Hebrew or German, you have always been dreaming in that language, because learning a language is always a way of wanting to create something new. It is about desire for a new kind of human connection."
Before introducing the commencement speaker, Dean of the Language Schools Stephen Snyder congratulated the graduating class for their years of effort and hard work.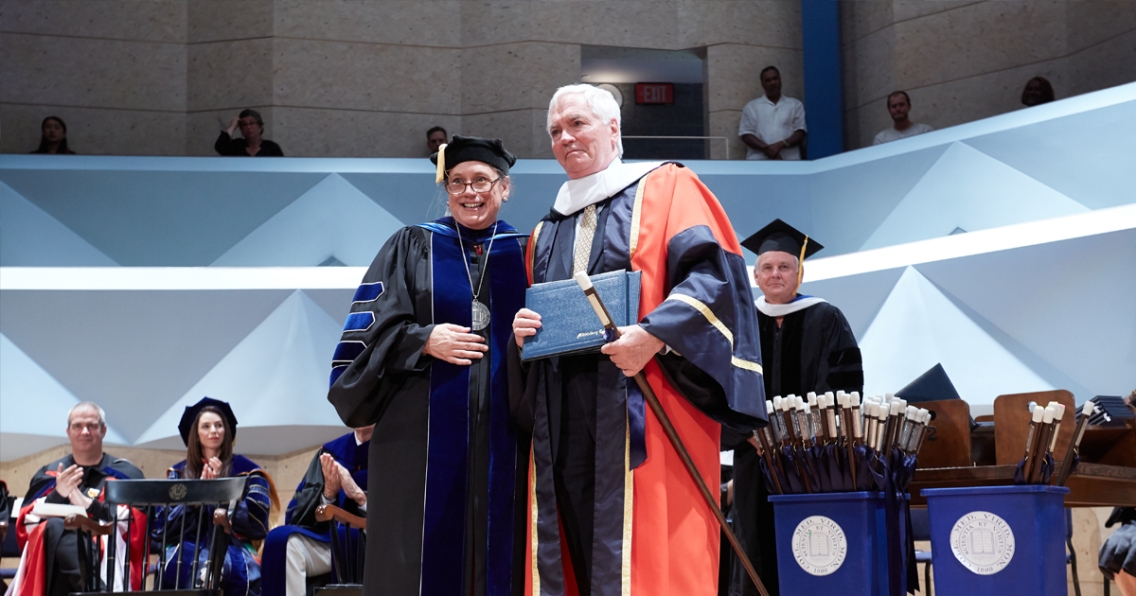 Honorary degree recipient Brian J. O'Dwyer MA Spanish '67, a New York City lawyer and advocate for immigrant rights, spoke to the power of language to forge connection.
"Whether you go on to careers in teaching, journalism, government, or any other field, you will be, and in many cases already are, leaders who will shape the future of our globe in the coming years, and we believe your deep knowledges of other languages and peoples will allow you to lead in a more intelligent, open-minded, and humane fashion than would be possible without that knowledge," said Snyder.
Honorary degree recipient Brian J. O'Dwyer MA Spanish '67—a New York City lawyer and advocate for immigrant rights—spoke to the power of language to forge connection. Fifty-two years ago, he told the gathered graduates, he sat in their seat. O'Dwyer earned his master of arts in Spanish-language literature following two summers of study at Middlebury and a year in Madrid. He went on to earn his juris doctor from Georgetown University and his master of laws from the George Washington University—but credited his Spanish with earning him his dream job, a position as a trial lawyer with the National Labor Relations Board.
His knowledge of Spanish not only gave him his job, O'Dwyer said, but provided an opportunity to help workers, documented and undocumented, fighting abuses from their employers. He sat and spoke with individuals without the need of a translator, and as a result, was a better advocate for his clients.
O'Dwyer went on to spend the vast majority of his legal career at O'Dwyer & Bernstein, LLP, where he serves as senior partner. He primarily represents undocumented workers injured in the course of their employment. He's noted for his tireless service to New York's Irish and Mexican immigrant communities, and has received numerous awards and citations from the New York City Council, the government of Puerto Rico, the Catholic Church, and the state of New York.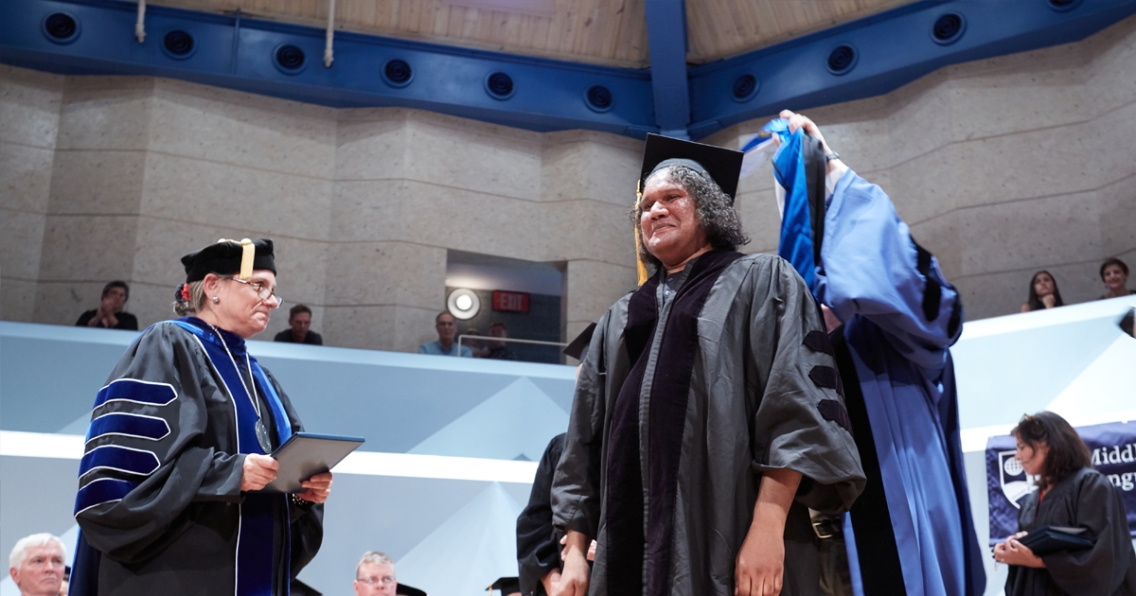 Sheldon Huggins, who earned his DML from the Betty Ashbury Jones MA '86 School of French, receives his doctoral hood at Commencement in Robison Hall, August 16, 2019.
"The languages we study here at Middlebury are every bit as much a part of the American heritage as is English," said O'Dwyer, who noted that he did not refer to these other tongues as "foreign" languages. Spanish was spoken on this continent before Jamestown, Dutch before English in O'Dwyer's native New York. And that is to say nothing, he continued, of the countless indigenous languages spoken in the United States before the European conquest.
"We know that language unites and does not divide. It builds bridges, not walls. It communicates, and does not isolate. It promotes understanding, not distrust," said O'Dwyer. "It fosters knowledge, not ignorance. It seeks acceptance, not bigotry. In short, languages require love, not hate."
Following O'Dwyer's remarks, the master of arts degrees were awarded to students in the Schools of Chinese, French, German, Hebrew, Russian, and Spanish (while MAs in Arabic and Italian were awarded on Aug. 8 at the Language Schools' West Coast campus in California). Middlebury also awarded four doctor of modern languages degrees to four candidates form the School of French.
The ceremony closed with Patton conferring an honorary doctor of humane letters upon O'Dwyer, noting his lengthy and decorated career and many accomplishments, and thanking O'Dwyer for his "commitment to our common humanity."
Since the founding of the first Middlebury College Language School, which was devoted to the study of German in 1915, nearly 50,000 students have attended one of the schools, and more than 12,000 have received advanced degrees. Today, Language Schools instruction occurs in 11 languages.
For More Information