Geography Professor and Students Study Conservation Challenges at Ugandan National Park
MIDDLEBURY, Vt. – Geographer Jessica L'Roe brought the rows of a spreadsheet to life for five Middlebury undergraduates this summer. The assistant professor, who teaches a course called Land and Livelihoods, took the students on an 11-day trip to Uganda, where they helped L'Roe continue a long-term research project at Kibale National Park.
The students had studied the remote yet rapidly changing area in class and, for the first part of the summer, had immersed themselves in data collected during L'Roe's previous visits to the park. In August, the abstract became real as they touched down in Uganda.
Just reaching the remote park required 36 hours of air and ground travel. The park is located in western Uganda along the Albertine Rift, a region known for its biodiversity as well as its endangered megafauna, including elephants, pangolins, and chimpanzees. It is also an area where economic growth presents new questions and challenges to the local communities.
"The big project is to understand the way that the human communities around protected areas, like national parks, are changing in places that are really important for biodiversity conservation in East and Central Africa," said L'Roe. "This relationship is changing a lot now as other social factors such as employment opportunities or education opportunities themselves are changing. The project tries to track what new neighbors and new relationships are happening as those social communities change."
Kibale, a montane forest with some of the world's highest density of primates, is a conservation priority for the region. The conflict, says L'Roe, is that the region is also experiencing rapid social development, "which is good news for the local communities, but often bad news for the protected area.
"They've gotten rural electrification, the roads are being upgraded, there is soon going to be running water in some of the communities, so it is a moment of change in this very interesting place that we were there to study," said L'Roe.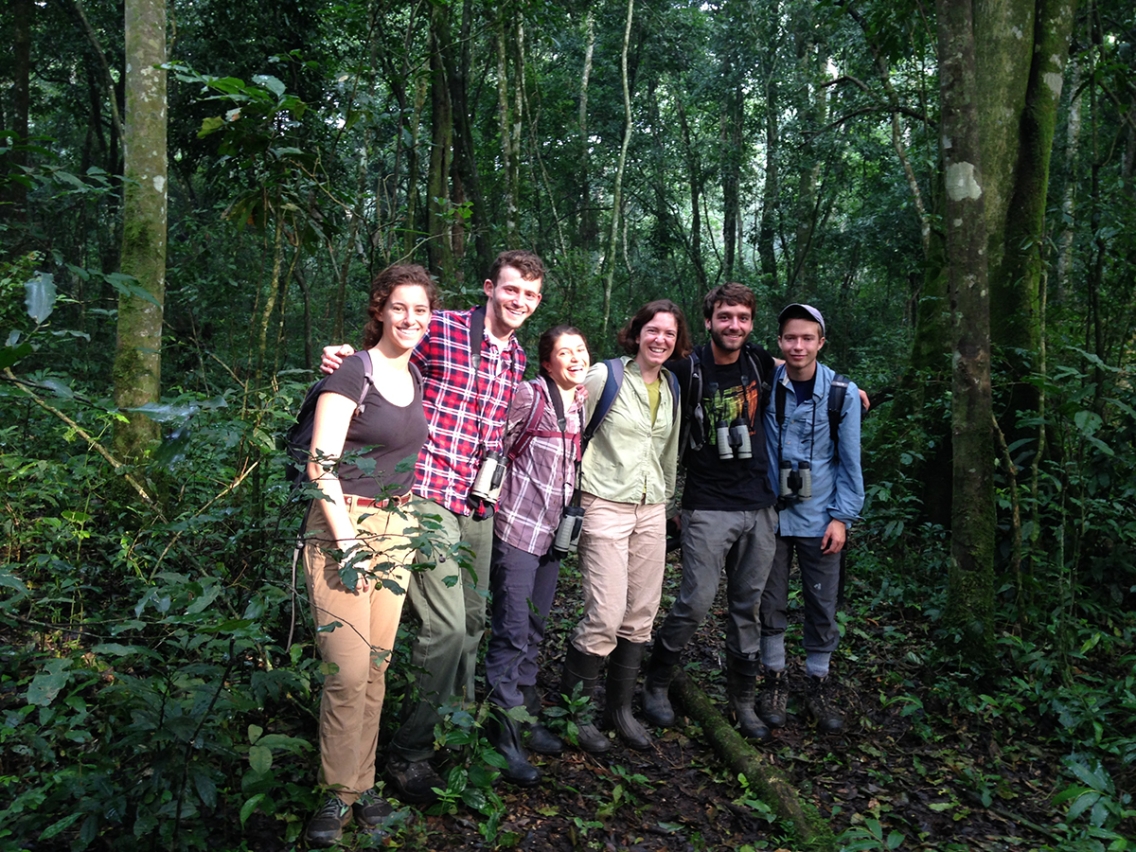 Team Midd at Kibale National Park in Uganda, August 2019. L-R: Rebecca Strull '20.5, Jacob Freedman '21, Kate Talano '21.5, Professor Jessica L'Roe, Derrick Burt '20.5, and Max Borrman '20.
The team's base camp, a biological station at Kibale, "looked like NASA headquarters by the time we had unpacked and set up all our equipment," laughed L'Roe. "We had a lot of gear and luggage with no Internet access in a very remote place and we had five days to make it happen. In spite of, or maybe because of, the chaos, it was a fun and joyful atmosphere because we had the four community members who were working with us, five students who were excited about being in this place they'd read so much about, and three researchers who were there. The 12 of us shared meals and ideas together, made plans, and tried to enact them quickly."
Setting to work, the team broke into smaller groups, looking at different sides of the complex personal calculus a changing economy brings. One group interviewed local mothers about their hopes for their children's futures, and how those plans would impact their relationships with the land. Would they continue to farm? Move to the city?
A second group mapped the proliferation of eucalyptus plantations around the park—another complex good news/bad news tale of ecology and economics. The tree planting is felt to be positive, but it also creates tension as it displaces some local farmers. A third group documented the trip in sound, video, and photos.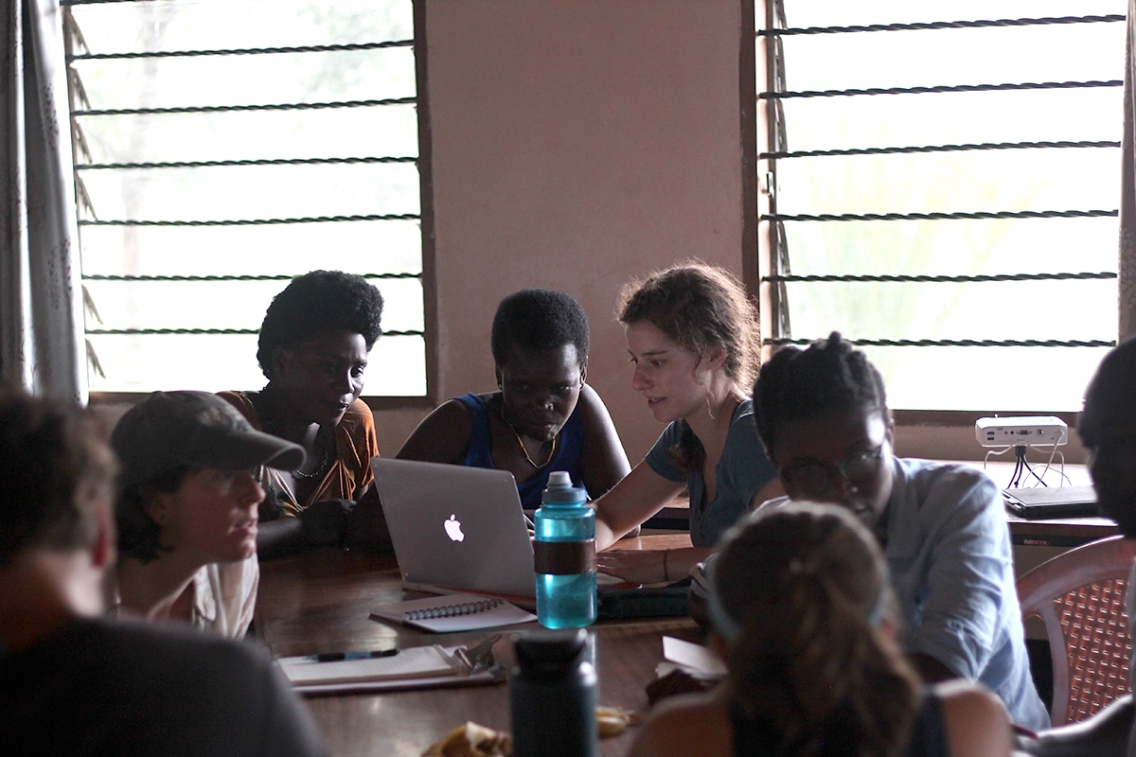 Rebecca Strull '20.5 works with Florence Kyengonzi and Daisy Kuzarra on a project surveying mothers about their hopes for their children's futures.
For Kate Talano '21, who had spent the earlier part of the summer analyzing data from previous surveys of residents in villages near the park, meeting them in-person felt almost like encountering celebrities. It was also a firsthand lesson in the importance of "ground truthing" your data, she said.
"It taught me that you really have to go to the place you're studying in order to understand what you're actually doing," said Talano. "Some of the things that we thought we knew—from looking at the data statistically—in reality were so different. So, I felt really grateful to be able to go there."
Research in the region will continue, says L'Roe, because it's important to learn where conservation goals and the aspirations of local residents diverge.
"To be effective and respectful, you have to understand what's going on in those communities. I'm committed to staying engaged with this project as it tracks over the long term because humans are complicated, and it's important to pay attention as their hopes and needs evolve."