Tradition-Filled Convocation Marks Start of Academic Year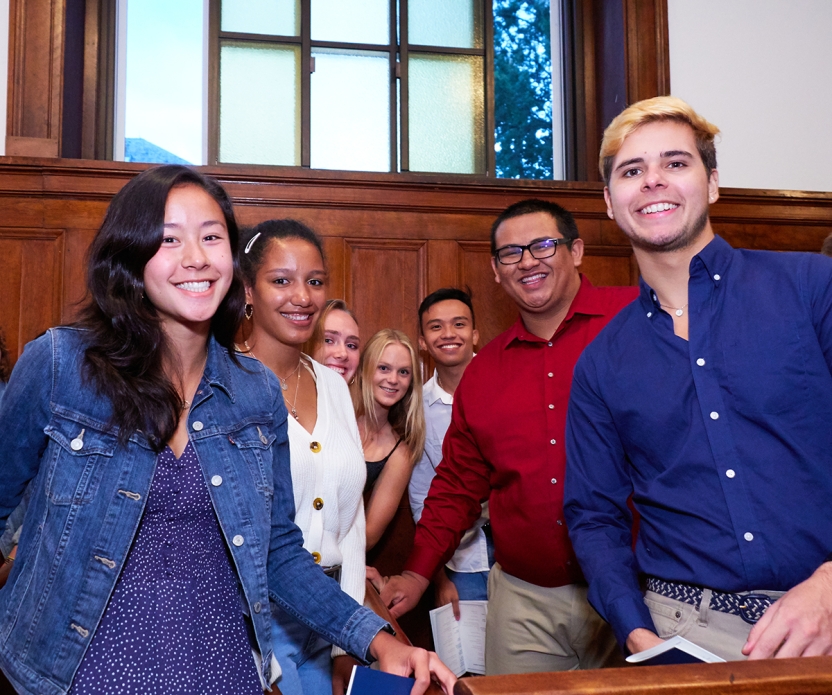 MIDDLEBURY, Vt. – The Class of 2023, just back from a two-day orientation trip, capped off their weeklong introduction to Middlebury with a ceremony steeped in College tradition. The new students gathered, by Commons, in Mead Chapel for the annual fall Convocation to kick off the new academic year. Lining up along the sidewalk, the first-years cheered as the faculty passed through on their way to the chapel.
Inside, organist and Associate Professor of Music Jeffrey Buettner filled the chapel with the festive sounds of William Walton's Allegro Maestoso, also delighting the crowd with occasional strains of John Williams's Star Wars themes.
Throughout the hour-and-a-half program, students heard a series of readings from various faith traditions, including the Hebrew Bible, Bhagavad Gita, New Testament, Qur'an, and Zen teachings. They also heard music performed by the College choir, including some first-year students, and welcoming remarks from a variety of administrators and faculty.
Dean of Admissions Nicole Curvin shared some facts about the class—the 605 members of the Class of 2023 were selected from 9,754 applicants; they came from 42 states, the District of Columbia, and 28 countries; domestic students of color represent 27 percent of the class; and 12 percent come from international communities.
SLIDE SHOW:
[view:embed_content==633195]
"As I look around tonight and see the amazing culmination of our student recruitment work, I am incredibly hopeful," said Curvin. "You are poets and artists and class presidents, and athletes and first responders, and community volunteers. There are remarkable individual stories in this class. As we look forward, think of all the ways that the Class of 2023 will leave their mark at Middlebury. There's no doubt that every one of you presented something unique and something worthwhile that caught our attention."
Student Government Association President Varsha Vijayakumar '20 also welcomed the new class, recalling her own days as a newcomer to Middlebury. She described a "framed piece of paper" that she has kept on her dresser in every dorm room she's lived in. It's not a photo or diploma or award, she said, but rather her acceptance letter to Middlebury College.
"There's this one particular sentence in my acceptance letter that stuck with me as I was reading it the other day. It says, 'You will help to shape our community even as you are shaped by it; not only in the next four years, but long after.' I didn't think that I would be shaping this institution by representing the wants and needs of every student on this campus."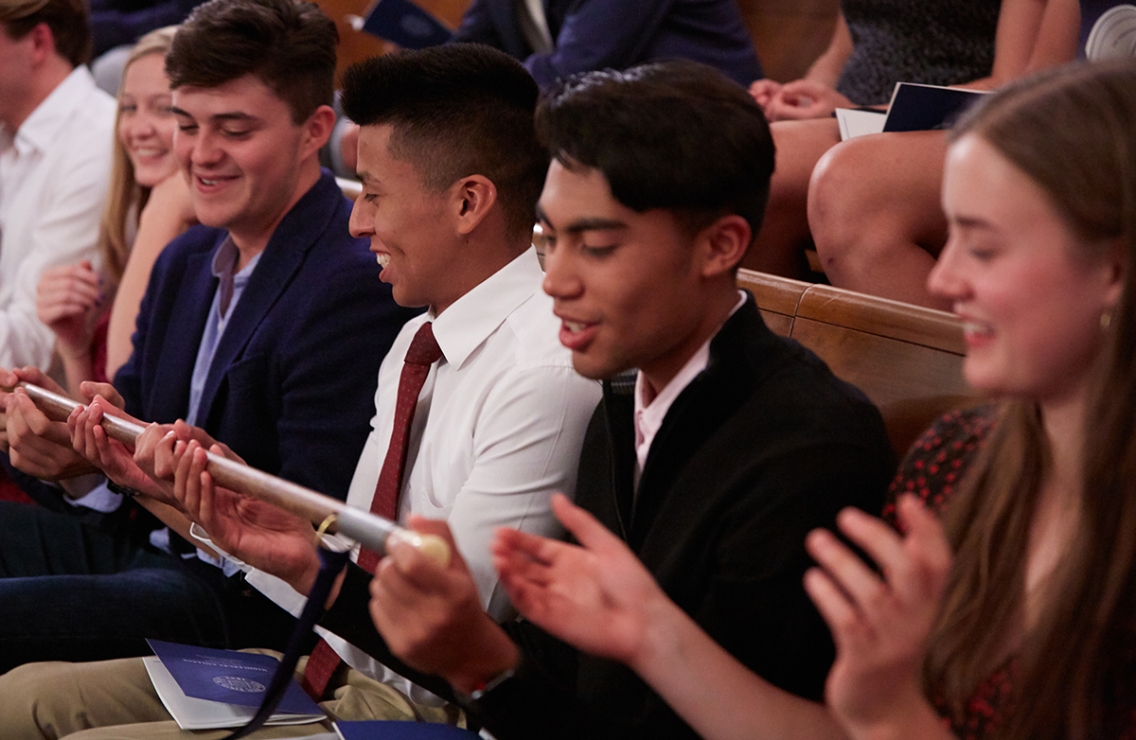 Members of the Class of 2023 pass Gamaliel Painter's cane to one another during Convocation.
Vijayakumar said that, even as a senior, she has moments when she asks herself if she really belongs here. Of all the advice she thought about offering the first-year students, she said she wanted them to know that only they could define who they are.
"You didn't get in just because you're a person of color; you didn't get in just because you're a track star; you didn't get in because you discovered a new species of fish. You all got in because a lot of folks believe that you are a person whose skills and lived experiences will contribute positively to this campus community. You. Who you are, as you are."
In her Convocation address, President Laurie Patton challenged the first-year students to pause from all of the energy and excitement and forward-thinking that landed them at Middlebury and contemplate how to manage the next few months and years of their lives as Middlebury students.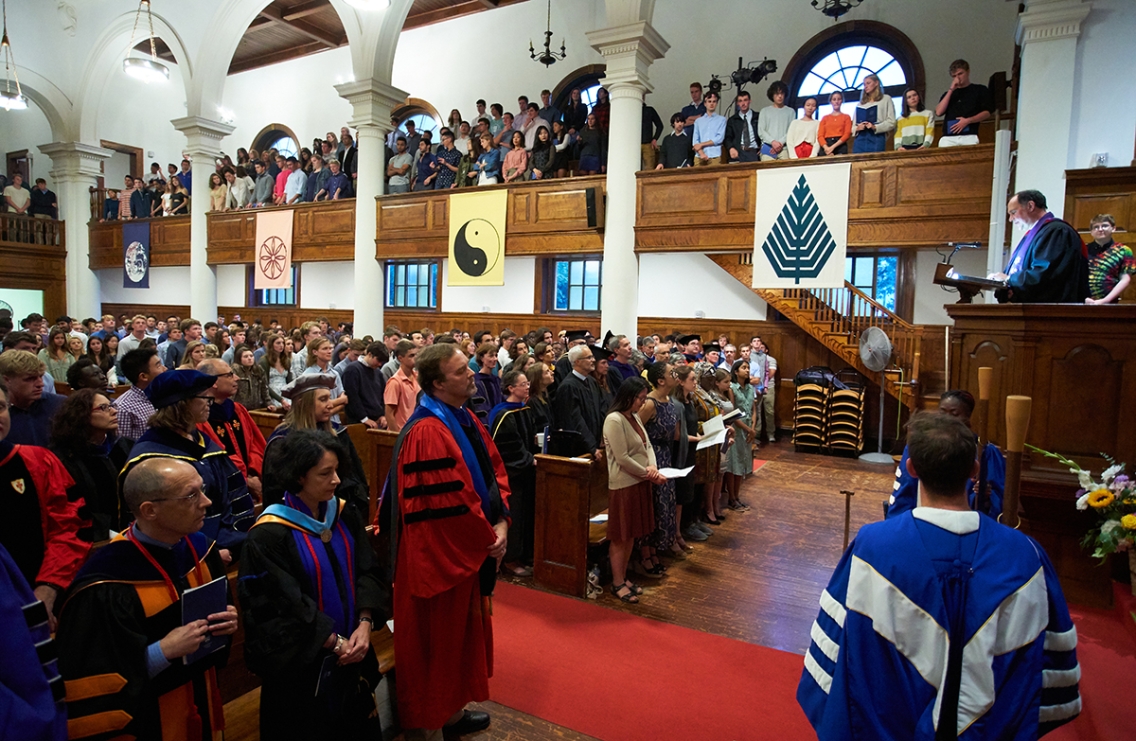 Dean of Religious and Spiritual Life Mark Orten offers the invocation during Convocation.
"You become a college student by embodying Middlebury values and becoming wise," Patton said. She describes those values in terms of five qualities: integrity, rigor, connectedness, curiosity, openness.
"Class of 2023: You are here. You belong," said Patton. "We will help you grow in your wisdom. You can embody the Middlebury values. We can help you have integrity by encouraging you to be your authentic selves. We will help you be rigorous by asking tough questions. We will help you stay connected by making those connections with you ourselves. We will help you stay curious by asking you what your questions are. And we will help you be open by creating a welcoming environment in as many ways as we can. We will help you dream the world as it ought to be. And we will be here for you for the rest of your life."
Photos by Todd Balfour
For More Information