Laurie Patton Hosts New Podcast 'Midd Moment'
MIDDLEBURY, Vt. – In the very first episode of the new podcast Midd Moment, Schumann Distinguished Scholar Bill McKibben, possibly the best-known name in the fight against climate change, sets the pace. In a wide-ranging 25-minute conversation, President Laurie Patton, who hosts the podcast, engages the author and activist on topics from building social movements to the Green New Deal and many things in between.
At one point in the conversation, McKibben reflects on his decades-long career as an author and journalist, to which he eventually added the credential of movement builder. "What it took me a long time to realize was that winning the argument was nowhere near enough," said McKibben whose 17 books, include The End of Nature, which is widely considered the first book about global warming written for a general audience.
"We'd won the argument about climate change within five or 10 years," he said. "Having won the argument, we were still losing the fight. It finally dawned on me that the fight wasn't about data and reasoned analysis; the fight was what fights were always about—money and power."
In the last several years, McKibben has dedicated leadership to major climate-change social movements including the creation of 350.org, divestment from fossil fuel companies, and fighting the Keystone Pipeline.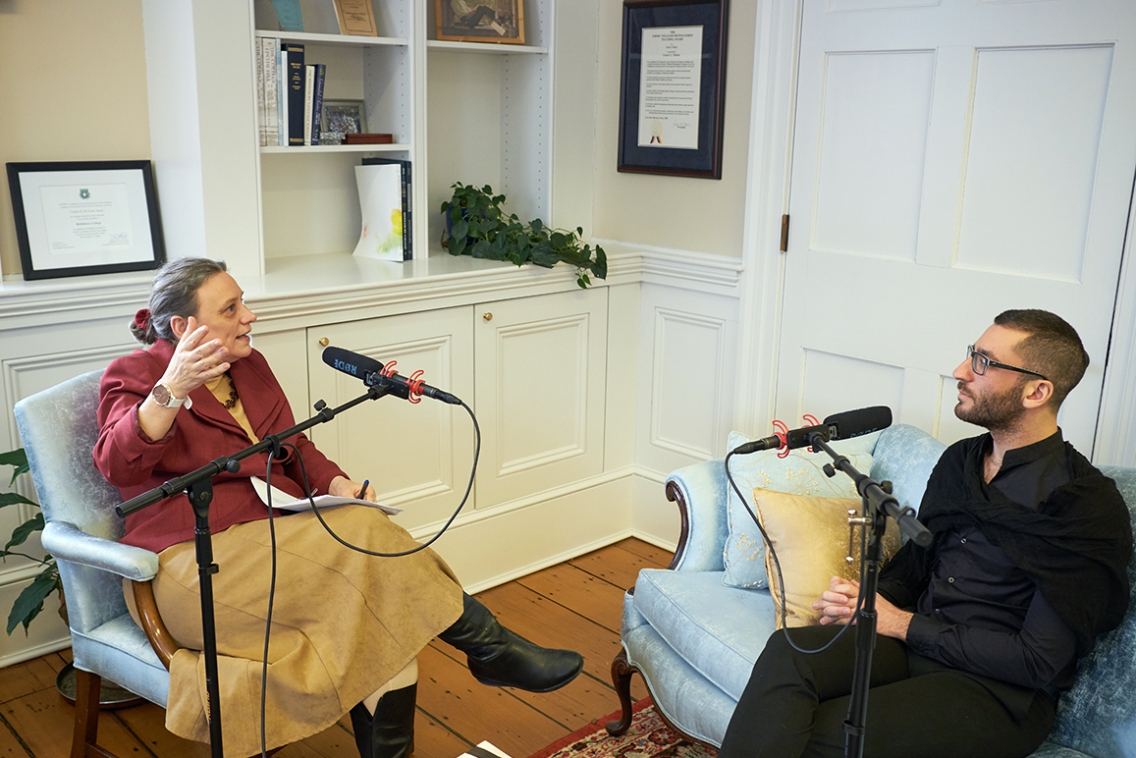 President Laurie Patton interviews Firas Nasr '15 in her office at Old chapel for the new podcast, Midd Moment.
Patton's interview with McKibben marks the debut episode of the podcast series, produced for Middlebury Magazine on the theme of "Ideas of Our Day." In coming episodes, Patton interviews author Julia Alvarez '71; Emmy-winning filmmaker and radio producer Bianca Giaever '12.5; Cleveland Cavaliers General Manager Koby Altman '04; and activist, designer, and web developer Firas Nasr '15, among others.