Middlebury Releases 2019 Annual Security and Fire Safety Reports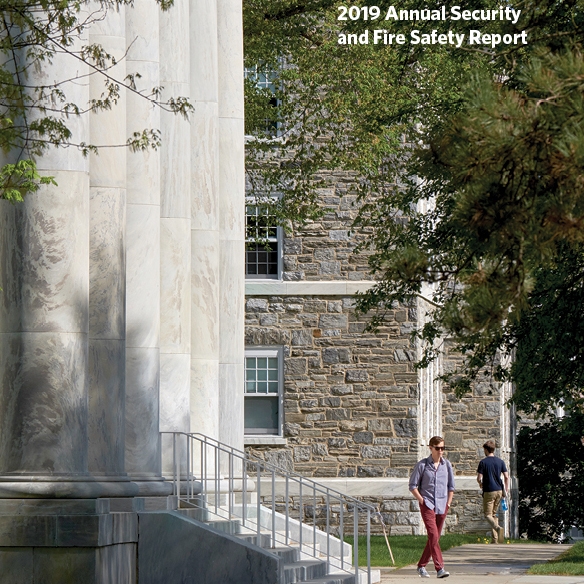 MIDDLEBURY, Vt. – Middlebury's Department of Public Safety released the 2019 Annual Security and Fire Safety Reports on Tuesday, October 1. In a communitywide email, Director of Public Safety Lisa Burchard shared the report, which includes campus crime and fire statistics for its Vermont campus over the past three calendar years (2016–2018), as well as a handbook of safety information and procedures.
Statistics for the Middlebury campus are for the full 2018 calendar year and include summer use of the campus by the Middlebury Language Schools and other summer programs.
The Jeanne Clery Disclosure of Campus Security Policy and Campus Crime Statistics Act (Clery Act) requires that colleges and universities receiving federal funding maintain and publicly disclose campus crime statistics for the preceding three years, as well as security information and policies. The definitions in the Clery Act are used by all institutions in the United States to classify and report crimes under the act.
As required by the Clery Act, this report documents the numerous education efforts that Middlebury has instituted for incoming and current students. Programs for faculty and staff are described as well, including online mandatory sexual violence prevention and response training for all incoming students, education and response training for all faculty and staff, and the Green Dot Violence Prevention Strategy that was put in place campuswide in the fall of 2015. Many of Middlebury's programs aimed at preventing sexual violence are funded by a 2013 grant from the Department of Justice that was renewed in 2016.
Middlebury also filed a report on Tuesday for its Bread Loaf campus. Both reports are available on the website of the Middlebury College Department of Public Safety and include data from Public Safety, the Middlebury Police Department, and law enforcement agencies in locations where Middlebury has a presence.
Middlebury issues a separate report for its campus in Monterey, California, which is home to the Middlebury Institute of International Studies at Monterey.