Sophie Charron '22 Wins Ward Prize for First-Year Writing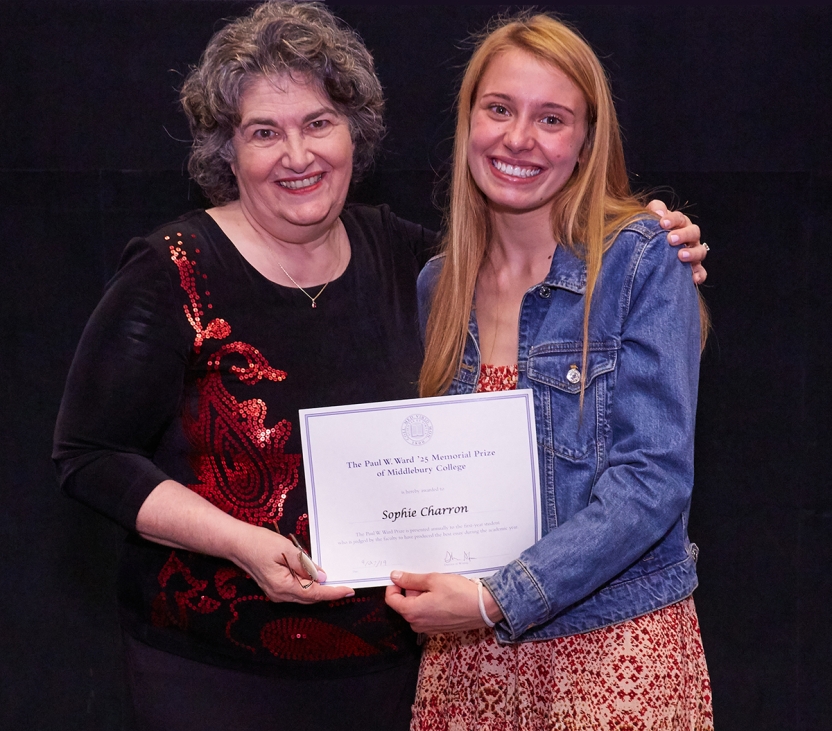 MIDDLEBURY, Vt. – An essay titled "I'm Not Sure How to Title This Sort of Pain," by Sophie Charron '22 won this year's Paul W. Ward '25 Memorial Prize for excellence in first-year writing. Shawna Shapiro, director of the writing and rhetoric program, presented the $500 award to Charron at a ceremony in Twilight Hall during Fall Family Weekend. Charron wrote the reflection about her experiences with cerebral palsy for a class titled "Writing to Heal" in the spring of 2019 with Senior Lecturer in Writing Mary Ellen Bertolini.
"Sophie is a remarkable writer, thoughtful and analytical, whose writing is precise, exact, lucid, and graceful," said Bertolini. "She is also a remarkable student who came to every class cheerful, with a smile or her face—no matter what obstacles she faces—with a mind curious and open, eager to learn, to think, to explore."
Two runners-up each received $250 prizes. Sophomore Regina Fontanelli's "A Bill you can't pay off," was nominated by Assistant Professor of Writing and Rhetoric Catharine Wright, and sophomore Maya Fray-Witzer's "Bridging the Gap between Hearing and Understanding" was nominated by Assistant Professor of Theatre Dana Yeaton.
Five students received honorable mention during the ceremony, including Rose Evans '22 for her piece "Boys Will Be Boys," nominated by Catharine Wright; Andrew Ng '22 for "Japanese Kabuki Theater: 400 years of tradition and culture," nominated by Professor of Mathematics Pete Schumer; Arthur Romero da Veiga Martins '22.5 for "Uncovering the Black—Visual Arts and the Appeal for Visibility in Claudia Rankine's Citizen," nominated by Visiting Assistant Professor of English and American Literatures Stacie Cassarino; Sarah Tang '22 for "Only You Can," nominated by Associate Professor of Writing and Linguistics Shawna Shapiro; and Essi Wunderman '22 for "Spinning a Tale of Spiders," nominated by Assistant Professor of Geography Jessica L'Roe.
This year's Ward Prize winners and honorees, all members of the Class of 2022, were nominated by their instructors across a range of academic disciplines. A committee of three faculty members, including Vicki Backus, associate laboratory professor in biology; Genie Giaimo, assistant professor of writing and rhetoric and director of the Writing Center; and Matthew Taylor, assistant professor of music, judged the submissions.
Before the conclusion of the ceremony, Professor Emerita Kathy Skubikowski came to the stage to share remarks honoring outgoing Writing Program Director Mary Ellen Bertolini, who retired in August after many years of service to Middlebury, including running the Ward Prize. Skubikowski noted Bertolini's contributions in growing writers at Middlebury, and especially in recognizing that Ward Prize winners had untapped potential to become leaders and role models.
"Under Mary Ellen's expert leadership, Ward Prize nominees began to interact with each other in weekly sessions during their sophomore spring, learning from her, and from each other, about the processes of writing—becoming more conscious of their craft," said Skubikowski.
By the time they became juniors and seniors, Bertolini had helped them develop as mentors, peer tutors, and role models for incoming students, Skubikowski said.
"Now, because of Mary Ellen Bertolini, this lovely Ward Prize ceremony doesn't just cap your achievement as a 19-year-old writer, important as that is," Skubikowski told the students. "It also marks the beginning of a journey, if you choose to accept the challenge, in which you will continue growing as a writer, and you'll begin giving back to the community that fosters your growth."
The Ward prize is named in honor of Paul W. Ward, a graduate of the Class of 1925, whose lifelong career as a journalist and diplomatic reporter bought him both the Pulitzer Prize and the French Legion of Honor. Throughout his career, he emphasized the use of basic English as a writer's most necessary tool.
For More Information