Civil Rights and Title IX Office Welcomes Three New Staff Members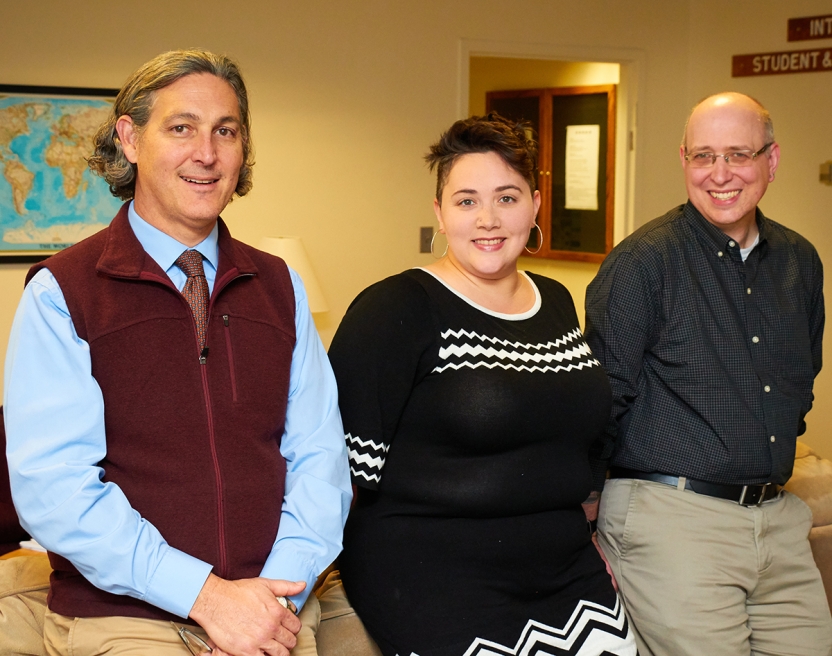 MIDDLEBURY, Vt. – "It's about how we treat each other," said Human Relations Officer Eric López of the work that he, fellow HRO Thaddeus Watulak, and Civil Rights and Title IX Coordinator Marti McCaleb do as part of Middlebury's Office of Institutional Diversity, Equity, and Inclusion (OIDEI).
All three are new. McCaleb started this past July, López and Watulak last February and March, respectively. Headquartered in Middlebury's Service Building, all three play an important role in the campus's commitment to address and respond to discrimination based on sex, race, country of origin, religion, sexual orientation, age, and other protected categories.
McCaleb comes to Middlebury from Seattle, Washington, where she was in private practice as an attorney—and where she served for a decade as a volunteer attorney for Legal Voice (a nonprofit providing legal representation for marginalized communities), focusing on gender discrimination on college campuses, economic justice, and other issues.
"This is the work I want to be doing," said McCaleb. "It's work I've been doing at some level since I was about 20."
As an undergraduate at the University of Alabama, McCaleb answered students' 911 calls for the campus police department. In that role, she said, "you see a lot of things that happen on campus." She then moved into the women's resource center where she was a sexual violence prevention educator and victims' resource advocate. During law school, she chose to extern with Legal Voice.
"Our work is important because it affects every aspect of campus life," said McCaleb. "The reality is that college campuses aren't perfect. Sexual violence, sexual misconduct, racial discrimination, all of these things happen, and we need a response that is both compassionate and legally reasoned."
López comes to Middlebury from Dartmouth-Hitchcock, where his work included investigating claims of sexual harassment and racial and other kinds of discrimination. Earlier in his career, he served as Windsor County's deputy state's attorney, with a focus on prosecuting domestic violence, child abuse, and stalking cases. López, who came to the United States from Puerto Rico as an undergraduate, originally thought he'd become an entrepreneur but found himself drawn to the law.
For López, the measure of a society is how it treats those who are marginalized, including those in the midst of interpersonal violence.
"I think how we respond to these cases really says a lot about who we are. That is a guiding principle for me in terms of ensuring that we are treating everybody respectfully, mindfully," López said.
Watulak grew up in Rutland and returned to Vermont from Baltimore, where he served as the city's deputy ethics director and drafted legislation for the mayor's office and the city council.
"It's been really important to me throughout my career to be giving back to my community."
Watulak said that as an undergraduate "I was a political science major, and I thought that I really wanted to be taking positions and advocating one way or another." Instead, he said, a law school class in mediation revealed a different set of talents and led to his becoming a certified mediator.
"I found that I had an ability to be neutral and impartial and help people move resolutions forward in a way that was good for them. I saw the value in being able to bring unbiased perspective to things, to be able to move through a process in a way that people, even if they didn't always agree with the outcome, could see the integrity of the process and could accept the outcome."
The three emphasized that reporting an incident is separate from launching an investigation (with exceptions for situations involving ongoing harm). Typically McCaleb is the point of contact for someone who wants to report an incident; investigations are handled by López and Watulak. The separation helps protect the integrity of the process.
"Reporting is, at some level, the statistical side. It's holding the College accountable," said McCaleb.
Reporting also provides a way to make sure individuals know about campuswide resources.
"We're going to help them with accommodations and making it easier to move forward," said Watulak.
If an investigation is launched, "it's important that people know we're impartial, that we're not coming in here with an agenda from either side. The purpose of our job is to try to find out what happened and whether or not that fits within the definitions of a policy violation," said Watulak.
All three also emphasized the overall goal of equity in education and in employment.
Said McCaleb: "The creation of the Office of Institutional Diversity, Equity, and Inclusion put together a lot of really critical pieces of identity support for students, faculty, and staff, including Title IX and with the other pieces that we work with. All of that is equity. It's making sure that every member of this campus community has full access and full ability to participate and enjoy the feeling of community and inclusion and accountability to each other."
By Gaen Murphree; Photo: Todd Balfour
For More Information