Eight Inducted Into Middlebury Athletics Hall of Fame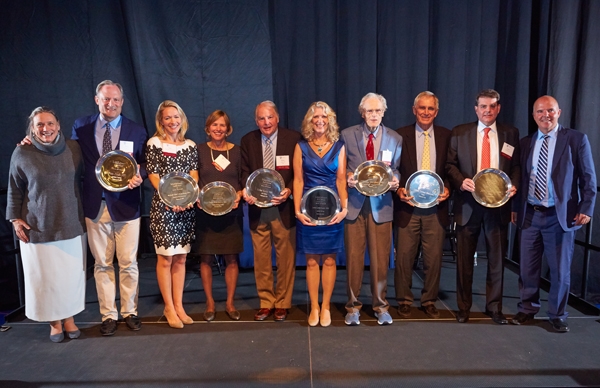 MIDDLEBURY, Vt. — The Middlebury Athletics Hall of Fame inducted eight new members at a gala induction ceremony and dinner held on November 2, 2019, in Nelson Recreation Center.
With about 330 alumni, faculty, coaches, staff, friends, and family members in attendance, the ranks of Middlebury's Hall of Fame swelled to include 44 luminaries in the field of intercollegiate athletics. The newest class of inductees made contributions that span seven decades, from the 1940s to 2000s.
Middlebury's Hall of Fame, founded in 2014, commemorates the athletic performance and service of alumni, coaches, administrators, and staff dating back to the 1880s for men when baseball emerged as the first varsity sport, and back to 1934 for women when the ski team held a carnival for athletes of both genders.
President Laurie L. Patton welcomed everyone to the annual gathering and celebration. Erin Quinn '86, Middlebury's director of athletics, served as master of ceremonies for the Hall of Fame ceremony.
Read about the newest class of inductees below:
Leslie Baker Brown '84 was a three-time All-American who was the 1982 Giant Slalom National Champion. She finished in the top five in 71 percent of her carnival races over a four-year span, earning a top-three finish in half of her events. Baker was the 1984 EISA Slalom Champion and was a three-time All-East selection. Baker was selected to participate in the 1983 World University Games in Bulgaria, before joining the Women's Professional Ski Race Tour in 1985 for five years. In 1986, she placed eighth at the women's pro skiing championship.
Slide Show
[view:embed_content==638916]
Beau Coash '82 was a standout football player for the Panthers who earned Little All-American honors. Coash was also a Boston Herald All-New England choice and an ECAC All-East selection. At the time of his graduation, he held six school receiving records. Coash's teams compiled an 18-5-1 mark during his three seasons and were ranked first in New England with a 7-1 mark in 1981. Following graduation, Coash signed with the New England Patriots and played the entire preseason in 1982. The following year, he played for the Boston Breakers of the USFL. On the lacrosse field, his teams won the 1980 and 1982 ECAC Championships.
Elizabeth "Char" Glessner Monie '04 earned All-American honors in both lacrosse (three times) and field hockey. The 2003 NESCAC Lacrosse Player of the Year helped her teams win three NCAA titles and four NESCAC crowns, earning an overall mark of 70-1. At the time of her induction, Glessner was tied for third in career goals (186) and was second in points (261). In field hockey, Glessner was a four-time All-NESCAC selection who was a 2001 All-American. The 2001 NESCAC Player of the Year helped guide her team to the NESCAC Championship and the NCAA Finals in 2003.
Michael "Mickey" Heinecken spent 28 years as the head coach of the football program at Middlebury (1973–2000), while also serving as the men's tennis coach for 16 years. On the gridiron, he amassed 126 victories and a .567 winning percentage, earning seven different one-loss seasons. The Panthers owned back-to-back 7-1 marks in 1976 and 1977, before the 1981 squad accomplished the same feat. Heinecken was recognized as the New England Coach of the Year in 1977 and 1981 and was the recipient of the George C. Carens Award for contributions to New England football.
Dixon Hemphill '49 was a standout track competitor who became a world-class athlete at a late age. Hemphill's top event was the pole vault, where he placed third at both the Milrose Games in New York City and at the Boston Garden. He set the school record in the event, clearing 12 feet with a bamboo pole. At age 70, he ran a 3:44 marathon to qualify for the Boston Marathon. Hemphill was a member of the men's age 90–94 relay teams that set world records in the 4x400 and 4x800 relays at the National Masters Championship in 2015.
John Humphrey '88 is Middlebury's most prolific men's basketball scorer with 1,844 points. The former Vermont Player of the Year averaged 20.5 points per game over his four seasons as a Panther, while earning NABC First-Team All-New England and All-ECAC honors. He owns the top-two spots for points in a game as a Panther with 46 and 43 in 1988. Humphrey was one of three Division III players invited to play in the New England All-Star game and was also chosen as a GTE Academic All-American in 1988.
Mike Karin '59 still holds several NCAA records, including most assists (10) and points (13) in a game. He also owns Middlebury marks for assists in a game, season (62), and career (134). Karin was the recipient of the prestigious Walter Brown Award, presented annually to the best American-born New England college hockey player. In 1959, he earned All-East and All-Tri-State League honors and was deemed the most valuable player of each league. Karin was selected to be a member of the 1960 U.S. Olympic Hockey Team, but declined and returned to Middlebury.
Leslie Leete Smith '83 was Middlebury's first four-time All-American. She finished second twice in the giant slalom at the AIWA National Championships (1980, 1982), and placed fourth in the slalom in 1981. Smith was a three-time All-East selection who won 10 carnival events throughout her career. During her senior year, she was one of five skiers to represent the United States at the 1983 World University Games in Bulgaria. At age 17, she competed for the United States in the 1976 Winter Olympics in Innsbruck, Austria, racing in both the downhill and giant slalom competitions.
Athletic Director Quinn closed Middlebury's sixth Hall of Fame induction ceremony by paraphrasing John F. Kennedy: "Tonight Middlebury College revealed itself by the men and women it honored, and the men and women it remembered."
Quinn thanked all eight inductees for attending the ceremony and added: "What is revealed to us as we honor you and remember you tonight represents what is best about Middlebury College and Middlebury College athletics. Thank you for all you have done for us and with us.