Middlebury Theatre Department Presents "One Flea Spare"
Middlebury, VT—The Middlebury College Department of Theatre and Dance will present Naomi Wallace's One Flea Spare, directed by Professor Cláudio Medeiros, November 21–23 at Wright Memorial Theatre.
The year is 1665. The setting is London, a city in the throes of the devastation caused by the bubonic plague. Mr. and Mrs. Snelgrave await the remaining three days of their 28-day quarantine. In the middle of the night, two strangers—a rough-spoken sailor and a mysteriously intuitive 12-year-old girl—enter what they believe is an empty home.
From now on, imprisoned within the claustrophobic walls of their confinement, the Snelgraves and their guests must negotiate an intimacy that is as unexpected as it is dangerous. While outside the plague wreaks havoc, inside the central conflict is one of class and bodies. Who is master and who is servant when social barriers crumble? Which bodies are in danger? Who desires who?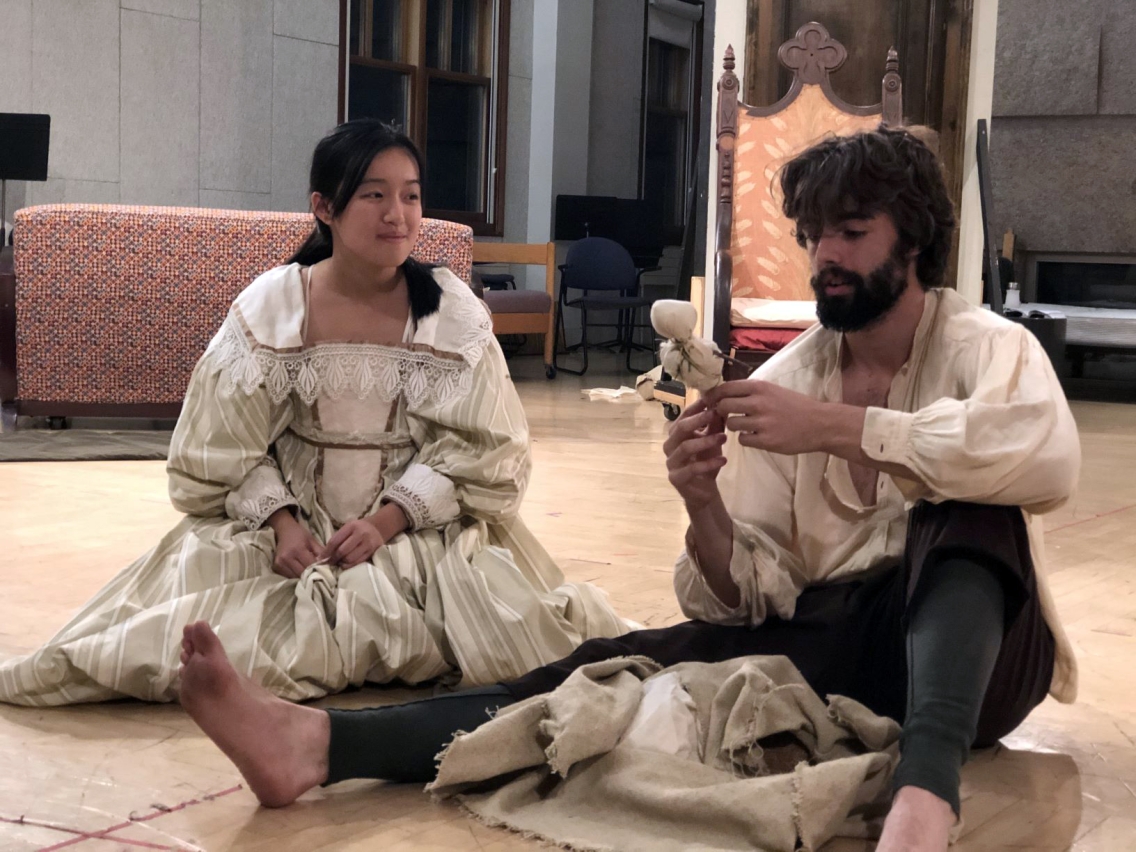 Emily Ma '21 and Will Koch '21 rehearse a scene from One Flea Spare at Wright Memorial Theatre. Photo provided
"We are all humbled, challenged, and completely in love with the play's fierce theatricality," said Medeiros. "And the play is unsettling, lyrical, and fiercely funny."
Inspired in spirit—if not in any specifics of plot, action, or character—by the 1992 Los Angeles riots following the Rodney King verdict, One Flea Spare is an example of Wallace's belief that the personal is political, says Medeiros. In the plague-ridden society she recreates, the body—its loves, desires, and needs—takes center stage.
The cast features Will Koch '21, Emily Ma '21, Katie Mashall '21, and James Peacock '21. Gary Smith, a professional actor, director, and producer living in Bristol, rounds out the cast. Griffin Birney '22 is the stage manager, and Calvin Dupree '23 is the assistant stage manager. Mark Evancho has designed the set, and Daisy Long, a New York City–based artist, will light the show. Mira Veikley is the costume designer. Professor Emeritus Peter Hamlin contributes an evocative original score.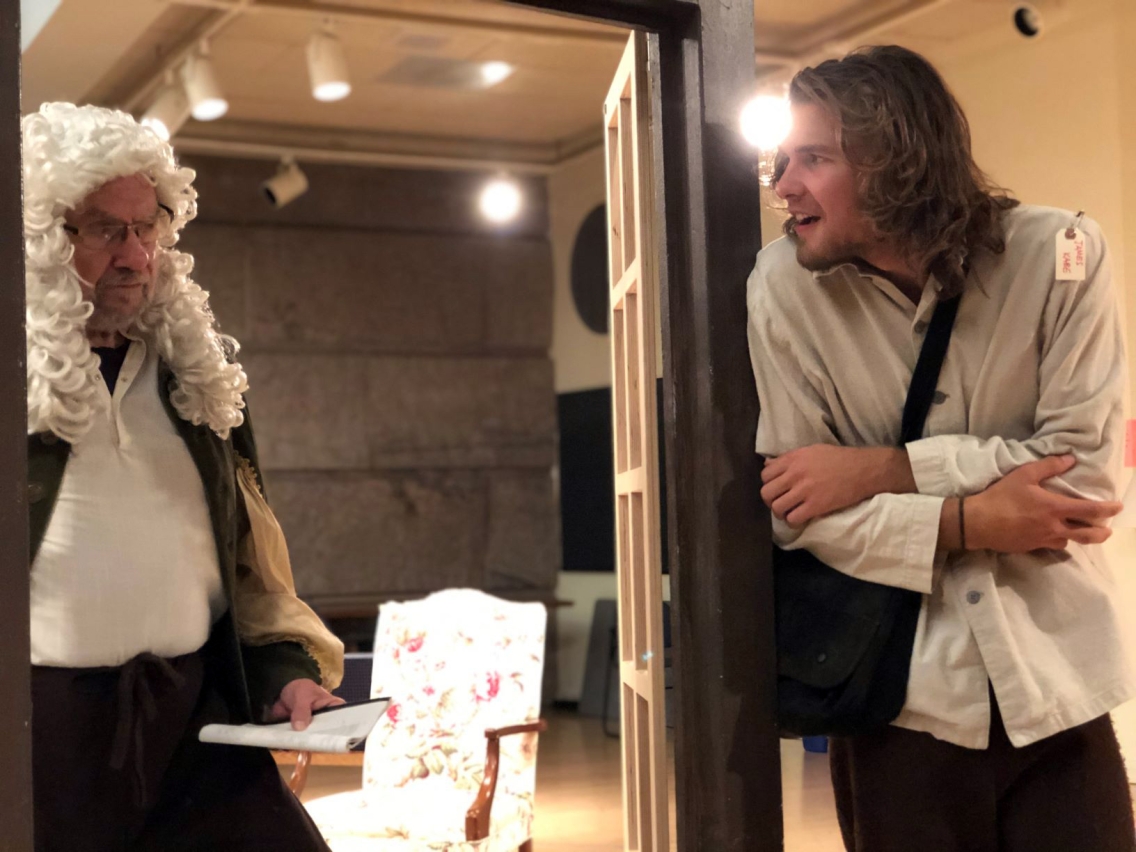 James Peacock '21 and Gary Smith rehearse a scene from One Flea Spare at Wright Memorial Theatre. Photo provided
One Flea Spare will be performed Thursday, November 21, at 7:30 p.m.; Friday, November 22, at 7:30 p.m.; and Saturday, November 23, at 7:30 p.m. in Wright Memorial Theatre. The Friday evening performance will be followed by a Q&A with the director and company members.
Tickets are $15 for the general public; $12 for Middlebury College faculty, staff, alumni, emeriti, and other ID card holders; and $6 for Middlebury College students. For tickets or information, call (802) 443-MIDD (6433) or go to go.middlebury.edu/arts. Wright Memorial Theatre is located at 96 Château Road in Middlebury.
Video: The cast and crew for One Flea Spare discuss the play.