Senior's Coding Work Will Enhance Popular Animation Software

Hans Goudey '19.5
MIDDLEBURY, Vt. – Animators around the world will have a new tool at their disposal thanks to Middlebury computer science major Hans Goudey '19.5. The senior Feb from Newburyport, Mass., spent the summer developing 3D modeling tools for the 3D animation toolset, Blender. Goudey's bevel tool will be included in the upcoming release of Blender, an open-source animation software used by thousands of people worldwide.
Earlier this year, Goudey landed a Google Summer of Code Fellowship, which allowed him to pursue his work under the mentorship of a Google software engineer. He was working to create a better bevel tool, which has widespread applications in industrial design and art.
"Artists and Designers use 3D Modeling tools to make everything from cubes and spheres to the human figure to car parts, furniture prototypes and architectural plans," explained Daniel Houghton, who runs the Middlebury College Animation Studio.
In late October, Goudey attended the Blender Conference in Amsterdam to share his work with the Blender core developers. He says he initially went to meet people and learn more about Blender, but during the conference, organizers asked him—on short notice—to give a talk about his work on Bevel.
"A lot of the conference attendees hadn't seen it because it hasn't been officially released yet, but some of the people following the project talked to me in person at the conference, which was great," said Goudey.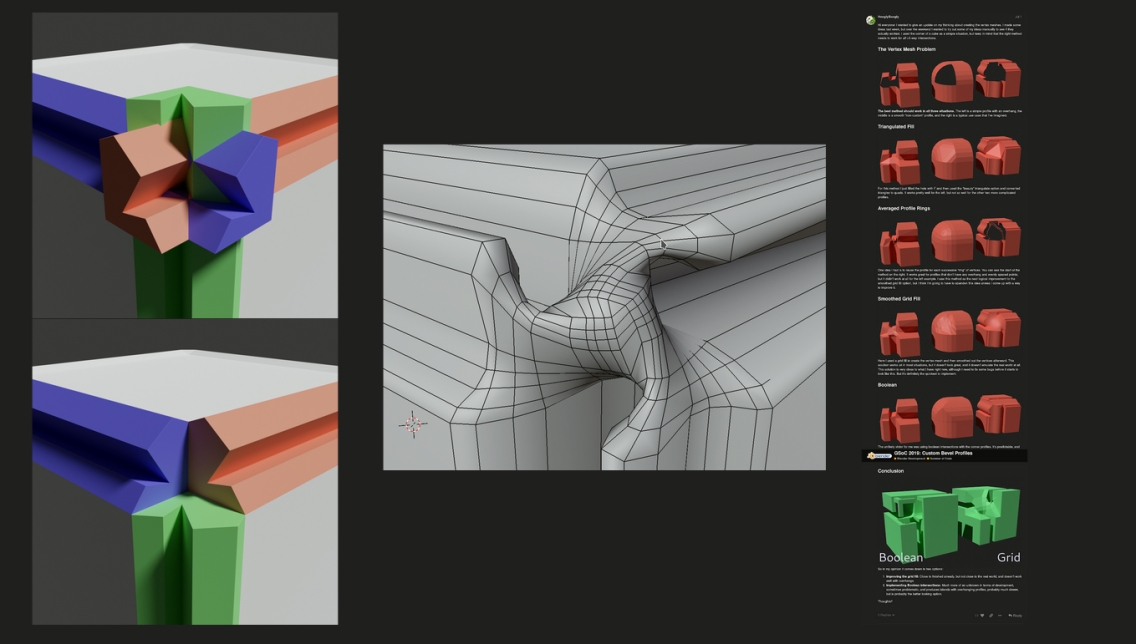 A screen grab shows some of the design work possible in Blender thanks to code enhancements by Hans Goudey '19.5.