Conference Expands Opportunities for Women of Color Organizers
MIDDLEBURY, Vt. – Middlebury's Feminist Resource Center at Chellis House recently hosted the inaugural Malikah Organizing Institute: Gender Justice for Women of Color. The three-day event was held at the Kirk Center.
"It's a capacity-building weekend for women of color organizers," said Malikah founder Rana Abdelhamid '15. "We're interested in building safety and power for all women."
The daughter of Egyptian immigrants, Abdelhamid founded Malikah as a teenager after being attacked in her Queens neighborhood by a man who tried to rip off her hijab. Rather than being intimidated, she took action. Within six months she led a self-defense class for other Muslim girls (she's studied karate since age 7 and is now a black belt), followed by sessions of "just kicking it" — sharing personal stories to build insight, trust, and courage.
Since then Abdelhamid has traveled the globe, speaking and giving women's self-defense classes and empowerment trainings, and Malikah has grown to an international organization with a 44-person leadership team and hubs in cities across the United States. Abdelhamid has also obtained a master's in public policy from Harvard's Kennedy School of Government, is the youngest person to sit on the board of Amnesty International USA, and has received numerous awards as an activist.
The idea for the Malikah Organizing Institute came last May when Abdelhamid was on campus leading a self-defense class and giving a talk on grassroots organizing.
"I was talking with Karin and Sujata [Director of Chellis House Karin Hanta and Director of Gender, Sexuality, and Feminist Studies Sujata Moorti] about this vision we have to bring women of color together, to really think about 'How do we solve this issue of gender-based violence when it's so deeply rooted?' We had this vision to run an institute, and they were like, 'It would be great to host it here at Middlebury.'"
Hanta acted as the primary organizer on the ground at Middlebury. Moorti's contributions included leading a session on the history of women of color as social justice activists.
Malikah organizers vetted over 100 applications and did 50 interviews before selecting 20 participants, 11 of which came for the four-day training. Participants make a two-year commitment as Malikah organizers and attend the training free of charge.
"We were looking for experienced activists with a deep commitment and love for the women in their communities; women who are invested in a vision that would create a more just world for women," said Abdelhamid.
Participants came from as far away as Washington, D.C., Greensboro, North Carolina, Chicago, and the San Francisco Bay Area, each bringing her own lens as an organizer.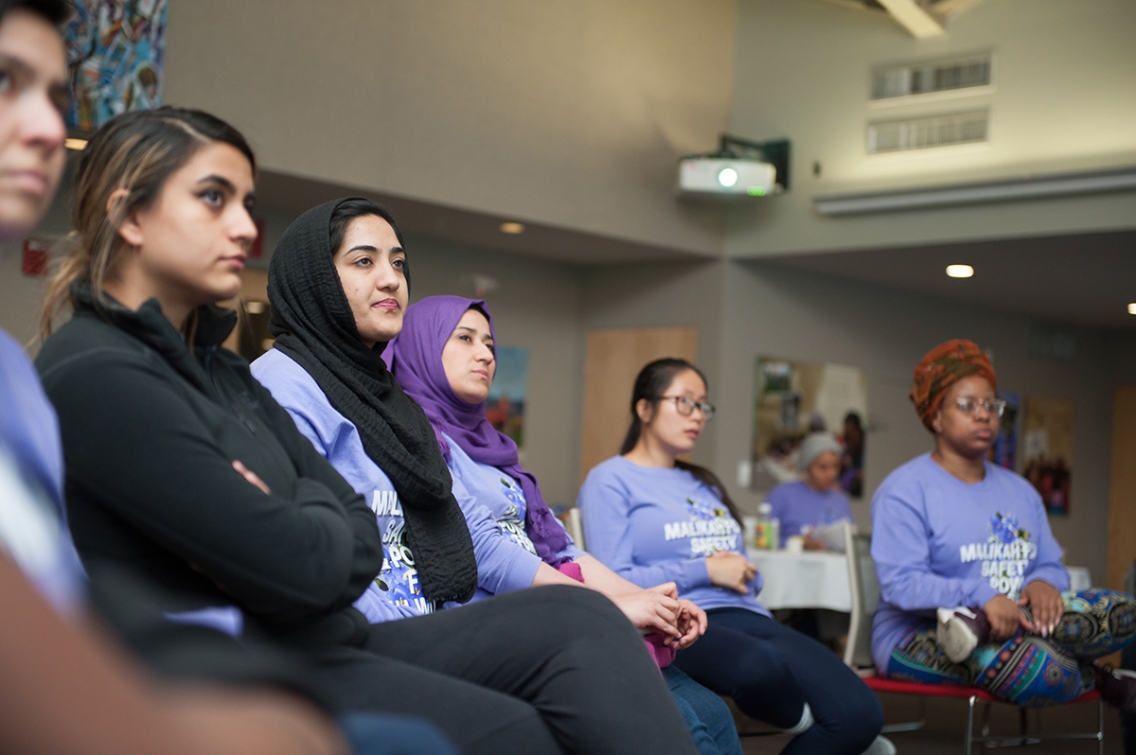 Participants in the first Malikah Organizing Conference at the Kirk Center listen to one of the speakers during the three-day event. Photo: Jennifer Kiewit
"There's a woman who's been doing incredible work in the climate justice movement; a woman who's a doula; she's doing maternal health accountability work. There's a therapist. There's a woman doing education equity work across New York City," said Abdelhamid.
Six Middlebury students also attended the training.
"By bringing participants from across the country and drawing on our own students, Malikah provided all of us an opportunity to cultivate a community of feminist practitioners," said Moorti.
Like other Malikah programs, the gender justice institute used a "train the trainer" model.
"We think that if women leaders have these skills, they bring them back," said Abdelhamid. "We want to create an extensive web of women who are leading these healing spaces, leading self-defense and financial literacy trainings, organizing, building campaigns, creating safety and power for women. We're imagining these institutes on every continent, women in every neighborhood and every city being trained in these skills."
Over the four days, participants focused on how to share one's own story as a tool for organizing, how to plan and execute an activist campaign, how to lead workshops in self-defense and financial literacy, how to create a space for honesty, trust, and healing.
The conference interwove hands-on skills with times for introspection and inspiration. Participants were asked, "What brings you joy?" and challenged to envision a world in which "all women are safe and all women are powerful."
"Malikah's unique strength lies in its joy-based approach to social justice activism," observed Karin Hanta, the Chellis House director.
Participants developed a two-year action plan (to be launched with a listening campaign in their own communities) — right down to the first steps they each would take their first day home.
"Malikah Gender Justice Organizing Institute prepared me to design a strategic plan that will allow me to create a safe space for Muslim women in my community to heal and empower themselves physically, emotionally, and financially," said participant Hind Essayegh, from Silver Spring, Maryland.
Said geography major Britney Lux, a junior from Chicago: "I think it's inspiring to see that we are creating a network of powerful women who are dedicated to seek equity and liberation,"
After Middlebury, the next stop for the Malikah Gender Justice Institute will be Manchester, England and London.
Funding support for the Malikah Organizing Institute came from the Dean of Students' Office, the Center for the Comparative Study of Race and Ethnicity, and a gift to Chellis House from the late Drue Gensler.
By Gaen Murphree