In Memoriam: Felix G. Rohatyn '49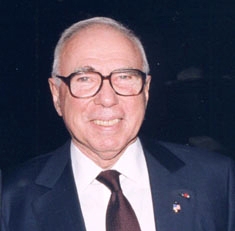 The Honorable Felix G. Rohatyn, a member of the Middlebury Class of 1949 and a former trustee, died on Saturday, December 14, at his home in Manhattan. He was 91. Mr. Rohatyn, for whom the College's Rohatyn Center for Global Affairs is named, was known around the world for his work as a financier and diplomat.
Said Middlebury President Laurie Patton, "With Felix Rohatyn's help and leadership, Middlebury took the next steps in becoming a premier college of global liberal arts and sciences. His support has given Middlebury intellectual and strategic opportunities that will benefit our community for decades, even centuries, to come."
"Felix was an icon," said Middlebury Board Chair George Lee '88, "a brilliant financier whose highest achievements were in the service of others."
Finance and Diplomacy
Rohatyn was born in Vienna, Austria, on May 29, 1928, and received his secondary school education in France. His family fled Nazi-occupied France, traveling to several countries before eventually landing in the United States in 1942. In New York, Rohatyn graduated from the McBurney School, then attended Middlebury where he majored in physics.
On his graduation from Middlebury, Rohatyn went to work for the investment bank Lazard Frères and Company (now Lazard Ltd.) in 1949, becoming a partner in 1961. His career was interrupted when he was drafted into the U.S. Army for a two-year term in 1950, after which he returned to Lazard Frères.
Describing Rohatyn's dramatic rise on Wall Street, the New York Times called him "one of the world's pre-eminent financiers" who "brokered numerous mergers and acquisitions, leaving his stamp on Avis, Lockheed Martin, Warner Bros., General Electric, and other corporations. He counseled innumerable business leaders and politicians."
Rohatyn is perhaps best known as the architect of New York City's rescue from financial collapse in the 1970s. In 1975, New York Governor Hugh Carey appointed Rohatyn to chair the newly formed Municipal Assistance Corporation, which over the next decade led the city back to solvency. He led the nine-member group until 1993.
President Bill Clinton appointed Rohatyn ambassador to France in 1997, a position he held until 2000. He was a member of the Council on Foreign Relations, American Academy of Arts and Sciences, and a trustee for the Center for Strategic and International Studies.
"Felix was a source of inspiration and pride for me throughout my career on Wall Street," said Ken Wilson P'01, '03, retired vice chairman of BlackRock and a former Middlebury trustee. "In his own way, he taught me much about how to comport myself in the C-Suite and the boardroom, as we worked on many deals together. A truly remarkable man who will forever be missed."
Middlebury Governance and Global Affairs
"On long flights back from client meetings, we would talk about Middlebury and how the College meant so much to him," Wilson said. "It was clear to me after several of these conversations that he might have a keen interest in coming back to Middlebury. I reached out to [then] President Ron Liebowitz, who underscored a desire to have him return as both a trustee and a sponsor of academic initiatives."
Rohatyn began the first of his two terms as a Middlebury trustee in 1969 and served through 1981. His first year on the board followed an era of rapid growth for the institution—in enrollment, faculty, endowment, and physical plant—but it soon met with difficulties. Financial issues facing higher education, tensions around the Vietnam War and racial injustice, and debates on the role of tenure commanded the board's attention. Rohatyn served a second term from 2005 to 2008.
In 2002, Middlebury received a generous gift from Felix and Elizabeth Rohatyn, which established an endowment for the College's Center for International Affairs, since known as the Rohatyn Center for Global Affairs. The endowment supports lectures, symposia, an executive in residence program, and international colloquia, and provides funding for campus visits by international leaders, scholars, diplomats, and businesspeople.
"Felix really was about bringing the world to Middlebury and Middlebury to the world," said Allison Stanger, the Russell J. Leng '60 Professor of International Politics and Economics and founding director of the Rohatyn Center. "His support and advice were instrumental in Middlebury's broadening and deepening development as an institution with a global network and perspective."
Rohatyn distilled the Center's purpose in five questions: What is the fundamental nature of the modern world? How would we like to change it? What steps are necessary to make those changes? Who's supposed to do it? And what can I do?
Rohatyn periodically cotaught with Stanger. "He welcomed intellectual exchange and knew how to agree to disagree. Classroom conversations with him were always memorable," she said. "He cared deeply about Middlebury and its students. I set up a team of interns who did the research for his first book. He was enormously impressed that Middlebury undergraduates could excel at work typically reserved for graduate students. The research team leader was an international student, and to express his gratitude, Felix fully funded her first visit to New York City.
"He was one of a kind—a real statesman of the sort one doesn't see so often today."
"A Sage and Guiding Force"
At the Center's dedication, Rohatyn called it "an enormous privilege" to be back at Middlebury. "Middlebury means more to me than just an institution where I came to learn," he said. "After leaving Nazi-occupied Europe and journeying to the United States in 1942 via North Africa, Lisbon, and South America, I finally landed here… . Middlebury thus was to me as much a refuge as an educational institution." He said the College, and specifically Physics Professor Benjamin Wissler, taught him "the distinction between a fact and an assumption, between reasoning and guessing."
Rohatyn would later help establish a professorship in Wissler's honor. With Trustee Emerita Roxanne Leighton '67, he served as honorary co-chair of the Middlebury Initiative fundraising campaign, which progressed even during a down economy. "As we were preparing for the largest campaign ever for Middlebury, Felix's constant sage advice on the unstable economic environment was a guiding force through the uncertainties ahead," she said. "And Middlebury became stronger."
Rohatyn's second wife, Elizabeth, predeceased him in 2016. He is survived by sons Pierre, Nicolas, and Michael, stepdaughter Nina Griscom, and six grandchildren.
For a more in-depth look at Felix Rohatyn's life, read the New York Times obituary.
For More Information