COVID-19 Update from President Laurie Patton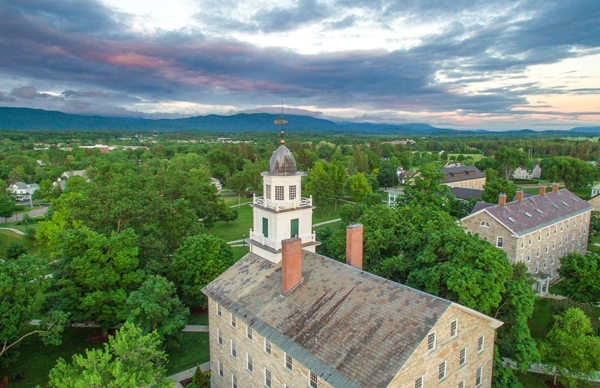 Dear Middlebury Students, Faculty, and Staff,
As an educational institution, we have two overarching obligations to our community: to provide the educational opportunities Middlebury is known for, and to do so in a safe, healthy environment. The rapidly developing circumstances of the novel coronavirus now require extraordinary changes to our usual practices to fulfill those obligations. We are making these changes to maximize our ability to continue the core educational activities that are our mission—teaching classes.
Currently there are no known cases on our campus in Vermont, although the first COVID-19 case in Vermont was confirmed over the weekend, in Bennington County. To our west, New York has declared a state of emergency and there are two known cases in Saratoga County. In New Hampshire, two new positive tests were confirmed within the last 48 hours.
We also received a report of a visitor to a Middlebury campus sporting event who was just diagnosed with COVID-19. The Vermont Department of Health confirms that the person was not a risk to the community at the time of their visit here.
Given the rapid spread of the virus and its proximity to our dense residential community in Vermont, we have made a series of decisions we believe are in the best interests of our students, faculty, and staff. The aim in all our deliberations has been to move quickly and thoughtfully to minimize, as best as we can, the risk of exposure for members of our community, while continuing to fulfill our educational mission.
We know from public health authorities, epidemiologists, and our own advisors that it is best to assume that the virus will eventually reach our own communities. That means we should act now to keep the impact minimal. We particularly want to be able to focus on the people who might be immuno-compromised, and for whom the virus might have more serious impact.
Public health authorities advise that practicing "social distancing" is the best way to slow the spread of infection and prevent the challenges of providing care for many people being infected at once. We therefore looked for opportunities to eliminate, as much as possible, the need for students, faculty, and staff to congregate. We also sought to minimize the risk that the virus would be introduced to our campus from the outside.
Therefore, we are taking the following measures, effective immediately:
Middlebury College Spring Break
Date Change: Middlebury College will begin spring break this Friday, March 13, after classes end, which is one week earlier than scheduled. This will be a two-week break to prepare for classes resuming—remotely—on Monday, March 30. Students who have underlying health issues or who may be immuno-compromised are permitted to leave when they are ready, before Friday.
Remain Home After Break: Following spring break, students who can will be expected to remain at home and not return to campus until further notice. We will re-evaluate this new policy in the first two weeks of April.
All courses will be held remotely through digital means (please see below).
Students Who Must Stay on Campus: While we will require most students to leave campus, we know that some students cannot go home for spring break and will need to remain on campus for the rest of the semester. (International students, for example, or U.S. students who might be at risk in their home community because of the prevalence of COVID-19.) The process for requesting permission to do so is outlined below. We will provide those approved to remain on campus the support you need. Your courses, too, will be delivered remotely.
We need to hear from you: Whether you will remain at home following the break or stay here on campus (which requires prior approval), we must know your whereabouts.
Please complete this form to indicate your intention to depart, or to request approval to remain on campus. All students must complete the form. If you request permission to remain on campus, you must complete the form no later than 3:00 p.m. Thursday. We will contact you with a decision on your request no later than 9:00 a.m. Friday. When you leave for spring break, you must be moved out of your rooms by 8:00 p.m. on Friday, March 13. Student Affairs is here to support you throughout this transition and will provide more details and guidelines for moving out this week.
Remote Instruction
Classes Resume Remotely March 30: Following break, all instruction will be offered remotely. Our staff in Digital Learning & Inquiry (DLINQ), Information Technology Services, the Library, and the Provost's office are working with faculty to ensure that they are as prepared as possible to resume teaching March 30, using digital technologies. Requests for faculty support should be made via the DLINQ consultation request form.
Academic Continuity: All students will be able to fulfill their academic requirements remotely. The Department of Education is relaxing regulations to enable colleges and universities to meet academic standards more flexibly.
Faculty, We Are Here to Support You: As we wrote last week, we are developing high-touch instruction as well as these resources prepared by Middlebury's DLINQ office to help you with the transition to teaching remotely. Here is the current schedule of workshops, and there will be more details to come tomorrow. We also want to acknowledge that because of the nature of certain classes (courses with labs, for example), remote instruction will simply not be able to replicate what we do in person. We greatly appreciate your flexibility as we adapt to our new circumstances. Faculty who are not experiencing symptoms are encouraged to continue working from campus.
Students, We Are Here to Support You: We will provide technology support and will make available equipment you need (headsets, webcams, and other technologies) on long-term loan. More details to come tomorrow.
Schools Abroad
Decisions Will Be Made Case-by-Case: The circumstances in our Schools Abroad vary greatly depending on the specific country in which a program is located. Our staff from the Office of International Programs will provide School-specific information to students and parents as it becomes available. They continue to monitor the rapidly changing situation on the ground in each of our sites.
International Students and Scholars
Maintaining Your U.S. Visa Status: U.S. government agencies recently issued guidance regarding COVID-19 adjustments to academic programs and maintenance of visa status. The guidance allows for greater flexibility than usual. International Student & Scholar Services (ISSS) will provide more information via a separate email to our international populations.
Limitations and Cancellations
Group Gatherings: Effective immediately for this week, group gatherings on campus are limited to no more than 120 participants.
Spring Athletic Events and Practices: Effective 10 p.m. tonight, we are suspending all spring athletic activities, including practices and home and away games, until further notice.
No College-Sponsored Travel: Effective immediately, there will be no college-sponsored travel of any kind, including trips by athletic teams and clubs; faculty and staff in-person participation in conferences; and other engagements.
No Visitors: Effective immediately, no visitors, including prospective students, alumni, speakers, job applicants, performing artists, or members of the larger community will be permitted on campus. To the extent possible, visits and meetings will need to be conducted remotely.
We are sure you have questions: We will keep updating our FAQs. Please send your questions to sao@middlebury.edu.
Dining
Changes to Dining Services Operations: This week, we will announce changes to how dining services will operate until spring break begins. The changes will decrease the number of students congregating at any one time in the dining halls.
Health and Wellness Education: Staff will be in the dining halls this week reviewing hand washing and sanitizing skills, giving away self-care kits, sharing cold and flu data, and making sanitizing boxes available for cell phones and keys.
This is a lot to take in. We are aware that the impact on everyone—students, faculty, and staff—will be great. However, our top priority is the health and welfare of the entire Middlebury community, and to minimize the risk of exposure to COVID-19. We are taking these actions now, as disruptive as they might be, to lessen the risk of facing greater challenges and consequences in the future. We are confident that this is the best course forward in support of you and our academic mission.
We will continue to provide regular updates on how we are responding to COVID-19. Given how fluid the situation is, we may need to adjust this plan as necessary. We know that there are a variety of opinions as to how communities might respond to the spread of coronavirus. We are making decisions in real time in a rapidly evolving situation. Please visit our resources page, and review our FAQs, which are being regularly updated here.
To our students and faculty, we are committed to seeing you through this semester and we are going to support you in every way we can. There will be many bumps along the way. We know that this might be disappointing news, especially as you were looking forward to the many events and activities already scheduled for the spring.
To our staff, who every day do such remarkable work on behalf of this institution, we are here for you and will work with you to navigate the coming weeks and months. We know that your support keeps the campus vibrant, and we will be communicating with you closely and regularly in the coming days. We will soon let you know about new remote work policies for those who may be able to work remotely, and for those who have health risks (or family members with risk factors). Please know we will work with you to provide necessary support.
I want to acknowledge everyone on our staff who has worked tirelessly over the weekend to assess the situation and how best to fulfill our academic mission while reducing risk. We will be back in touch with more logistical information tomorrow.
Thank you all for your understanding, your patience, and your partnership during this challenging time.
Sincerely,
Laurie Patton
President